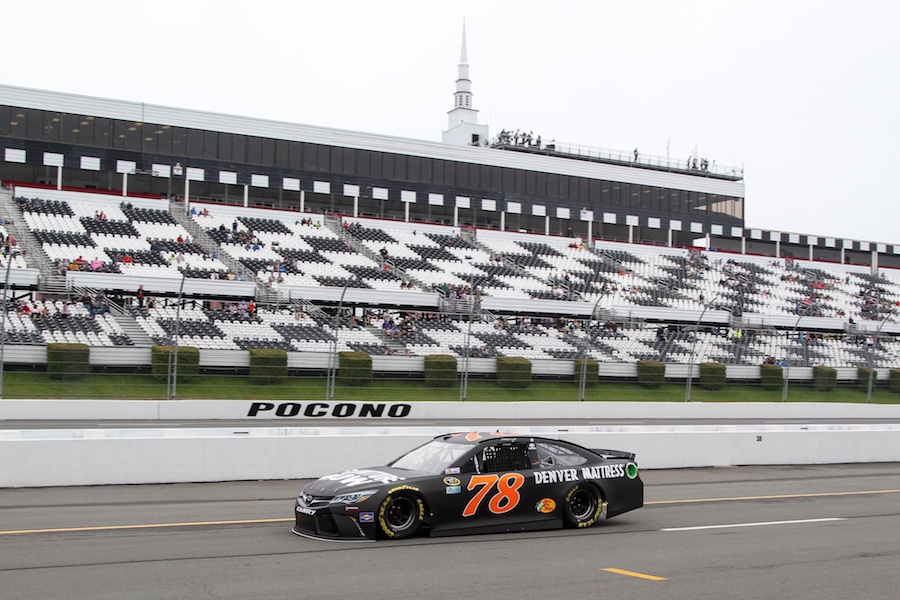 Martin Truex Jr. captured the pole Friday for Sunday's Pennsylvania 400 Sprint Cup Series race at Pocono Raceway.
Truex's No. 78 Furniture Row/Denver Mattress Toyota Camry covered the 2.5-mile triangular track in 50.211 seconds at 179.244 miles per hour. Coming in second was Toyota teammate Carl Edwards, who ran a 50.315 at 178.873.
Truex advanced to the Pocono pole shootout round by posting the second fastest speed in the first session and the fastest in the second.
It was the third pole of the season for Truex, 10th of his career and his first at Pocono. The three poles in one season equals a career best for Truex, which he set in 2009. Truex's other poles this season were at Kansas and Charlotte.
The car that Furniture Row Racing brought to Pocono was the same Toyota in which Truex scored a dominating win in May at Charlotte Motor Speedway.
"Getting a pole today is awesome," said Truex, who won at Pocono in June 2015. "It's always exciting when you win anything in this series — it's a big deal. We had a game plan coming here. We felt like we needed to qualify well to have a shot at winning on Sunday. I've got a lot of people to thank. Obviously Furniture Row, Denver Mattress everybody at Toyota and TRD (Toyota Racing Development) for the engines and the guys back in Denver, everybody at JGR (Joe Gibbs Racing) on the chassis side and aero side. So, it's a good team effort. The guys did a good job of making the right adjustments today and it was a lot of fun out there."
Truex added, "This is the kind of track where everything comes into play just like Indy last week. Horsepower, aero, mechanical grip, handling, I mean everything comes into play at a track like this where the straightaway speeds are high, the banking is low in the corners and you need a lot of downforce. This is a really challenging type of race track to get good at and to be fast on."
The top-12 qualifying positions in order were: Truex, Edwards, Paul Menard, Denny Hamlin, Ryan Newman, Tony Stewart, Brad Keselowski, Chase Elliott, Matt Kenseth, Joey Logano, Kyle Larson and Austin Dillon.
Sunday's race will be televised on the NBC Sports Network, 11:30 a.m. MT (1:30 p.m. ET)