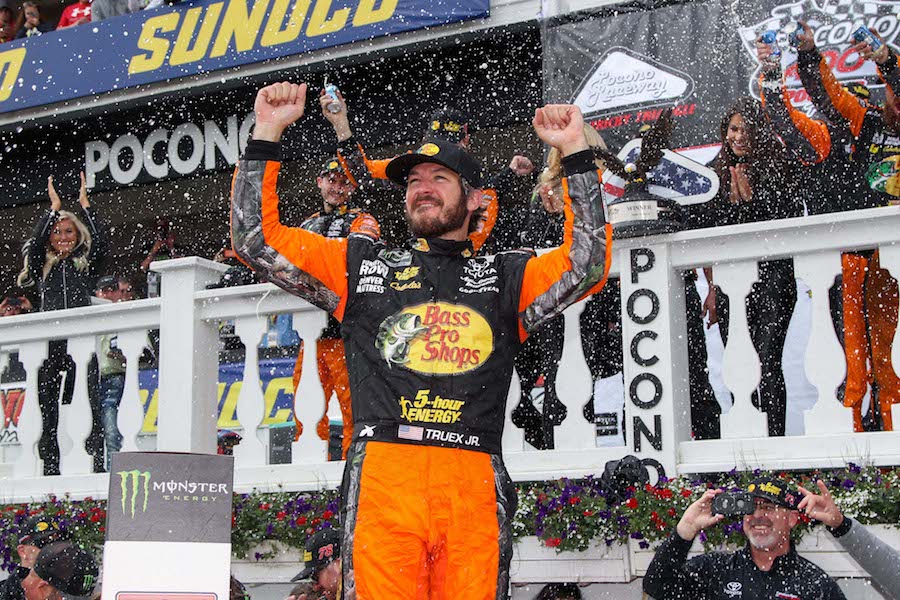 On Sunday, Martin Truex Jr. took the checkered flag at Pocono Raceway, winning his second race of the season. After two straight runner-up finishes, Truex Jr. was finally able to jump in front on Sunday. The win at Pocono was Truex Jr.'s 17th of his career, and he now sits fourth in the NASCAR Cup Series standings.
MARTIN TRUEX JR. WINS IN POCONO!

Full results: https://t.co/6LWByjAfrg pic.twitter.com/W141Nuz9NU

— FOX: NASCAR (@NASCARONFOX) June 3, 2018
Many had expected Pocono to become a two-man race between Kyle Busch and Kevin Harvick, but Truex Jr. made sure that wasn't the case Sunday:
1. Martin Truex Jr., Toyota, 160, led 31
2. Kyle Larson, Chevrolet, 160, 0
3. Kyle Busch, Toyota, 160, led 13
4. Kevin Harvick, Ford, 160, led 89
Harvick and Busch had combined for nine wins out of the first 13 races to start the season, but with the win at Pocono, Truex Jr. is definitely heating up. Last season, Truex Jr. had also won two races at this point last season. After that, he hit his stride and won six more on his way to the championship.
"I feel like we're getting back to what we were doing last year," Truex Jr. said. "It's always fun to win, especially when you beat the best guys out there."
Truex Jr. and Harvick each stayed out on a caution with 20 laps left in the race. Busch made a pit stop and surrendered the lead to Truex Jr.. Truex Jr. then held off a hard-charging Kyle Larson down the stretch and served notice that he's a threat to win his second straight title.
The next stop:
Truex Jr. will look to carry his momentum into the next stop in the NASCAR Cup Series on Sunday, June 10, at Michigan International Speedway. The race will start noon Mountain time.