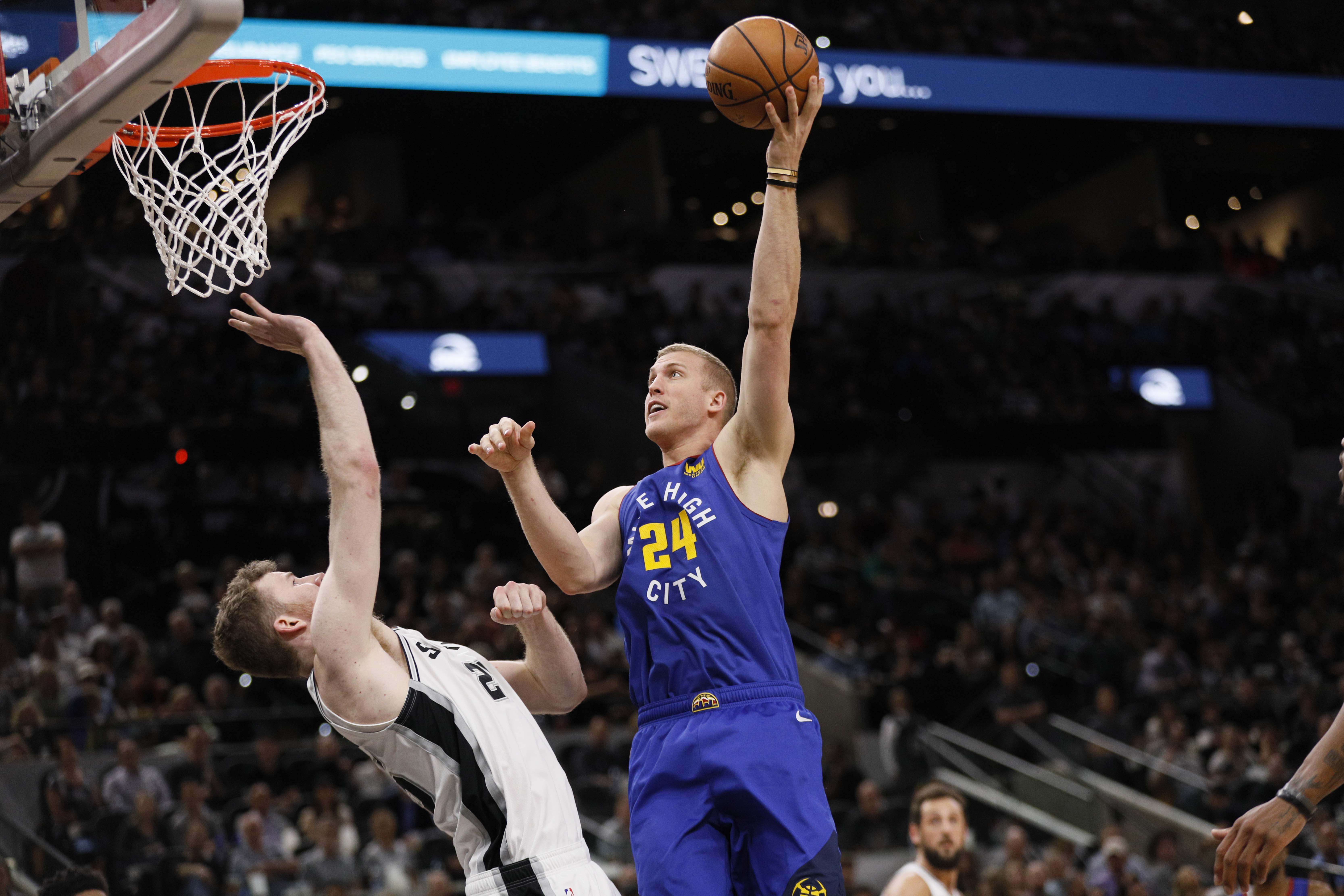 Another season has come and gone for the Denver Nuggets, but this one was a bit different for both the Nuggets and Mason Plumlee.
The 2018-19 version of the Nuggets provided their fan base with many memorable moments. Denver was just a solid half of basketball away from going to the Western Conference Finals as they fell to the Portland Trail Blazers in seven games.
Denver made it to the postseason for the first time since 2012 and went in as the second seed in the Western Conference with 54 wins.
Denver increased their win total by 12 games in 2018-19. The starting unit was relatively healthy this season compared to the season prior. They stepped up to put the Nuggets in a great position, but it was the bench unit that bolstered Denver's roster and made them one of the best teams in the entire NBA.
Of that bench unit, Plumlee emerged and had his most successful season in a Denver uniform.
Plumlee joined the Nuggets as part of the 2017 trade that sent Jusuf Nurkic to the Trail Blazers and he has been productive in a Denver uniform since.
Plumlee has fit in seamlessly with the bench unit, helped anchor a defense that has progressed immensely since he has gotten to Denver and successfully stepped in as All-NBA Center Nikola Jokic' backup for the past two seasons.
In the 2018-19 season he was able to display his importance in one of Denver's best seasons in franchise history. He was a consistent source of energy and effort every single night and had his most productive season yet. He averaged 7.8 points, 6.4 rebounds and 3.0 assists per game as a result.
Here are ways that Plumlee progressed in 2018-19 and ways he can get better next season.
Ways Mason Plumlee got better
Health
One of the best attributes about Mason Plumlee since he has entered the league is his durability.
Looking back all the way into his rookie season, Plumlee has been an iron man. He has played in at least 70 games in each season since entering the league, including playing 80+ games four times since the 2013-14 season.
His iron man reputation was on the line when, prior to the 2018-19 season, Plumlee underwent core muscle surgery. Luckily, the expectation was that he would be ready to go in time for training camp.
Not only was Plumlee ready to go but he came back and had his most productive season to date. He returned with more athleticism and explosion.
Plumlee had no set backs this season and had himself a healthy year as he helped the Nuggets transform into one of the best teams in the league. He was one of 21 players in the NBA that played in all 82 games and put in his bid as being one of the best and most reliable bench bigs in the entire NBA.
Passing
Denver is a very unselfish bunch that takes pride in making the extra pass. The Nuggets have a unique blend of big men as two of their top four assist leaders last season came from the center position.
This season was no different and Plumlee was at the forefront.
Although Plumlee comes off of the bench and only played 21.1 minutes per game, that did not have an effect on his ability to pass the ball. Plumlee finished fourth on the team in assists at three per game which was eighth amongst centers.
He is one of Denver's best playmakers and has a malleable game which allows Denver's versatility to manifest itself in other ways, furthermore creating a free-flowing offense that constantly led to countless spectacular plays such as this.
"Can we see that again?"

Mason Plumlee droppin' dimes! 👀😮#MileHighBasketball pic.twitter.com/SeY4l2CDLZ

— NBA (@NBA) November 24, 2018
Ways Mason Plumlee can improve
Floor spacing
Plumlee's playmaking, defense and rebounding are a big part of what makes him such an asset to Denver, but with the way that the NBA is adapting, he does not provide much in the way of floor spacing.
As the NBA has changed, it appears that big men are required to do their usual duties as well as be able to shift the defense with their ability to shoot the ball.
Plumlee's success from behind the arc is more of a luxury than a necessity as he has not been a 3-point shooter since he has gotten into the league.
But on a team that values spacing, his ability to be able to knock down a shot and open up the floor is just as essential to getting a rebound.
With Plumlee making two 3-pointers in the 2018-19 season it was the first 3-pointers he made since he got to Denver. Maybe it is something that he will work on in the offseason to open up a new layer for the Nuggets.
Stepping up in big moments
Plumlee had a strong regular season, but he struggled mightily in postseason.
After playing 21.1 minutes and 7.8 points, 6.4 rebounds and 3.0 assists in the regular season, he was almost unplayable in the playoffs as his poor play dropped in almost every category.
Plumlee's postseason averages were 4.6 points, 4.4 rebounds and 1.5 assists. While those numbers point to offensive struggles, his play on the defensive end of the floor was just as bad.
Plumlee was not his usual self on the offensive or defensive end of the floor and held back the rest of the reserve unit in the playoffs.
Mason Plumlee's Final Grade
B-
When looking at what Plumee was able to provide to Denver's second unit, it was evident that he was one of the most important pieces on the team.
Plumlee played a massive role in anchoring a Nuggets defensive unit that needed fixing and a bench unit that went into the season with question marks.
Plumlee had his most successful season passing, finished around the rim as a vertical threat while cleaning up the boards.
Denver has to make some decisions coming up with Plumlee's contract, but with what he provided this year, Denver would be worse off losing him.
To read the rest of the Season in Review pieces for other players, click on their name below:
Jamal Murray | Monte Morris | Isaiah Thomas | Gary Harris | Torrey Craig | Juancho Hernangomez | Trey Lyles | Paul Millsap | Thomas Welsh