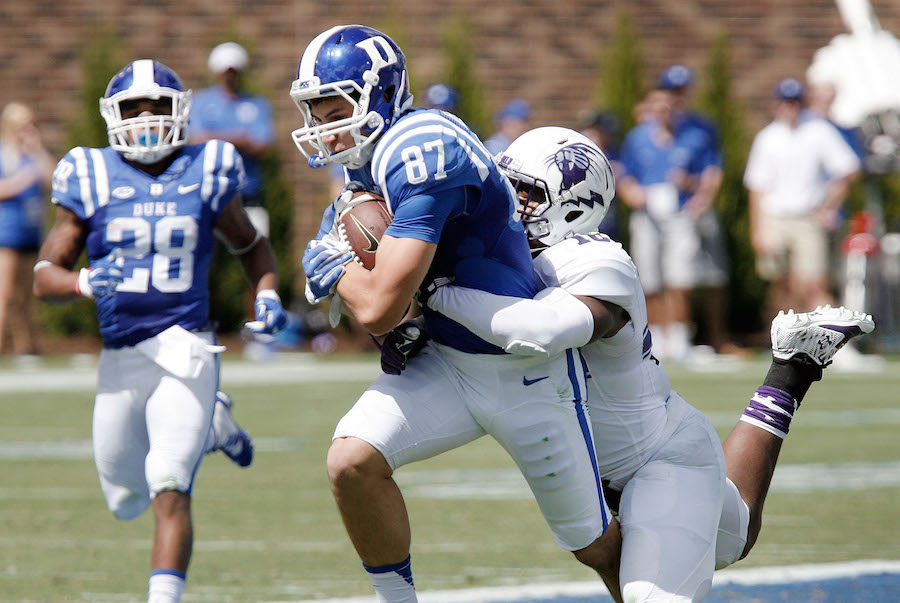 Someday, the Broncos may have a lush garden full of the best organic talent in town on their roster.
On Tuesday, they planted a very strategic first seed.
There's local football talent across Colorado, from the Western Slope to the Eastern Plains and from the Wyoming border down to the four corners, but there's no doubt the first family of football in this state resides in the suburbs of Denver.
The McCaffrey's sit atop that throne; for the first time in a long time yesterday, a member of the Mac bunch ran around Dove Valley (or the UCHealth Training Center) as if it were for real.
Okay, it wasn't for real for real, but Max McCaffrey, the eldest son of former Broncos star wide receiver Ed McCaffrey and his wife Lisa had a job interview on Tuesday with the defending Super Bowl champions. Max was one of nine prospects who worked out with the team at their "Pro Day" for local products.
The rules of the event (mandated by the NFL) were narrow: In order to be eligible to participate, the prospects had to grow up within 20 miles of Sports Authority Field. Went to CU, CSU or Air Force but you're from out of town? Sorry. Grow up less than a marathon away from SAF? You're in luck.
And fortunately for the oldest brother of four, Max was barely out of diapers by the time his father Eddie Mac was busy winning a couple of rings with the Broncos, making him A-OK to give it a shot on Tuesday.
Analyzing Max's performance at Pro Day would be silly. In fact, analyzing any prospect's performance at any pro day is silly, but that's a story for a different day. Max's mere presence could be a sign of things to come for the Broncos.
Does that mean John Elway will draft the former Duke wide receiver later this month? The odds say no.
NFLdraftscout.com has Max ranked as the 46th-best wide receiver in the 2016 class and the 385th-best player overall. Translation: He probably won't have his name called on April 28, 29 or 30 and will likely have to latch on somewhere as an undrafted free agent.
But that doesn't mean Max can't play. He had 52 catches, 643 receiving yards and five touchdowns last year as a senior at Duke, capping a career in which he hauled in more than 1,000 yards receiving and had double-digit touchdowns. He also ran an eye-popping 40-yard dash at his pro day last month that was timed as low as 4.36 seconds.
With all due respect to Max, though, he isn't the coveted McCaffrey prize NFL GMs long for. That honor (in the short term) goes to the second McCaffrey in line, Christian. The Stanford star's resume is readily available with a quick Google search, but his stat line in the Rose Bowl as a sophomore last year is really all you need to know.
Christian ran for 172 yards and four touchdowns on just 18 carries against Iowa. He also hauled in another four passes for 105 yards and a TD and, oh, by the way, returned a punt 63 yards to the house for good measure too. The Heisman runner-up will have a tough decision to make after his junior year, but regardless of when he declares for the NFL Draft one has to think teams will be sprinting to the podium to call his name.
The next McCaffrey on the radar is brother No. 3, Dylan. The four-star QB from Valor Christian, who added to his résumé with a state championship this past fall, is headed to Michigan to play for Jim Harbaugh. By all accounts, he has the tools to be a pro QB, and teams may be clamoring for his services come 2020.
And don't look now, but there are some whispers around town that the youngest Mac brother, Luke, who still has a couple years left at Valor Christian, may be the best of all four.
Long story short: If you want to go buy a generic NFL McCaffrey jersey this moment, you should safely be able to wear it in some form or another for the next 15 to 20 years.
It may not be Max who has the longest pro career, but the Broncos extending an invite for him to come work out was a crucial step. Yes, the NFL isn't the circus that is college recruiting, but John Elway and Company laid the necessary groundwork on Tuesday to start welcoming the McCaffreys back into the Broncos family in a playing capacity.
"Getting that call to come to the local Pro Day, there's definitely jitters," Max said to reporters after his workout Tuesday. "You grew up a fan your whole life, and now you get to come out here to actually play in this facility."
Maybe Max will play in that facility for years to come. Maybe Christian, Dylan or Luke will too. Who knows, maybe all four will see stints in Orange and Blue?
Regardless of what happens, the Broncos were right to have Max McCaffrey in for a workout on Tuesday.
He may just be the first seed planted in the garden, but the Broncos would be wise to harvest the talent of multiple McCaffrey brothers down the road.