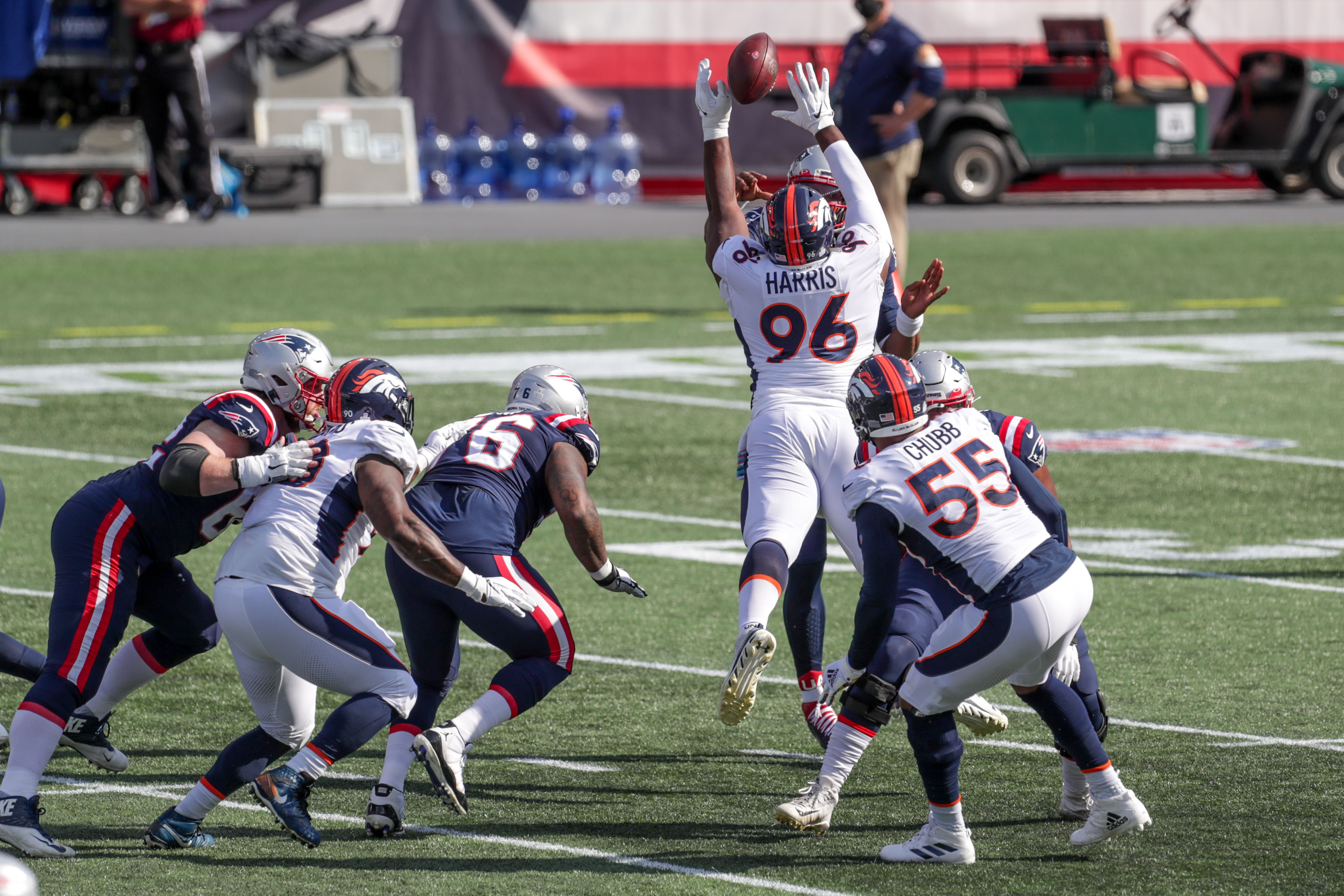 Thanks to their win over the Patriots, the Broncos are now 2-3 with an opportunity to reach .500 and re-enter the playoff picture next week against the high-flying Chiefs.
Here's a look at the Broncos that stole the show in their Week 6 matchup, as well as a look at the Broncos that almost cost their team this incredibly crucial game.
Stock Up
Brandon McManus: McManus was the AFC Special Teams Player of the Week after his Week 4 performance against the Jets, and after the early Sunday games, he's the heavy favorite to win that award once again.
"Money" has lived up to his nickname this season, especially over the past two games, where he's gone 13-for-13 on all kicks, nine-for-nine on field goals, and four-for-four on field goals from 50 yards or more. His performance today also brought his kicking percentage up to 95.2% on the season, his field goal percentage up to 92.3%, and brought his season scoring total up to 44 points. Conveniently, that makes him responsible for 44% of all points the Broncos have scored this season.
As the cherry on top, he also had three kickoffs that forced the Patriots to open their drive inside their own 20 yard line.
Michael Ojemudia: It doesn't matter that he got off to a rocky start against the Steelers — who appear to have one of the league's most loaded receiving cores — this kid is legit.
Against the Patriots this week, he forced two fumbles, one of which was recovered by the Broncos, and was a large part of the team's victory. With A.J. Bouye's injury, Ojemudia became Denver's top boundary cornerback in the team's nickel and dime packages (their most used packages) after having an incredibly limited off-season. He's stood up to the task and then some.
His gritty and impressive showing against the Patriots this week followed up exceptional performances In Week 3 and Week 4. Over those last two games, the rookie from Iowa allowed just six receptions and 35 yards on 13 targets while also breaking up a pass.
Shelby Harris: After signing a one-year deal to return to the Broncos this off-season, Harris has been special this season.
Entering Sunday's game, Harris was Pro Football Focus's highest-graded defensive Bronco. He had also accumulated 10 total pressures (2nd on team), three sacks (tied for 1st on team), three quarterback hits (tied for 2nd on team) and nine tackles for either a loss or no gain.
Today against the beat-up New England offensive line, Harris added another quarterback hit and had two huge deflections, one of which led to an interception and a field goal for Denver.
If they were going to hand out a team defensive MVP award for the first third of the season, Shelby Harris would win without a doubt.
Honorable mentions: Bradley Chubb got off to a slow start but now has 3.5 sacks over the past two weeks, while Malik Reed got his first two sacks of the season today. Kareem Jackson also had his best game of the season.
On offense, Phillip Lindsay led the way and might have reclaimed his starting job, rushing for 101 yards on 23 carries. Rookie Albert Okwuegbunam had a nice NFL debut but wasn't able to capitalize on two touchdown opportunities that would've changed the course of the game.
Stock Down
Offensive touchdowns: The Broncos defense was marvelous against the Patriots, holding them to just 12 points on the game even with Drew Lock's two late interceptions. Unfortunately, the Patriots were very much in the game despite having only 12 points, because while the offense was also able to move up and down the field and put their team in field goal position, they weren't able to finish a drive with a touchdown all game long.
Now, in their defense, the Patriots redzone defense is incredibly stingy, but that inability to produce in the redzone easily could've lost this game for the Broncos. On two different occasions, rookie tight end Albert Okwuegbunam had two hands on a football in the endzone and wasn't able to come away with a score either time. That's unacceptable.
Drew Lock: Drew Lock's performance was a mixed bag, but let's start with the positives. The offense scored on six of their drives, he connected on some pretty deep throws, and the Broncos managed to come away with a win in Lock's first game back from a serious throwing shoulder injury, on the road, against a Bill Belichick-coached Patriots team that had both Stephon Gillmore and Cam Newton.
That would've been the story of Lock's average, yet-somewhat-underwhelming Week 6 performance, if not for a three-play sequence that went fumbled snap, ugly interception, ugly interception, and opened the door for a New England comeback. Pair that with an ugly box score that shows less than 50 percent of passes completed, less than 200 passing yards gained, zero touchdowns and two interceptions, and it's still hard to decipher what Drew Lock will be at the NFL level.