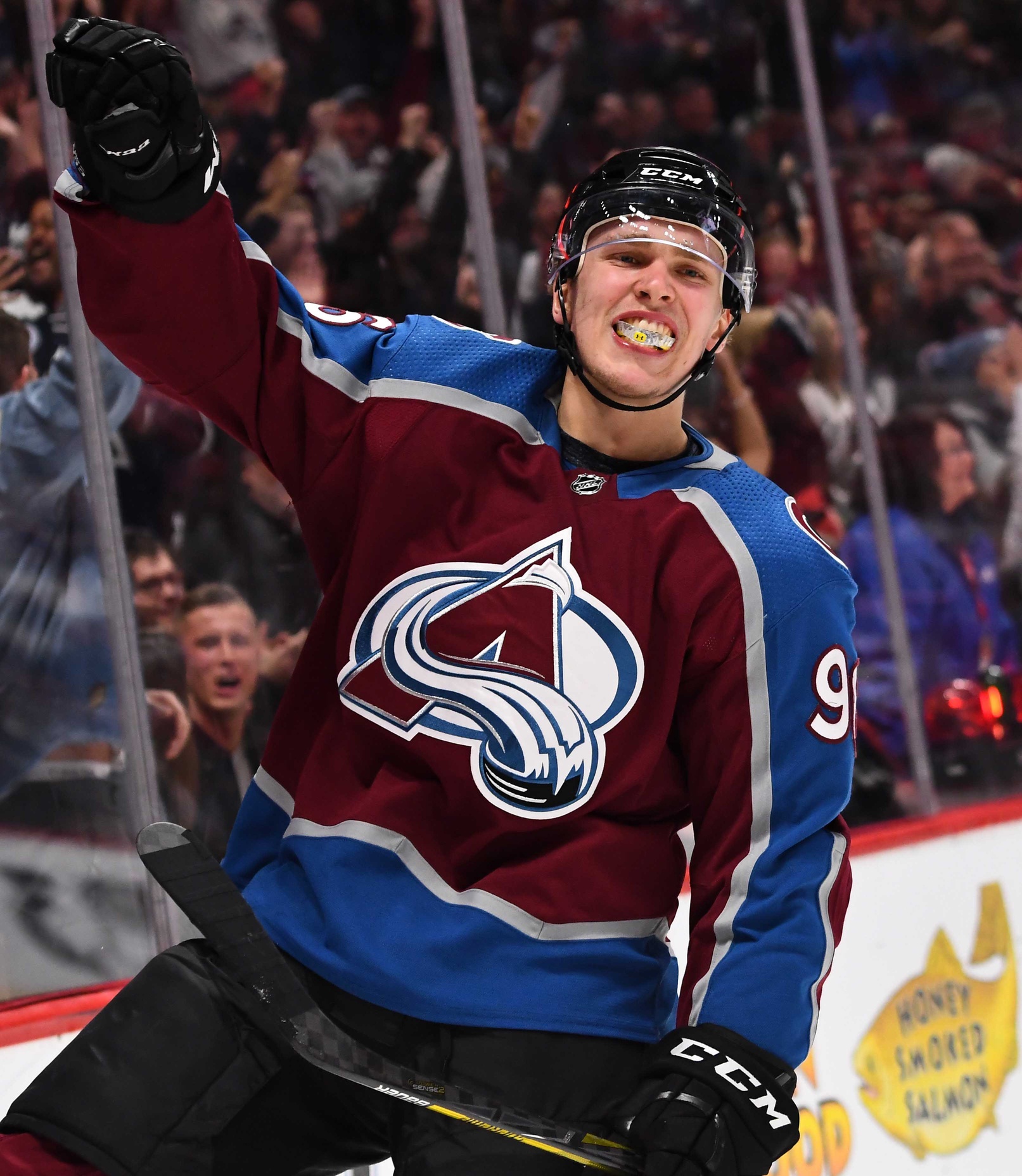 At the age of 20, Avalanche forward Mikko Rantanen exploded onto the scene — almost before we even knew him.
The following article is from the October issue of Mile High Sports Magazine. Subscribe here!
When forward Mikko Rantanen of Finland was selected 10th overall by the Avalanche in 2015, he was the top-ranked international skater in the draft that year. Hopes were extremely high for the then-18-year-old, and Rantanen has not disappointed in his three-plus seasons with the club. In 2016-17, he tallied 38 points (20 goals, 18 assists) in 75 games. Last year, the 21-year-old had a breakout season, finishing with 84 points in 81 games (good for 16th in the NHL), playing on the top line alongside Hart Trophy finalist Nathan MacKinnon and team captain Gabe Landeskog. The sky's the limit for Rantanen, who figures to be a huge part of the Avs' success for many years to come.
Mile High Sports' Vanessa Hughes sat down with the high-scoring right-winger before the start of the regular season.
Vanessa Hughes: Welcome back to Denver and to hockey. How did you spend your offseason? Were you back home in Finland?
Mikko Rantanen: I was there the whole summer. It was record-breaking weather there. Usually it's 75, maybe 80 (degrees), but it was 90 almost all the time. Here (in Denver), it feels like nothing, but there it's hot. I also went to see the World Cup in Russia for one game, Argentina against Nigeria. I went with three other friends. We took the train from Helsinki to Saint Petersburg. It's a four-hour train ride. When we knew it was going to be there, we decided to go two or three years ago. It was one of the highlights of my summer to go to the World Cup for the first time ever. I think there were 65,000 people in the stadium — and 45,000 Argentina fans — so it was crazy.
Tell me about where you're from in Finland.
I'm from a small town of 5,000 people called Nousiainen. I lived there until l was 15. The nearest big city is Turku, which is the fourth- or fifth-biggest in Finland. It's 15 or 20 minutes away. I actually went to high school in Turku, and I live there in the summertime now.
How about your family?
My mom and dad are together, and they live in Nousiainen. I have two sisters, 25 and 19. I'm in the middle. We get along really good, actually. We see each other a lot in the summer. They (my sisters) live in Turku as well. Usually they come to Denver once a year, too. When I'm here, we call and do FaceTime many times a week, so it's good. My parents are coming to visit in March. And one friend is coming in December and a couple more in January, so that's good.
What do you miss most about home?
Probably friends. I don't really miss Finland as a country, but my mom [makes] really good food, so probably that, too. But otherwise, friends and family. It's my fourth year here, so I'm kind of used to it and it's easy to call and FaceTime them.
Your English is excellent. How did you become so proficient in the language?
In Finnish school, we start to learn English pretty young. Around 10 years old. It's because of that, and when I played in the Finnish professional league, there are American guys, too. So, when you want to talk to them, you have to speak English. I think that's why it's gotten better pretty quickly.
How do you like Denver?
I really like it here. The weather is unreal. Even in the winter time, the sun is out. We're not used to that in Finland. It's usually really dark in the winter. I knew when I got drafted that Denver was a really nice city, but I didn't know it was this good. There's a lot of stuff to do and there are good restaurants and everything, so I really like it here.
You went to the Broncos' opener in September. Was that your first Broncos game? What did you think of the NFL experience?
It was my third or fourth Broncos game. Usually we go at the start of the year [before hockey season starts]. It surprised me the first time — it was so loud and everybody was on the outside two hours before the game, tailgating, so it's pretty fun to watch. I never really followed American football before I came to America three or four years ago, but now I like to follow it. We have a fantasy league with the team and I'm into that, too. I'm with one of the trainers, because he knows more than me, so it's good. I need some help. The quarterback we have is Cam Newton and [we also have wide receiver] Antonio Brown and the Saints' defense. Every weekend, I watch the scores and try to follow what my players do. It's fun.
You and your teammates are some of the best athletes in the world. You got to visit the football field for warmups and had a chance to see their players from a few feet away. What was it like to watch another professional athlete up close like that? Do you appreciate what they do, too?
It's like, "holy cow, these guys are so big!" Especially the defensive guys and offensive line. They are huge. And how quick the wide receivers and running backs are, so it's really fun to watch. It's a hard sport and very physical, too. It looks really hard, actually.
You were sporting a No. 88 Demaryius Thomas jersey at the game. Where did you get that?
When I went to my first game two years ago, we went to the store in the stadium. He was a pretty good player, so I just got an 88 [jersey]. I haven't met him yet. That would be fun.
You're 6-foot-4 and 215 pounds. Hey, you know, the Broncos could use another tight end. Would you ever have a desire to play football if you weren't playing hockey?
I would not probably play, because in Finland, it's not a huge thing, so I didn't grow up watching. It would be really unreal to play in the NFL, I do believe that.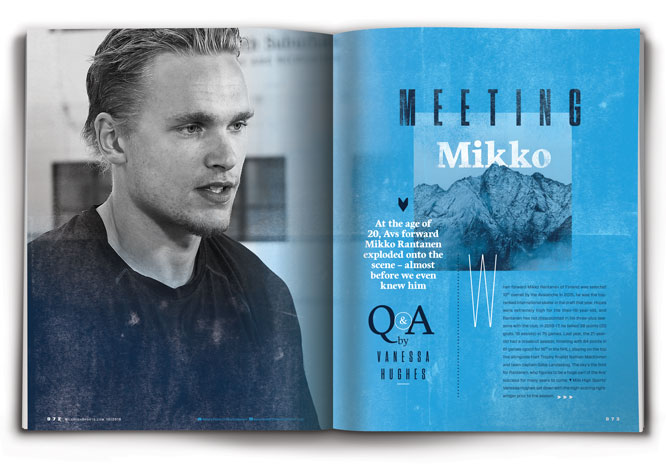 Let's talk hockey. Last year exceeded many people's expectations for this team — maybe not the guys in the Avalanche dressing room — but folks outside the organization were pleasantly surprised. The Avalanche made it to the postseason for the first time in four years and lost really a hard-fought series to Nashville in the first round. You have basically the same group of guys back for 2018-19, with a few new additions. How does this team build on last year's success?
Just to make the playoffs is not enough. I feel like our group did a really good job last year, but we know we want to do more. Now every guy in the locker room has one more year of experience. We had seven or eight rookies last year. Now, it's getting more comfortable and we have pretty much the same team. Our goal is to go deeper than the first round. You never know what's going to happen in the playoffs and we want to go deeper.
This team had just 48 points two years ago and finished with 95 last year. That's almost a 50-point turnaround. Were you surprised by the huge point jump last season?
It was huge. I don't think anyone outside this locker room was expecting anything from us. We knew, as a team, at the start of the last year that we could be a playoff team. I think we surprised everyone; probably even ourselves a little bit. It was a really good year, and when you have a lot of confidence, you win games and it's a lot of fun.
You also had an outstanding year last year: 29 goals and 55 assists for 84 points in 81 games. That's 46 more points than in 2016-17. Playing on the top line with MacKinnon and Landeskog doesn't hurt, but what was the difference in your game?
I made a lot of improvements during the summer last year and felt really good going into training camp. Honestly, the biggest thing to play well is you need your linemates and all five guys, even the "D" working on the back end — you need them to play well. As a line, our confidence went up right away and our chemistry was good. We were together for 70 games, so the chemistry builds up every game. You play together, so I think that was the biggest thing for me — and they helped me a lot. Mentally, too, I was more ready last year, because in my rookie year, you go to new buildings, but now you know where you're going and you know how the game is, so it's a lot easier.
What's it like playing next to a guy like Nathan MacKinnon every night? Are you ever amazed by how good he's become?
Yeah, many times. I think the whole team is sometimes amazed at what he did (last year) and what he's going to this year, too. It's unbelievable to watch. I try to learn from him and see what he does and maybe try to do similar things. It's amazing. Sometimes you're like, "Oh my gosh, what did he do now?" It's really fun to watch; he's a great hockey player.
Has he given you any specific tips or helped you develop your game?
I like to play on a line that talks a lot. We talk in between periods about how [the opponent's] defense is playing and what we can do to break it down. He's helping me a lot more by showing me things he's doing; I just learn a lot from him. He's a great guy, too.
What's something we'd be surprised to know about 'Mac'?
I don't know if people know that he plays a lot of golf, but he also takes lessons. (EDITOR'S NOTE: If you read the June 2018 issue of Mile High Sports, then you did…) Photo of that cover here? — SD He goes after practice and he goes to golf lessons. He's really good at it and is really committed.
How do you like to spend your down time off the ice?
Most of the guys live in the Cherry Creek area, so we ride our scooters and go get coffee. It's a lot of fun, especially now with the good weather.
What are your interests away from hockey?
I like to follow soccer. I actually follow soccer more than hockey. It's one of the sports I played when I was younger and I really like it. And Spikeball. It's two against two and you have a net and you play with your hands. You hit it off the net, it's like a trampoline, and you smash the ball. We just got into it this summer. It's really fun.
You live in Cherry Creek. Do you live by yourself, or do you have roommates?
I live by myself. It's nice if you want your alone time. I've never actually had a roommate. When you want to be alone, you can be alone and you don't have to worry about anything. [My teammates and I] are together a lot, every day almost, so I don't mind it. Like I said, we go to coffee almost every day on days off, so it's a lot of fun.
You turn 22 on October 29. Do you have a significant other?
[Laughs] No, not yet.
Who are your best friends on the team and what do you guys like to do together?
'Landy' (who got married this offseason), [Sven] Andrighetto and [Mark] Barberio, because they're single guys, too. They don't have any family here, either. We hang out almost every day. We like to play FIFA, the soccer game, and Fortnite on PlayStation. They like soccer a lot, too, so we play that together — and then with other guys we play Fortnite.
How did you choose number 96 with the Avalanche?
My birth year is 1996, so that's how I chose it. I used to have it when I played soccer, but in hockey, you could never pick when you were younger. Then, when I made it to the professional league [in Finland], I picked 96 and have had it from that year on.
Did you have a favorite NHL player growing up and tried to emulate?
I liked to watch [Peter] Forsberg when I was really young. And when [Sidney] Crosby got drafted by Pittsburgh, I started to follow him, and he was my favorite. I met Peter last year when Milan Hedjuk had his number retired. It was pretty special. I've never talked to Crosby. It's nice to play against him and try to learn from him, too.
Where do you keep the puck from your first NHL goal?
It's at my parents' house in Finland. Colorado made a nice case, and it's on the wall there. When I got my first hat trick [in] my first year, I got the same kind of stuff. Pictures and the third-goal puck. We always get the jerseys every year, so they have those, too.
Coach Jared Bednar recently said this about you: "I think he's just scratching the surface of his potential. I think he has another level that he can get to, and we're going to try to push him and demand more of him." What do you think he meant by that?
I think I can still get a lot better. I think I can improve defensively and be more aware of what's happening around me. I really like him as a coach, and he's always around when you need something. I don't think anyone is afraid to go talk to him. I know there are coaches like that, too — where guys don't want to talk to them because they're scared, but it's nothing like that with him. I think every player has a good relationship with him.
What are you most looking forward to for the 2018-19 season?
Everybody is excited. We have pretty much the same core, and a couple of good additions like [Ian] Cole, [Matt] Calvert, [Philipp] Grubauer, so I think that's helping our team a lot. Hopefully, we can do even better than last year.
***
*For more from Mile High Sports Magazine, subscribe here!