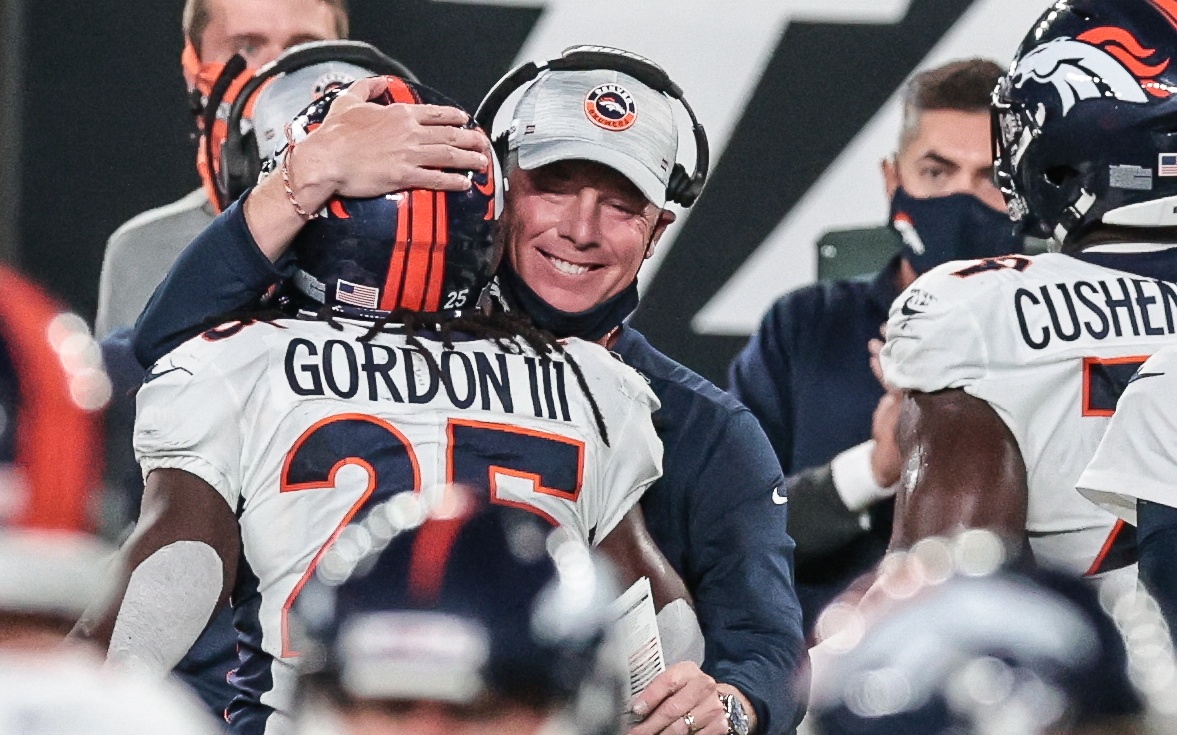 Trying to come back in the National Football League is a tall task.
The Denver Broncos tried to play catchup against a feisty Pittsburgh Steelers team on Sunday, but they were way too far behind once the offense started to find a flow to come all the way back.
Denver punted the ball three times and scored only two field goals in the first half, falling behind 17-6 at the break. They were thoroughly out-coached, out-played and out-smarted in that first half, and really in the entire game.
It wasn't until the game was basically out of reach, with the Steelers up 24-6 late in the third quarter. Pat Shurmur's offense lacked creativity, lacked explosive plays and helped put the team in a massive hole early.
"If we want to be where we want to be, that's just something that can't happen," starting running back Melvin Gordon said. "We can't start out slow. We can't wait until we get in the hole and then come together as a unit and try to pull it together at the end. This is the National Football League."
Gordon's right, and it's far from the first time this offense has struggled.
In fact, the Broncos have failed to score a touchdown on their first drive in 24 straight games. That's the entirety of the time Shurmur has been the offensive coordinator and even dates back to the Rich Scangarello days.
Usually it's the squeaky wheel that gets the grease. That's why Scangarello was fired after his first year as an NFL offensive coordinator, a year in which Denver was dead-last in the league with 16 passing touchdowns. They were also 28th in scoring (17.6) that season.
Since then, the offense has only taken a marginal step forward overall.
Part of that has to do with Shurmur, to be sure. Many argued he didn't have the ability to mold the offense to his quarterback, which was Drew Lock. But, part of the blame for Lock's inability has to rest on his own shoulders.
He was injured twice in his first two seasons, both to his throwing arm, while his mechanics and processing speeds have failed to improve to the point they need to be. Plus, Lock lacked leadership last year, being ruled ineligible due to COVID protocols where he and teammates took off their monitors, placed them in the corners of the room and then met with masks off.
But, while Shurmur's style of offense didn't necessarily blend with Lock's free-wheeling, run-and-gun style, the offensive game plan hasn't been great for a different style quarterback in Teddy Bridgewater, either.
Simply, when the offense let loose and attacked deep more often in the first three weeks, it helped open up the intermediate passing game as well as the run game. Denver's offense averaged 25.3 points and 315 yards per game in those first three wins. They also enjoyed a +4 explosive play differential. Since then, their points per game have been nearly cut in half (13 PPG) and the team has been a -4 in explosive differential.
An explosive play is one which goes 20-plus yards, and while they were even with the Steelers this Sunday (5-5, most of them coming late in the game), the Ravens had five big plays to Denver's one a week ago.
Against quality opponents like the Ravens and Steelers, the Broncos offense reverted to the same sorry unit we got used to watching in 2019 and 2020. In fact, they've been worse this year at converting on third downs (28.5%) than last year (38.7%) and Denver is the worst in the league on the crucial down this year.
And with to solid opponents the next two weeks (Las Vegas and Cleveland), each of them with better offenses than Denver's, more slow starts will result in more losses in all likelihood.