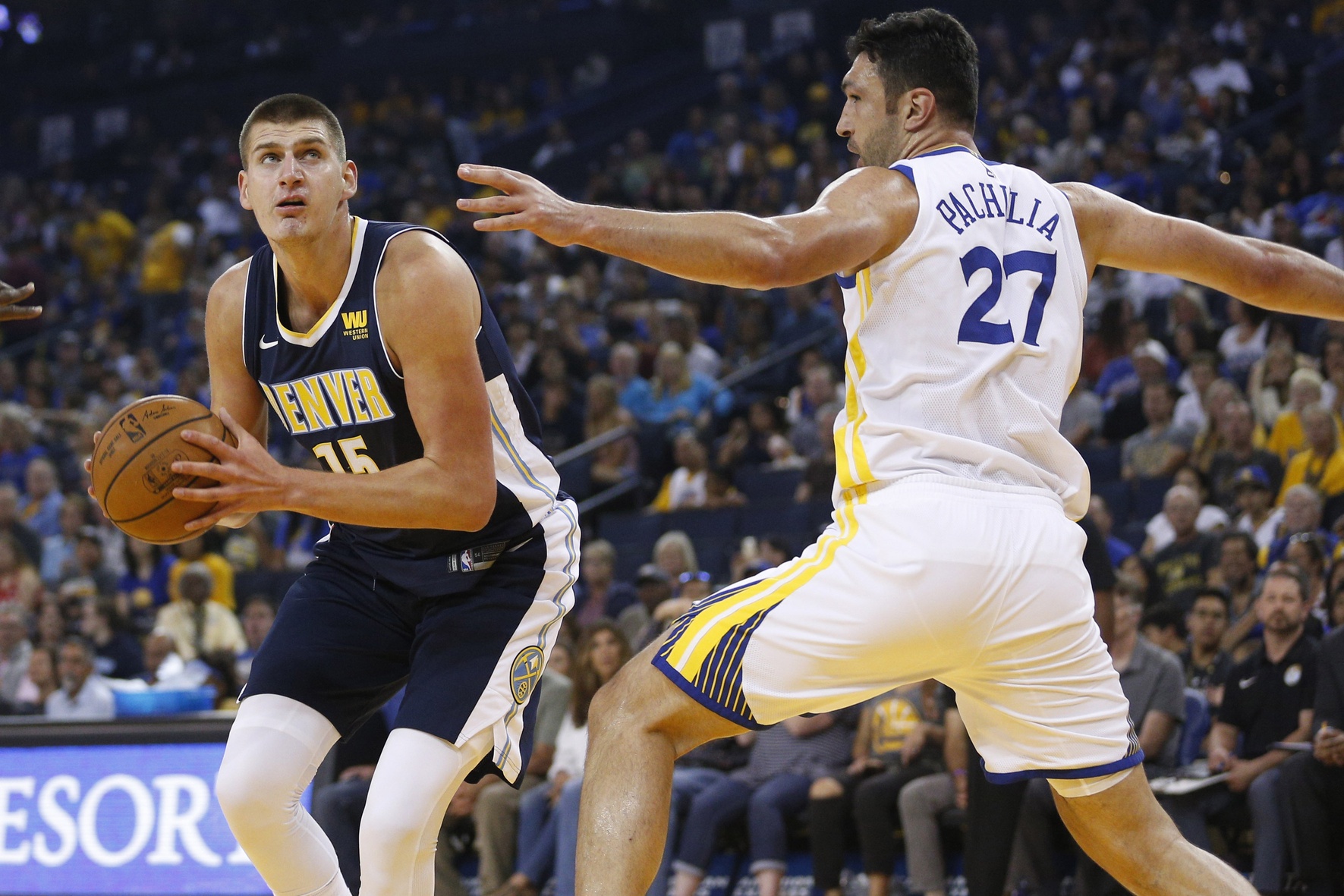 The Denver Nuggets were unable to come away with a victory in Oakland against the defending NBA Champion Golden State Warriors on Monday night, but that does not mean that the Nuggets' matchup with the Warriors was devoid of positive takeaways.
Nikola Jokic — who has been in a mini-slump of sorts and has yet to look like the fully-actualized version of himself — finally began showcasing all of the swagger and confidence that made him one of the most polarizing players in all of the NBA after his impressive sophomore campaign.
Things have not been easy for Jokic recently. He has been playing out of position at the power forward slot — a role that he has not necessarily flourished in throughout his career — and is trying to find a way to balance his ability to be the Nuggets' offensive maestro while also adapting to his new responsibilities with Paul Millsap out of the lineup after going through a surgical procedure on his wrist.
With all of the uncertainty and inconsistency surrounding Jokic — considering that the Nuggets have been dealing with injury issues up and down the roster all season — it makes sense why the continuity that is required to play the selfless-style of basketball that Jokic so productive may be lacking. That has led to Jokic pressing a bit as he searches for the answers to get the Nuggets' offense back on track.
"I hate to see him so down on himself and putting so much damn pressure on himself," Nuggets' head coach Michael Malone said at shootaround on Monday morning to Gina Mizell of the Denver Post. "When he is at his best, he plays with a passion and a flair and a joy. I have not seen that lately."
Malone decided to bet big that the solution to fixing Jokic's problems was to get him into easy situations to set up his teammates with good looks first and foremost and then proceed to just feed the big man as often as he could get the ball in his hands.
It was evident from the first possession of the game that the focus was to get Jokic engaged and involved in the offense early and often. Look below at the Nuggets' first offensive possession of the game. To get Jokic comfortable from the get-go, Malone had a gorgeous — yet simplistic — play drawn up to get Jokic the ball in the mid-post on the opposite side of the key from Gary Harris. Look above at how Malone gets Harris into an easy passing lane for Jokic to deliver the ball through. Malone elected to have Chandler cut to the rim from the opposite wing and had Mason Plumlee set a back-screen for him. This action is just a misdirection as Plumlee peels off of his screen that he is setting for Chandler to get into the path of Klay Thompson, who is trying to stick with Harris as he darts from the corner to the top of the key to receive the easy pass from Jokic. Thompson is forced to go under the screen and Harris finds himself with a wide-open three-pointer — which he converts — to start out the game.
The next offensive possession was not scripted as the first was, but Jokic still found himself with a wide-open three-pointer that further opened up the floor and set the table for what would be an incredible 22-point, 12-rebound, and 11-assist triple-double by the end of the night for the Serbian Sensation. Once this three-pointer dropped — because Andre Iguodala inexplicably decided to sink all the way into the paint — the floor became wide-open and allowed Jokic the space to score in a way that he has failed to do in the same capacity this year but feasted from last season — in the mid-range.
After hitting that three-pointer from the left-wing, Jokic immediately went to work in the paint. Look below how Jokic patiently sits in the space unoccupied by any Warriors' defender until the perfect time. Jokic knew that once he passed the ball to Plumlee, the defense would collapse down on Plumlee. Once Jokic saw Harris cut baseline and end up with the ball in his hands, the mental telepathy that is shared between Jokic and Harris was put on full display. The second that Harris draws all three of Draymond Green, Zaza Pachulia, and Iguodala to the rim, Jokic takes one step backward to give himself just enough extra space to get the floater off. This play looks like the Jokic from the second-half of last season.
Jokic began unleashing his entire offensive repertoire from that point on as his confidence started expanding like a balloon. Jokic started showing off the skill-set that has cemented himself as the Nuggets' best player and potential superstar. He tossed out a redirection touch pass in the paint among multiple defenders to get Plumlee an open dunk that is just as bewildering to watch on repeat as it was to watch live.
The one and only reason that Jokic is able to make the pass above is the attention he demands as a scorer when rolling to the rim. Jokic forces the defense — mainly Green — to collapse on him before he even receives the pass, and the second that the ball reaches him as he is rolling to the rim, Jokic already knows he is just going to tap it to Plumlee, who is open under the rim of the reverse dunk.
Once the confidence returned, so did the instinctual playmaking that makes Jokic such a transcendent passer. Look below at how quickly Jokic makes the decision to pass the ball ahead in transition to a streaking Jamal Murray. Jokic has maybe a half-second to make the decision to make the pass ahead or else he would end up leading Murray under the rim, and not to the rim. Jokic immediately registers that Plumlee is also running the floor with Murray making it a two-on-one fast break opportunity if he can get the pass up the court quick enough. Jokic immediately loads up and launches a perfect pass to Murray, who gets the easy dunk.
Everything was clicking for Jokic at that point; so much so that he began throwing out passes that 95-percent of NBA players would never even consider attempting. The alley-oop pass to Torrey Craig above is nearly impossible to comprehend. The touch required to fit the ball over the out-stretched arm of Jordan Bell — but still not too high for Craig to corral in mid-air — is insane. Jokic is essentially throwing a pass that has to be leading Craig but also fit into a window that is not much larger than the size of the basketball itself, and the pass is coming from somewhere near 30-feet away. That is downright ludicrous.
Jokic's passing became such problem for the Warriors that their defense was struggling to figure out the best way to defend him and this broken-play floater below is a perfect signifier of that. Jokic forces up a shot and gets block from behind, but he manages to grab the offensive rebound off of his missed shot. This is where the magic happens. Jokic has the ball in his hands and understands that Bell, who is directly in front of him, is loading up to block his shot if he attacks the chest of Bell. Jokic instead decided to pull up for a floater from right outside of the restricted circle and manages to negate Bell's shot blocking ability by doing something that he didn't expect leaving Bell in no-mans-land.
When Jokic is able to manipulate defenders and defenses like that, you know that he is in a zone that makes him nearly unstoppable. When Jokic goes into those unstoppable modes, defenders have to guard him much closer which, in turn, opens up the floor dramatically. Look at the attention Jokic receives as he collects the pass. All five Warriors' defenders look at Jokic simultaneously. Omari Casspi — who is guarding Trey Lyles — is staring directly at him. Draymond backs off of a known-shooter in Murray just to be in a position to provide help defense. Thompson is also staring directly at him as Jokic receives the ball. Even Stephen Curry, who eventually gets beaten back-door by Wilson Chandler on a baseline cut for an easy layup, is seen ball-watching in the clip above.
When Jokic is garnering that kind of attention, it is just a matter of time before he either finds an open teammate for an easy bucket or beats you himself with his ultra-diverse offensive arsenal.
Once Jokic's passing became the most dangerous aspect of his game in the eyes of the Warriors, Jokic began toying with the Golden State defense. Look below how Jokic sends Iguodala flying off of a pass-fake and uses his length to get a shot off over the contest of Green. Jokic understands that his passing usually leads to an open look for a teammate so, after faking the pass to Chandler, Jokic knew he had already created enough room for him to un-cork a beautiful rainbow jumper that connects from the corner.
Once Jokic's begins to assert himself on any game, it immediately spells doom for opposing defenses. Look below, as Jokic decides to force the Warriors to double him just so he can create a wide-open three for Harris. Jokic immediately recognizes that the smaller Shaun Livingston was defending him on an island; so, Jokic backs him down slowly and methodically until Bell — who was guarding Harris — was forced to give help from the perimeter. The second Bell took a step away from Harris, the pass was already set to get whipped over to Harris for the three-pointer.
This is what it looks like when Jokic realizes that he can manipulate a defense at will. When Jokic goes into this type of takeover-mode, he forces defenses to bend and scramble. That opens up the passing lanes even wider for Jokic to exploit and also creates more space for Jokic to get open shots for himself.
That is when Jokic can take guys into the post and get isolation opportunities. When Jokic is slicing up defenses with his passing, it forces defenders to stay home and not give help. That is when Jokic finds himself with opportunities to call his own number, as he did to Green when he took the reigning Defensive Player of the Year to down-low in the post and made him look silly. This up-and-under post move is flat-out filthy. While the footwork Jokic is displaying is art in its own right, the most impressive part of this play is getting Green to bite that hard on a post-move. Very few players defended by Green ever get him that far out of position; it almost never happens. Yet, Jokic found a way to convert and take advantage of the opportunity.
It has been a long wait to see Jokic fully actualized once again, so his 21-point, 12-rebound, and 11-assist triple double was as fantastic of a sight as any other for the Nuggets' organization. Getting the Nuggets' superstar center engaged and involved is paramount to the success of the franchise. Jokic's triple-double against the Warriors — even if in a loss — is the first step to getting Jokic back to being himself.
"Let's be honest — Nikola is the future of the Denver Nuggets," Malone said according to Gina Mizell of the Denver Post. "I wanted to see him get back to enjoying the game of basketball."