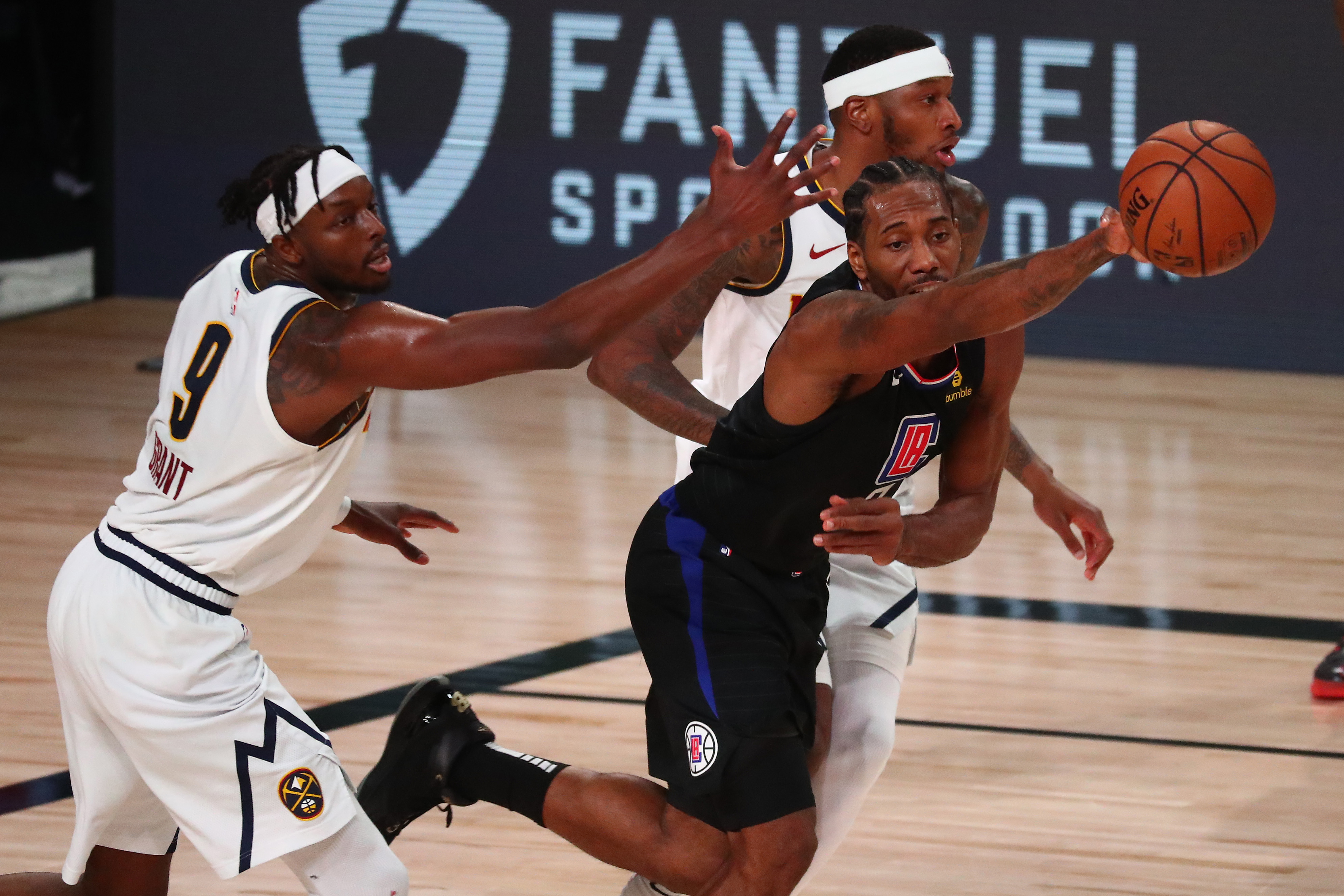 When the Denver Nuggets and Los Angeles Clippers drew each other for their second round series in the Western Conference Playoffs, no one thought the Nuggets had a chance to defend the likes of Kawhi Leonard and Paul George.
I mean, how could they? Their best perimeter defender – Gary Harris — had only played two games since March 11th coming into Game 1 of the series, Paul Millsap had just gotten destroyed by the Jazz's nuclear offense, and the combination of Leonard and George were significantly more talented scoring the ball than the Jazz team that made life so difficult for the Nuggets.
In Game 1, all of those worries seemed to manifest themselves into reality. Denver got obliterated by Leonard and the Nuggets lost the opening game of the series by 23 points.
But in Game 2 everything changed. They held the Clippers to just 101 points on 40.9% shooting from the field and 28.1% from three-point range to go with 17 turnovers.
So now the question begging to be asked is this: did the Nuggets figure out how to slow this Clippers team or did they just miss shots?
Well when analyzing the film, it seems that Denver has found a sustainable defensive scheme to help slow this Clippers offense.
There is no more important place to start when it comes to what worked for the Nuggets defense than the job they did defending Kawhi Leonard.
First and foremost, Jerami Grant did an incredible job of limiting Leonard. Grant used his length to contest every shot that Leonard put up and to contain his drives from the perimeter. He was constantly being physical with Leonard as he snaked through screens or attempted to muscle Grant out of the way to get to his spots. That type of effort and determination is exactly what the Nuggets need to replicate if they want to give themselves a good chance to at least limit Leonard going forward in the series.
Just look at this defense by Grant. He sticks with Leonard through two screens, bodies Leonard up when he tries to move him off his trajectory, does not foul and forces a tough floater that Leonard misses.
"That is the luxury of a guy like Jerami Grant who can defend any position on the floor," Malone said after the win.
These moments were a constant all night long which led to Leonard finishing the night shooting a brutal 4-17 from the field for just 13 points.
It wasn't just Grant who played fantastic defense on Leonard either. Paul Millsap turned in his best game of the playoffs thus far and a large reason for that was the individual and team defense he had for every one of his 31 minutes of action.
The defensive possession above by Millsap is so much more difficult than it looks and is indicative of a sustainable defensive strategy against Leonard, who may be the best basketball player on earth. Leonard has proven he is a threatening pull-up jump shooter, but Millsap stays low and in position to either close out if he pulls up or stick with him when he drives. Once Leonard commits to the drive, Millsap contains by moving his feet to keep up with Leonard, physically keeps him from getting to the rim, contests the floater and does not foul.
Once again, it was Denver's willingness to match Leonard's physicality that allowed them to slow him down in addition to their dedication to containing him one-on-one. If Grant and Millsap can keep that going in Game 3 and beyond, Denver's chances of reaching the Western Conference Finals improve quite a bit.
Of course all of this is easier said than done, and Leonard will absolutely play better than he did in Game 2, but Denver has now shown they have a defensive scheme that has the potential to slow Leonard.
The one-on-one defense Denver had on Leonard was undoubtedly important, but their weak-side rotations and help defense were just as impactful.
The defensive duo of Gary Harris and Grant on the floor together gave the Clippers tons of issues because of the off-ball and on-ball defense each of them can provide. In the clip above, Harris stands up Leonard in the post long enough for Grant to help trap him in the corner forcing the ball out of Leonard's hands leading to the Beverley missed 3-pointer.
(Also, Harris being strong enough to stand up Leonard in the post in patently absurd. Harris is truly a football player in a shooting guard's body and his strength is constantly overlooked when analyzing his defense. The number of guards his size who could hold their own against Kawhi in the post can likely be counted on one hand.)
After the game, Nuggets head coach Michael Malone made it clear that Denver's defense behind the play was just as important as Denver defense at the point of attack as it was in the clip above.
"You can play the best defense in the world one-on-one,  but if that help is not built in and you're hugged up on the perimeter, you cannot guard one-on-one," Malone explained after Denver's Game 2 win. "I don't care what you do. But our guys bought into our help concept — shrinking the floor and showing them a crowd — and we had great example after great example tonight."
Here is one of those great examples why Malone found so much value in what Denver did rotating behind their point of attack defenders.
Yes, Grant does a good job of sticking with Leonard as he spins in the paint, but what is most encouraging is even before Grant contests and flies by Leonard, Jokic is swiping at the ball making things slightly more difficult for Leonard. After Grant flies by Leonard, Jokic is still in position to contest and deny Leonard's floater forcing him to kick it out to Green. From there, Michael Porter Jr. gives great effort on his contest of Green's jumper helping force the miss.
So to Malone's point, Grant's defense was important, but there is no chance Denver could have held Leonard to such a low scoring impact with just one-on-one defense. It took the entire team to limit Leonard and the entire team executed the game plan flawlessly.
All night long, the Nuggets off-ball defense caused chaos for Leonard; especially when Harris was the one getting involved as he does below.
Harris knew what Leonard was going to do way before Leonard started to make his move. You can tell by watching Harris' head. He never takes his eyes off Leonard and willingly lets Beverley clear out because Harris knows exactly where Leonard wants to go. That has everything to do with Harris' preparation and film work he has done before the series began.
The trigger moment that alerted Harris to Leonard's move was when Murray switched onto Leonard after the dribble handoff with Paul George and Leonard then began to post up. Leonard then looks back to George, who is at the top of the three-point arc to account for the potential of Grant doubling him. Instead of Grant doubling, Harris sneaks in from the baseline when Leonard is looking the other way and picks his pocket for a steal.
(Even more credit to Harris on this play because Leonard likely thought Harris vacated the corner when Beverley cleared out. Harris used that information against Leonard which helped him get the steal.)
It was not just Harris who had success stunting down on Leonard when he attempted to post up. In the clip below, Murray refuses to let a lazy post entry pass get to Leonard as he follows the ball and fights it away from Leonard, who is known for his incredibly large and strong hands.
When Denver is getting that level of defensive intensity, physicality, and pressure on Leonard from both on-ball and off-ball defenders, it derails the Clippers' offensive flow and forces turnovers.
Being able to get that type of disruption from off-ball defenders against an isolation-heavy offense is sustainable if Denver can continue to be physical with Leonard and keep the pressure level high at the point of attack.
When Denver puts together their on-ball defense and their off-ball help, this is how impactful they can be.
It may not look like it, but those are two separate plays in the fourth quarter where Denver had at least three defenders collapse on Leonard in the paint to absolutley smother him and eliminate any potential easy bucket at the rim.
That is defensive intensity. That is high-level pressure. That is giving maximum effort.
That type of aggression was not only reserved for Leonard either. Take a look at the clip below featuring Paul George trying to drive to the rim against the Nuggets defense.
Even with the broken play giving George more room to work with, once he gets to the rim he meets both Millsap and Grant. Millsap goes straight up which forces George to double clutch and gives Grant enough time to reject his layup attempt and send it back into the hardwood where Jokic corralled the rebound.
Clearly, Denver is just fine selling out on either of George or Leonard when they put their head down and try to get to the rim. Maybe each of them will look to create for their teammates more in Game 3, but their offense is predicated around letting Leonard and George destroy using isolation play. With that in mind, Denver's willingness to sell out on their drives to the rim may actually continue to work as the series marches on.
But when a team sells out to slow two isolation scorers, it usually opens up the floor for everyone else to get open — particularly three-point shooters. So using that logic, it makes a lot of sense that Clippers head coach Doc Rivers will look to make Leonard and George create for others in Game 3.
Well, that might be more difficult than meets the eye if Denver continues to give the same defensive effort they did in Game 2. For example, look at this defensive possession from the Nuggets.
First, the Nuggets get the ball out of George's hands early on in the shot clock, but that is only the start of a truly perfect defensive possession. After George reverses the court and gets the ball to Morris who swings it to Beverley, Denver's defense eliminates all passing angles by being perfectly in position.
Try to put yourself in Beverley's shoes as he drives into Murray, who perfectly uses the baseline as an additional defender. As Beverley, realizes he will not be able to get to the rim to score, he begins looking for an outlet. The first option is going to Leonard in the corner, but Grant is right in the passing lane making the pass too dangerous. Jokic also rotated over to provide help, but also did a great job of also keeping his body in front of Zubac to eliminate the wrap-around pass. That is when Beverley looked to George on the wing, but Harris is also perfectly positioned in the passing lane to pick off any bailout pass from Beverley to George. Even Millsap is covering up Morris on the weakside of the floor. So once Beverley leaves his feet, the only plausible outcome of this possession was a turnover by the Clippers.
When Denver gets that kind of point of attack defense paired with perfectly positioned weak-side defense, once again it has been proven to be useful slowing this Clippers attack.
The last piece of the puzzle for Denver's defense is unrelenting effort regardless of situation which they got in Game 2. One player who embodied that was Porter, who may not have always been schematically perfect against the Clippers, but always made sure he was giving maximum effort — just like he does in the play below.
Yes, Porter overplays the hedge allowing Leonard to split the defense of him and Grant which is a big no-no. But instead of allowing the Nuggets to defend 3-on-5 with Grant and Porter now trailing on the play, Porter fights his way back into the paint and swipes at the ball when Leonard crosses over from his right to left hand.
Porter giving that extra effort not only caused the turnover, but also led to an easy fastbreak bucket in transition for him. In the playoffs when games could be decided by a single possession, this type of effort can swing a series as it did in Game 2.
And once again, here is Porter giving maximum effort despite being seemingly out of the play.
Porter came into the league without a strong defensive resume. Many felt he would be a disaster on that end of the floor and there have been many moments in which he as been a disaster on defense. But he has slowly grown to understand what it takes to play high-level defense and giving great effort is one of those necessary traits.
Look at Porter watch the turnover take place on the far end of the court and immediately make the decision to sprint back and get involved on the other end. There is no guarantee he will catch up to Harrell, but he gives it all he has which leads to his phenomenal chasedown block in the final 10 minutes of a close game. That is the type of effort Denver needs to replicate in Game 3 and beyond.
Denver's combination of strong defense at the point of attack, phenomenal weakside rotations, and maximum effort at all times is a sustainable model for defensive success against this Clippers team. It won't be easy, but Denver has proven they are capable.
"I thought Jerami Grant's defense on Kawhi was spectacular, but the four guys behind him were giving the necessary help," Malone explained. "I thought Gary Harris' defense on Paul George was terrific, but the help behind that was what we need and what we did not have in Game 1.
"Now the question and challenge is can we do that again in Game 3 and be even better at it."