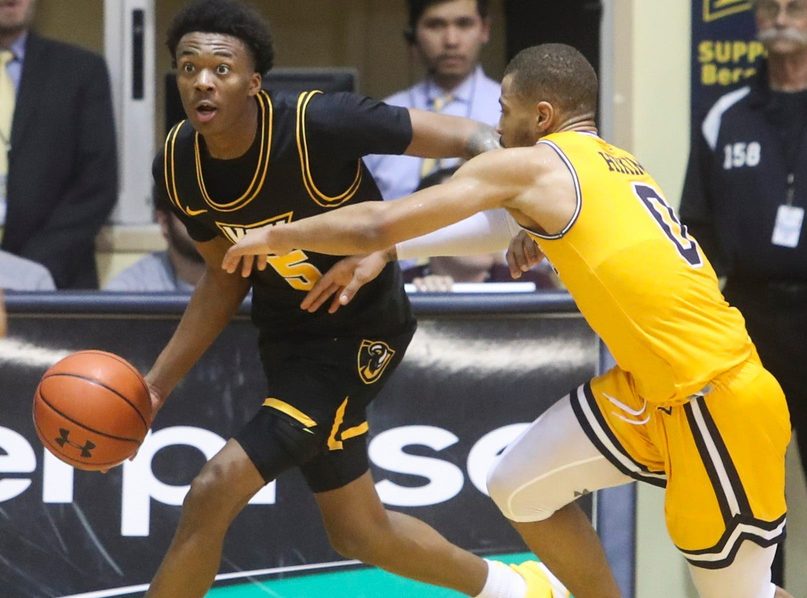 When Nah'Shon "Bones" Hyland first spoke to the media after being selected by the Denver Nuggets with the 26th overall pick in the draft, his energy was like an uncontrollable electric current. While unable to be seen, it was undeniably felt by everyone who was on that Zoom call despite the thousands of miles that separated Hyland from the media. It was as if he was overwhelmed with a voltaic charge that he was struggling to subdue as he attempted to describe how he felt after finally reaching his dream of hearing his name called by NBA Commissioner Adam Silver. His excitement was palpable.
That overflowing energy is a constant and it is what makes Bones Hyland's personality so magnetic, but when he steps onto a basketball court, suddenly that astounding energy is channeled. No longer is his vitality unbounded. Instead, the energetic and excited Hyland transforms into a tenacious and concentrated force.
No defense is safe when Hyland is within 28 feet of the rim. His three-point shooting is simply devastating. It does not matter if he is coming off screens and shooting off the catch or if he is using crossover variations to get his defender leaning before paralyzing them with a stepback. If left unchecked, Hyland will rain down 3-pointers like mortar fire on opponents. Once the defense bends to his shooting ability, Hyland utilizes his fluid handles to blow by defenders using the same crossover variations he uses to get into his off-the-dribble 3-pointers which leaves the defense guessing. Once he gets downhill, Hyland can get to his mid-range pull-up jumper with ease, drop in floaters or push shots when available, and finish at the rim off either foot and with either hand.
Still, no player is without faults and there is a reason Hyland was available at 26. Too often he takes an ill-advised shot or drives into multiple defenders. Hyland still lacks sophistication as a creator and turns the ball over far too frequently. On top of that his slight frame inhibits him in a multitude of ways on the defensive side of the floor and he is far from an elite athlete.
So just how does Hyland fit with this Nuggets team?
Strengths
Three-point shooting
Hyland is a gifted offensive player but everything begins with his three-point shot.
Before even diving into the film, there is much to like about his statistical profile. This past season, Hyland shot 37.1% from three-point range on a whopping 7.8 attempts per game, many of which were difficult off-the-dribble 3-pointers, and yet his efficiency did not waver. Over his collegiate career, Hyland took 331 total shots from beyond the arc and connected on 39.9% of them.
Normally, a fair argument against college statistics being good indicators for NBA success is to point out the extended three-point line in the NBA, but Hyland was not taking normal college triples. Instead he was regularly bombing away from beyond 25 feet and making it look far more effortless than it should.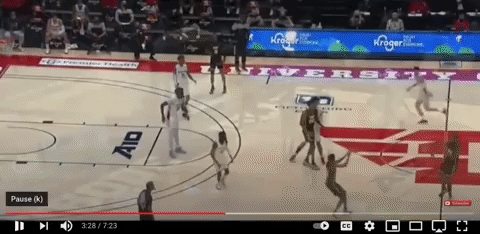 Hyland's range stretches much further than the top of the arc on a NBA court. He has shown range out to 30 feet and is a constant threat anywhere within 28 feet. If a defender goes under a screen, no matter how high it is set, Hyland will punish them.
As the cherry on top of the evidence-of-elite-shooting sundae, Hyland also shot 86.2% on his 109 free throw attempts. While his decision making and awareness can be questioned, his skill as a shooter cannot.
Hyland is more than just a spot-up shooter. His skill with a live dribble makes him a threat to shoot at anytime from anywhere with incredible range. He can pull up going either direction, picks up his dribble with either hand before getting into his shot, and will comfortably step into 3-pointers in transition. Simply, there is not a type of three-point shot that Hyland cannot make. He is a dynamic shooter.
Just look at this stepback 3-pointer Hyland was able to drill.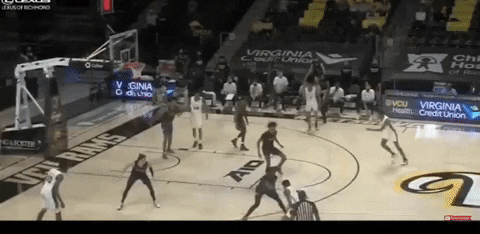 The degree of difficultly on this shot is absurd. That is a left to right crossover while moving to his left and stepping back. Only a handful of players in the NBA have the dexterity to unleash that move and Hyland is supremely confident taking it already.
Additionally, there is no way for the opposing defender to anticipate what is coming. Since Hyland drives with both hands and picks up his dribble getting into his shot with either hand, there is no indication what move he might be using. Hyland is also always low to the floor when handling the ball regaredless if he is looking to pull up from distance or drive to the rim. All opposing defenders can do is guess.
Hyland's balance as a shooter shines brightest in transition where he is constantly hunting pull-up 3-pointers. Not only is Hyland's ability to change speeds on full display, but look at how easily he stops on a dime and rises up fully balanced for his three-point look.
Even when Hyland is off the ball in transition, he is always flying to the wings or the corner and his seemingly infinite range allows him to get good looks if the defense gets too sucked in towards the rim.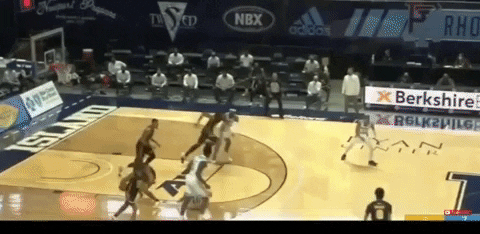 Hyland's understanding of defenses and patience is often overlooked when disecting his shooting ability, but he has strong awareness for how defenses will react to him in any given circumstance.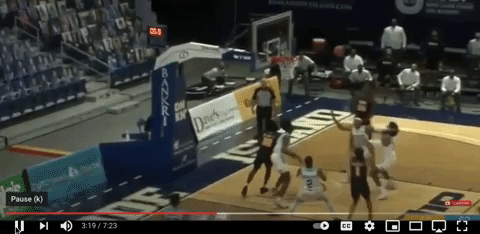 In the clip above, Hyland already knows how the defense is going to react when the ball is kicked out to him off the offensive rebound. He gets a big man wildly closing out to him so he uses a simple escape dribble to create a better look, but instead of stepping towards the three-point line, Hyland stays wide and uses his range to keep the second help defender far enough away. That decision eliminates any possibility of a strong contest on his jump shot.
That awareness allows Hyland to identify and attack mismatches when he has the ball in his hands. Look at how comfortable he is attacking a slower-footed big man after getting the switch.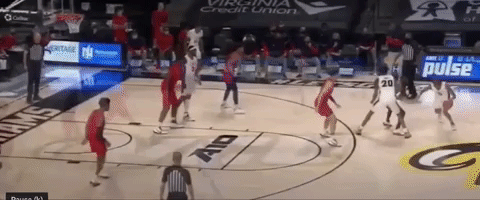 Hyland knows that all he needs to do is get his defender leaning towards the rim and he's won so all he does is uses a couple between the legs dribbles to get his defender flat footed before utilizing an explosive jab step. The second that his defender put his weight on his back foot he had no chance and Hyland knew this every step of the way.
This does not mean he needs the ball in his hands to thrive as a shooter. Hyland's mechanics as a spot-up shooter are just as crisp and he can shoot off movement going either direction.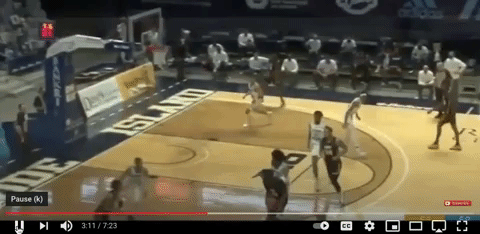 Here is a set the Nuggets will likely employ when Hyland is on the floor. Using a down screen from a big man to get Hyland catching the ball off movement allows him to either catch the pass and fire away, like he does above, or attack the rim with his defender trailing. If the defense instead elects to switch, Hyland would have a big man on him again and, as shown earlier, he is extremely comfortable attacking slower defenders.
Hyland's three-point shooting has a chance to be elite at the NBA level, but what makes him such a tantalizing prospect is how his outside shooting impacts the rest of his game.
Three-level scoring
Hyland's three-point shooting is undeniably his ticket to the NBA, but his shot has a ripple effect that spans across the rest of his offensive arsenal. Just the sheer fear of allowing Hyland to get hot is enough for opposing defenses to overplay which creates driving lanes for Hyland to utilize.
Even with Hyland coming off the screen using his off-hand, the defense is so concerned with his three-point shooting that they swtich. From there, all Hyland does is back the ball out a couple steps, cross over to his right hand, and use a deceptively impactful hesitation move to get a half-step ahead of his defender. From that point, all the years of work Hyland has put in to become more than just a three-point specialist is illuminated.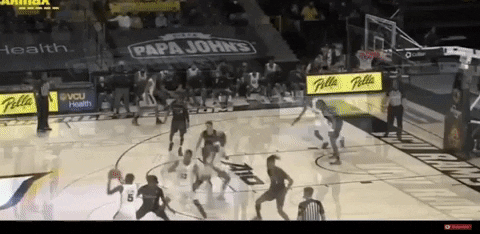 There are a couple small but massively important details in this single clip that cannot be skipped over.
Hyland's ability to get to the rim is so functional because he uses the exact same movements to get downhill that he uses to get into his pull-up 3-pointer. Because Hyland is such a dynamic shooter who can get into his shooting motion moving either direction and pick up his dribble with either hand regardless of the dribbling variation, there is no way to know what he intends to do. That deceptiveness in his game is similar to a pitcher in baseball who has the same release point for every one of his pitches. When you can disguise a curveball as a fastball — or in this case a drive to the rim as a pull-up 3-pointer — you leave the defense guessing.
Look at the way Hyland gets lower than the defender and drops his inside shoulder to squeeze around his opponent. That is textbook space creation for a player who lacks elite athleticism and proves an understanding of his own limitations and that he has learned how to overcome them.
Lastly, his finishing around the rim is dynamic and fundamentally sound. Due to the fact that Hyland is almost entirely a below the rim athlete, he has had to diversify his layup package which has led to him learning how to get the most out of his six-foot-nine wingspan and toughness around the rim. Yes, he has a very thin frame (for the time being), but he does not shy away from contact which allows him to use his body positioning around the rim to overcome his vertical limitations. The way Hyland keeps his defender on his back after turning the corner and utilizes the other side of the rim to stymie any shot blocking is about as good as it gets.
Hyland has the ability to get to the rim with both hands as well. Look at how low he keeps his dribble with his off-hand when driving through traffic and the awareness he possesses to pick up his dribble early to evade the help defense and to finish by jumping using his off-foot before the shot blocking got to him.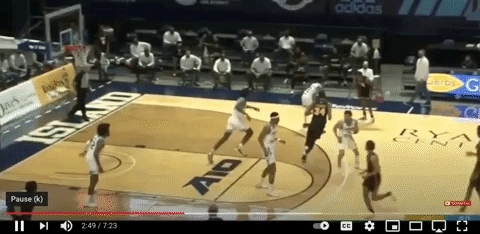 Also, take a look at how he uses his body positioning and length to finish at the rim. Hyland seals off his primary defender by turning his back to him in midair and extending his long arms to sneak past the shot contest. Additionally, contorting his body in that way opened up the possibility of drawing a foul on the help defender. Hyland knows how to maximize his opportunities despite his limitations.
Hyland can get to the rim with either hand, finish with either hand and regularly mixes in off-foot and off-hand finishes to keep the defense honest. He is always low to the ground when handling the ball, uses both sides of the rim, does not shy away from contact and uses his length extremely well. For an outside shooting specialist, there is not much Hyland cannot do inside the restricted circle as evidenced by his 55.4% shooting at the rim despite being an average athlete.
Hyland's scoring does not only exist at the rim or beyond the arc. His shooting touch and smooth handles also allow him to thrive in the mid-range using pull-up jumpers, floaters and push shots.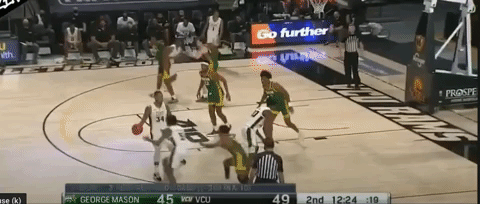 While these shots might seems basic and without much importance, that is not true. When he is playing against a team that relies heavily on a drop defense scheme, their goal is to take away shots at the rim, but that leaves the mid-range wide open. Being able to become a legitimate three-level scorer would elevate Hyland's offensive impact immensely and he already has the skills to do it.
Crafty ball handler
There is no denying that Hyland's three-point shooting is the most important skill he has, but his ball handling is the key that unlocks the rest of his offensive skill set.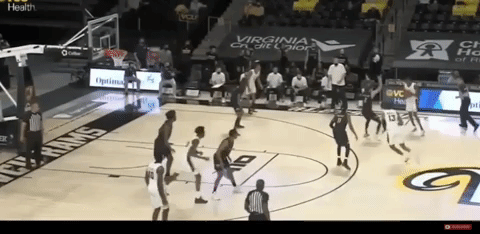 In the clip above, Hyland never dribbles above his hips, creates a low center of gravity and is remains balanced despite shifting speeds and direction. Because of his well-developed fundamentals with the ball in his hands, he is able to flow from one crossover or between the legs dribble to the next which allows Hyland to set up his defender without needing a screen. Without having the ball handling skills to get his defender leaning whichever way Hyland chooses, his finishing at the rim would become much less impactful and he would struggle to get to his spots in the mid-range. His handles are the key to unlock his scoring potential inside the three-point arc.
Hyland's handles also allow him to become more than just a threat in the half court. If the ball is inbounded or an outlet pass is sent to Hyland in transition, he has the skills to grab and go effectively.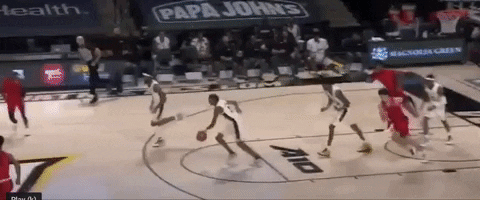 Look at Hyland force his defender to open up his hips twice in transition. Again, thanks to his advanced and smooth handles, he is able to flow from a left-to-right crossover, back to his left hand, uncork an off-hand in-and-out dribble and blow by his defender in transition using his length to finish at the rim.
When players can link so many different dribble variations going either direction in the half court or in transition while staying that low and creative, the future becomes very bright. If harnessed correctly, Hyland has the skills to grow into more of a lead guard who can operate in the pick and roll and as the primary initiator as opposed to a microwave scorer off the bench.
For now, Hyland's decision making, turnovers and tunnel vision have kept him from making that leap, but Denver could be the ideal landing spot for him to fine tune his creation skills with the ball in his hands. Denver is incredibly unselfish as a team and they preach giving up a good shot for a great shot as a way of life. If Hyland can find a way to blend his skillset with the Denver Nuggets style of play, they could transform Hyland into quite the offensive force at the NBA level.
Defensive playmaker
Before diving into Hyland's disruptive defensive play, it needs to be said that he is still a long ways away from being a plus defender at the NBA level, but more on that later.
Even with Hyland's defensive shortcomings, he has a propensity to get into passing lanes. He can be reckless at times by leaving his team to defend four-on-five after jumping out of position going for a steal, but there is no denying that he has the motor to be a defensive playmaker. He just needs to refine his decision making and anticipation before it can become weaponized for a contending team like the Nuggets.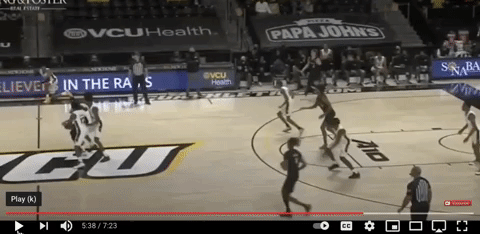 Nuggets head coach Michael Malone regularly uses the term "turning defense into offense" because it allows his team to control the tempo of the game by keeping the defense on their heels and creating easy baskets. Hyland thrives within that ideology. With his high-level scoring ability and defensive ballhawking, attacking in transition can become a lethal weapon.
Weaknesses
Strength and athleticism 
The most worrisome weakness for Hyland is his lack of strength, no pun intended. He is entering the NBA standing six-foot-three with a six-foot-nine wingspan, but he is a very slim 170 pounds. His lack of strength on defense hurts him in a plethora of ways.
One-on-one containment tends to be a significant issue for him even at the collegiate level so concerns about his viability defending guards on the perimeter at the NBA level are real.
First off, Hyland's lateral quickness leaves a lot to be desired when sliding on defense, but even when he manages to stay in front of his opponent, he is easily muscled out of the way. While his urgency and footwork also needs to improve, his physical shortcomings due to lack of strength have left him somewhat unequipped to defend on the perimeter and things only get worse when he is screened.
Hyland's navigation of screens is borderline awful at times and if a screen happens to makes contact, he can be sent flying.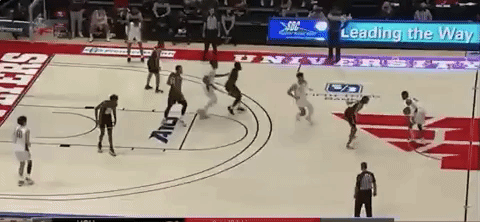 Until Hyland manages to either get stronger or learn new methods of getting through screens and containing on the perimeter, he will always be a defensive liability —  most particularly in the playoffs when the weakest defender on the floor gets hunted by the opposition. Hyland could improve with the benefit of an NBA strength and conditioning program and lots of practice, but it is hard to envision him growing beyond average as a perimeter defender.
On offense, there are still ways his skillset could be repressed once he gets to the NBA because of his lack of strength and athletic ability. If he is not able to create separation using his start-stop speed and handles because of his lack of burst, the threat of his outside shooting can be diminished. If his outside shooting is diminished, getting to the rim or even into the midrange becomes much more difficult because he does not have the vertical to rise up over defenders. There are plenty of reasons to believe he will be able to score at the NBA level with relative ease, but there is also a reality in which he cannot because of his physical limitations.
Decision making
Hyland's decision making is his greatest enemy on offense. For all of the incredible shot making and dazzling handles, there are also far too many wasted possessions on tough shots early in the shot clock and turnovers from driving into traffic without a plan.
That bad habit stems from his elite shot-making ability. When every shot within 28 feet is within range, it can be hard to let off the accelerator at times, but the Nuggets will look for him to sand down those rough edges of his game over time.
In Hyland's two years of college basketball at Virginia Commonwealth University, he had 110 turnovers and 107 assists. For a player that has initiator aspirations, that ratio has to improve dramatically.
He regularly drives into the paint without a plan and finds himself surrounded by defenders. This is very typical of young guards, but an issue nonetheless.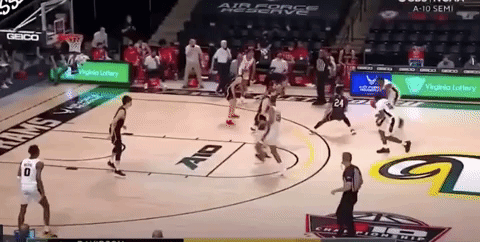 If Hyland is going to get playing time, limiting his turnovers is paramount and a great place to begin working on that issue is expanding his vision. When Hyland drives and is determined to score, he gets tunnel vision which makes him predictable and easy to guard.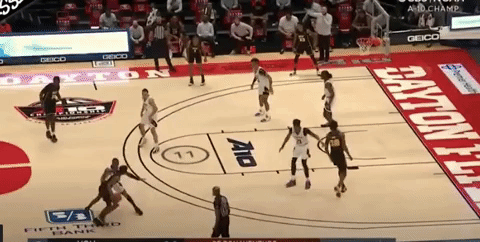 In the clip above, Hyland has a cutter under the rim, a big in the dunkers spot right next to him and an open shooter on the wing all open and waiting for a pass. It will take time, but these are correctable issues.
Swing skills
Finishing at the rim
This is the most important part of Hyland's game going forward. If he cannot overcome his lack of burst and bounce which could lead to struggles shooting at the rim, it will be tough for him to become more than a spot-up shooting threat and occasional microwave scorer off the bench.
But if Hyland can become a consistent finisher at the rim at the NBA level, his ceiling expands. No longer is his projection simply a shooting specialist. If He can score efficiently from beyond the arc and at the rim, the rest of his offensive game will blossom.
Hyland, being a potential three-level scorer, would have the ability to attract enough attention to himself that he could break down a defense without a screen. Being able to mortgage the threat of his three-point shooting into driving lanes to force help defenders to rotate over would allow his passing ability to grow more naturally. If Hyland reaches that level, there is no reason he could not ascend to a lead guard or supplementary creator in the starting lineup.
Offensive creation
Finishing at the rim consistently would allow Hyland to grow into a creator more naturally, but even if everything goes ideally throughout his growth, there is no guarantee his passing ability will grow in the way some hope.
Of course that is not needed for Hyland to have a long and productive career, but if he managed to add more effective playmaking to his offensive arsenal, that could be the difference between becoming a scoring threat off the bench and a starting role.
Will Barton III is a prime example of this. Barton has the three-point shooting and the shake with the ball in his hands, but what makes him such an ideal fit for this Nuggets starting lineup is his ability to attack a bent defense after the ball is reversed and confidently creator for others or for himself. Would Barton still be helpful without that creation? Absolutely, but with the addition of his passing, he becomes the glue to ideally bond the Nuggets starting lineup together on offense.
Hyland can reach that level, but he has a long path ahead of him.