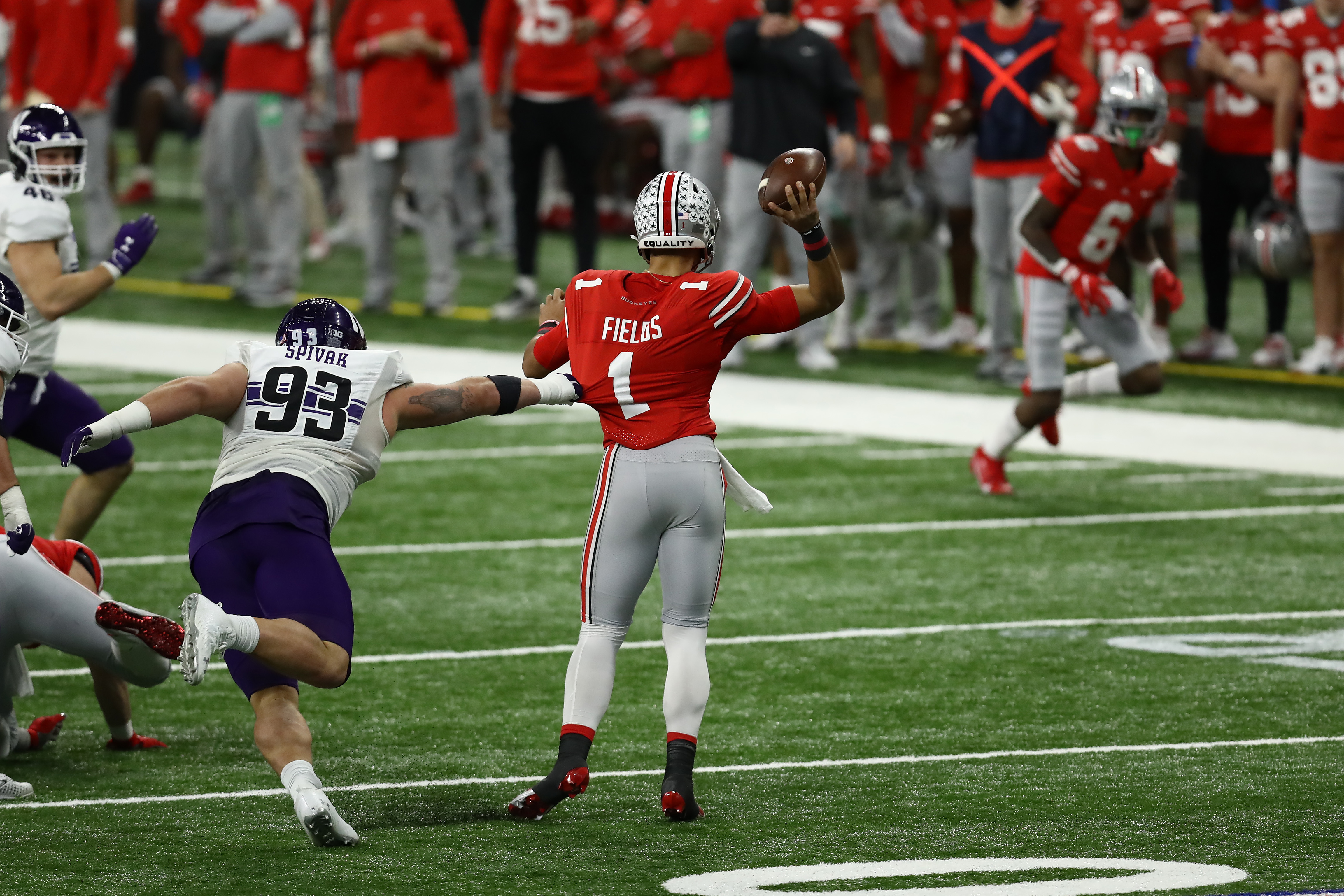 Draft day is finally here, which makes it the perfect time to finalize our Broncos draft predictions with one final mock draft.
To put this together, we used The Draft Network's mock draft simulator.
Now, it's incredibly unlikely all these picks are correct predictions and many of them will be far off, but at the very least it will provide you with the names of eight exciting prospects, who fit the Broncos and who you can list off to sound like a true draftnik at your draft parties.
Without further ado, let's get to it.
Round 1, Pick 9: Justin Fields, QB, Ohio State
This is the dream pick for the Broncos tonight, and it seems like there's a surprisingly high chance of it actually happening.
Despite easily being the second-best quarterback in the class and one of the best quarterback prospect of the last few cycles, Justin Fields is sliding down boards and could end up landing in Denver's lap.
If that's the case, George Paton shouldn't let a single second tick off the clock before handing the draft card in.
Justin Fields — who we have already done a deep dive on — is the most accurate quarterback in the class, has a howitzer for a right arm, is a dangerous runner, operated the most complex offense of the top quarterback prospects in this year's draft, played through broken ribs and is the reason the Big 10 (and arguably Pac 12) played college football this year. He checks every box in terms of talent and the aspects of his character which we have access to seem off the charts.
Teddy Bridgewater should not prevent you from taking a franchise quarterback of the future.
Fields is this year's Patrick Mahomes where two or three years from now everyone will be going, "How on earth did that guy fall to the ninth pick? The league really overthought that one."
Round 2, Pick 40: Baron Browning, LB, Ohio State
Some members of Broncos Country might really love the idea of landing Micah Parsons in the draft because he's an exceptional athlete at the linebacker position who has rare upside and ability to play on the edge.
But what if I told you the Broncos could check those exact same boxes a round later with a safer prospect who is much better in coverage than Parsons and doesn't have the extremely concerning off-field behavior?
Enter Baron Browning, who landed a higher Relative Athleticism Score than Parsons, and fits better with what the Broncos need; a linebacker who can match up with tight ends and running backs.
Browning absolutely needs to develop but no one on Earth is better at developing linebacker talent than Vic Fangio and his upside is that a defensive centerpiece.
Round 3, Pick 71: Hamsah Nasirildeen, S, Florida State
The Broncos need to find a safety who can sit behind Kareem Jackson for a season before entering the lineup and become the next dominant safety duo alongside Justin Simmons and Hamsah Nasirildeen would be a perfect pick to fill that role.
He checks every box a Fangio defensive back must. He has tremendous versatility as he was used as a box safety, a single-high safety and even spent some time in the slot playing cornerback. He's also incredibly physical and will have no problem doling out the same punishing hits Jackson has for the team.
The athletic upside is unreal for Nasirildeen and, as a result, his ceiling might be the highest of any safety in the class. He needs time to sit but Denver can afford that time as they already have Jackson on the roster.
Round 4, Pick 114: Walker Little, OT, Stanford
Last year the Broncos took a gamble on uber-talented yet oft-injured guard Netane Muti and it paid off in a major way, as Muti looked like a solid future starter.
The Broncos could go back to the well with Walker Little, who was viewed as a top-10 pick at tackle before injuries and COVID-19 robbed him of much of his college career.
Before his career was derailed though he was a prototypical left tackle with ideal size, strength, and movement skills, who thrived in pass protection. If he can recapture that form, the pick would be an absolute steal, but Little's recent injury history and lack of tape present a very real risk.
Round 5, Pick 152: Trill Williams, CB, Syracuse
Somehow managing to land Trill Williams in the fifth round would be a remarkable steal for the Denver Broncos.
Williams has excellent size and length for the cornerback position and the movement skills to pair with it. He has incredible versatility, and as a result could potentially help out at safety as well.
His instincts are certainly lacking but that should improve with time, and he has the talent to start outside as soon as next season, but could fill-in due to injury sooner than that.
Round 7, Pick 237: Patrick Johnson, EDGE, Tulane
The Broncos should make it a priority to address edge rusher sooner than this, but forunately Browning can provide some insurance there, and with the way the board fell, it didn't make sense to address it sooner.
Johnson played well opposite fellow edge prospect Cameron Sample while at Tulane, and has impressive athleticism for the position which allows him to play almost anywhere in the defensive front. He's still learning how to rush the passer, but his upside makes him worth a seventh-round pick.
Round 7, Pick 239: Sage Surratt, WR, Wake Forest
Since opting out due to COVID, Sage Surratt has slowly dropped down boards from a premium Day 2 pick to a late Day 3 pick.
Still though, he has no business being available this late in the second. Separation is a concern as he isn't very quick or have impressive long speed but he's a master at coming down with contested catches and would serve as excellent insurance behind Tim Patrick and Courtland Sutton.
Round 7, Pick 253: Gerrid Doaks, RB, Cincinnati
The Broncos need to add at least one running back through the draft, and considering how good the class will be at the end of the draft, they should try to hold off as long as possible.
Doaks is one late-round target who Mile High Sports' Joey Richards is in love with.
While at Cincinnati, Doaks showed off great vision, burst, and contact balance, as well as pass-catching skills which should make him an ideal replacement for Phillip Lindsay.