Well, this is awkward.
Normally Denver Nuggets coverage at Mile High Sports this time of year would consist of possible playoff matchups and ways that Denver can be the best version of themselves heading into the postseason, but with multiple players and organizational members all around the NBA testing positive for COVID-19 and the league being on what is looking to be at least a three-month hiatus, the basketball world has come to a screeching halt.
So in order to combat the end of basketball for the time being, Mile High Sports took questions from Nuggets fans and readers alike to keep the conversation moving. Without further ado, here is the first quarantined version of the Mile High Sports Mailbag.
Do you think the hiatus will be good for the Nuggets with how they have struggled recently? – Joey Rabb via Instagram
On the surface this seems like an odd question. How could a global pandemic in anyway be positive? Well when looking past the surface, there are some interesting possibilities for the Nuggets if the league does in fact come back.
Prior to the suspension of the league, Denver had played 10 games since the All-Star break. In those 10 games, they were 5-5 and had a net rating of -1.5 which ranked as the 17th-best mark in the league; far worse than the +3.9 net rating they had in their first 55 games.
The main reason for their struggles was the complete collapse of their defense. Denver had the 10th-best defensive rating prior to the All-Star break, but fell to 19th after the league's unofficial halfway point. Their defensive rating jumped up from 108 in their first 55 games to to 113.7 in their final 10; a difference of 5.7 points per 100 possessions. During that time, the Nuggets allowed the seventh-most 3-pointers per game while their opponents shot 36.7% on those looks. At the same time, they also allowed teams to shoot 67.1% at the rim. To make matters worse the Nuggets were also giving away 21.3 points off of turnovers per game after the All-Star break which was the worst mark in the league over that span of time. When you fail to stop teams at the rim, from beyond the arc, and are feeding them free points in transition, it is a recipe for a disastrous defense.
Does that mean the league hiatus will help that issue or just further exacerbate the problem? Well that fully depends on how the league plans to resume play; if that ever becomes a possibility. As Paul Millsap said weeks ago, the best way to improve their defense is practice time; something the Nuggets will hopefully get before diving back into a possible resurrection of the 2019-20 NBA season.
"Just practice," Millsap said when asked what the Nuggets need to fix their defense back on  January 10th when Denver's defense began to struggle more regularly. "Not being able to get good practice time in to work on our schemes and strategies; I think that has a been a big thing to do with it."
If Millsap is right, Denver could come back with an improved defense after this hiatus so long as they get the necessary practice time. It would be surprising if they did not get that time being that virtually every NBA player is currently socially distancing by league mandate which also means not being in the gym. Practice facilities have been closed league-wide and players are not permitted to play in public gyms. That means only players with their own personal courts will be able to get work in.
When considering those circumstances, it seems obvious that players will need time to work themselves back into shape prior to the resetting of the season or injuries could become a major concern. That should — in theory — lead to players getting ample time to get back into game-shape prior to games resuming.
Of course, the Nuggets have more complications to address beyond their defense — turnovers woes have plagued them, their offense has become anemic with consistency coming and going randomly, their three-point shooting is nowhere to be found and Nikola Jokic has not exactly carried Denver through their most recent rough patch — but fixing their dysfunctional defense seems to be the No.1 priority if they want to get back on track.
Without a superstar duo, do you think the Nuggets can win a championship soon? – Justin Guyton via Instagram
In this version of NBA basketball, having a a pair of superstars — if not a trio of elite players — is the only way to truly contend for a title. Yes, there have been a few teams who have won without, but those instances are the exception to the rule.
With that being said, the Nuggets know they have to find their second star to give them a real chance at sustained success. As of now, Denver has two bastions of hope: Jamal Murray and Michael Porter Jr.
There is no denying that Nikola Jokic, when it matters most, is unequivocally a top-10 player in the world. Every true contending team needs a player of that magnitude and Denver has found him in Jokic. But beyond Jokic, Denver's search for a second star has become cloudy.
The Nuggets' clearly have faith in Murray's potential to become their second star being that they agreed to a five-year, $170 million maximum contract extension on the first day of free agency last July. Still, even with their significant financial investment, Murray has not shown that he can routinely be relied upon to produce alongside Jokic.
His defense has become a significant problem and, while Murray has shown improvement on that end of the floor, teams continually target him. Denver has done a good job of surrounding Murray with the likes of Gary Harris and Millsap to provide support, but in a playoff setting his defense could be a turning point for opposing teams; as it was against the Portland Trail Blazers last April as Rodney Hood exploited his defense repeatedly.
On offense, his scoring has become more concentrated to the mid-range and his three-point shooting has plateaued, if not regressed. Murray has taken between 5.4 and 5.5 shots from beyond the arc per game in each of the last three seasons, but his percentages have fallen in each of those years. He posted his career-high three-point shooting percentage in his sophomore season by shooting 37.8%, but that number fell to 36.7% in 2018-19 and then all the way down to his current 34.5% mark from deep in Denver's 65 games this season. While some had hoped Murray would begin to stretch the floor as an outside shooter as he developed, he has instead remained virtually the same type of scorer he was last season.
(To be fair to Murray, he has taken significant steps as a creator this season. His assists per game are the exact same as last year while his turnovers have actually increased, but that is not indicative of his improvement in terms of creating passing angles and delivering passes on time and in the right spot in the pick and roll.)
If Murray cannot become the second star Denver needs, they are not suddenly without options. This is where the decision to draft Porter comes into play.
Porter is still more of a theory as opposed to anything concrete. His talent is undeniable — there are only a handful of players alive who are as big as he is with the same scoring ability and instincts — but his injury concerns are not just worrisome; they are so concerning that he fell all the way to the 14th pick in the draft despite clearly having top-3 talent. That is why the Nuggets elected to have him sit out his entire rookie season to allow him to get 100% healthy after undergoing his second back surgery before ever playing at the NBA level.
This season, Porter has clearly shown that he has the skillset and talent to be a superstar if he stays healthy. At times Porter has been an unguardable offensive threat who can score from all three levels regardless if he is creating off the dribble or moving without the ball. His vision as a passer has been a pleasant surprise as has his willingness to buy into an off-ball role as a cutter and spot-up shooter. Even his defense was better than anyone expected.
As most rookies are, Porter has still been inconsistent on both ends despite his absurd talent level and he is still learning how to play basketball at the NBA level. Porter has also battled a couple ankle injuries which has not helped him sustain a rhythm. Again, Porter is still more theory than law, but if things take the right turns for him, Porter has the potential to be a devastating scorer on the wing and Denver's second star.
Unless one of Murray or Porter become the second star Denver needs, they will be relying on luck to truly contend.
How does Nikola Jokic fare in a series against the small-ball Rockets? – Evan McGuire via Instagram
The Rockets newfound success with their five-out offense is a double-edged sword.
On one hand, their first nine games operated beautifully as Houston went 7-2 after trading Clint Capela to the Atlanta Hawks in the same four-team deal that sent Malik Beasley and Juancho Hernangomez to the Minnesota Timberwolves.
On the other hand, Houston was 1-4 in their next five games leading up to the suspension of the league.
Houston's experiment playing without a center does not have enough of a sample size to be deemed a success or a failure at this time. So instead of trying to critique what Houston does, let us instead talk about how the Nuggets match up with that style of play.
First of all, Denver's scheme is the ideal system to exploit the Rockets defensive strategy and their micro-lineup, but if Jokic does not receive help from his teammates, it could end up in disaster.
With Jokic being virtually impossible to defend with just one player, his skills become megaphoned against the Rockets who are starting 6-foot-7 P.J. Tucker at center. That means Houston will have to send double teams at Jokic in the post which will leave a shooter open somewhere. Obviously Jokic has the skills to make any pass to an open teammate anywhere on the floor, but will his teammates be able to convert the open looks they are given?
For most of the season, Denver's outside shooting has not been able to be relied on. Harris and Murray are both shooting below 35% from three-point range this season which is simply not enough. Because of Denver's struggles shooting the basketball, teams have been able to key in on Jokic which has stalled their offense in a major way. Jokic is getting all types of double teams, zone coverages and other types of bizarre looks to get the ball out of his hands or throw him off his game. He has handled most of those looks well, but Jokic has not been able to rely on enough production from his teammates for Denver to win regularly; especially after the All-Star break.
Jokic's matchup will come down to his teammates' ability to convert the open looks they get. If Denver shoots well from three-point range and it becomes more difficult for the Rockets to send help, Jokic will have a field day against the Rockets as a scorer and creator. If Murray and Harris continue to miss shots, the Rockets will keep sending multiple bodies at Jokic which will bog down Denver's offense.
For Jokic to thrive and for the Nuggets to beat the Rockets in a playoff series, Denver will need a full team effort.
Is Michael Porter Jr. pressing because the Nuggets traded away his two security blankets? – Corey Shellenberger via Twitter
Michael Porter Jr. does not lack confidence in himself. When he enters the court, it truly seems like he feels he is the best player on the floor.
Even when his playing time fluctuated randomly throughout the season, his confidence never wavered, but that does not mean that he isn't struggling with the pressure that is coupled with Denver trading away both Beasley and Hernangomez.
Both Beasley and Hernangomez were in competition for minutes with Porter so it seems strange that he would be struggling because they are gone, but the increased responsibility could be a factor in Porter's inefficiencies and erratic play after returning from his ankle injury.
Still, regardless of what Porter is battling through, there is no hiding from the fact that a prerequisite to competing in the playoffs is having enough big and strong wing players to matchup with the likes of the Los Angeles Lakers and the Los Angeles Clippers. That makes Porter's production in the playoffs an incredibly important.
All of that responsibility is now resting on the shoulders of Porter during his first real NBA season and he is trying to live up to those loft expectations despite having extreme irregularity when it comes to his role and his minutes on a game-by-game basis. In the 10 games prior to the suspension of the season, Porter had five games with less than 10 minutes of action and only one with more than 20 minutes played. To make matters worse, he had one game that he did not play in at all. There was no consistency in his role in any way, shape or form.
Take a look at the minutes Porter played and the numbers he produced over the last 10 games Denver played. It would be hard for anyone to find a rhythm considering the lack of consistency with his role coming out of the All-Star break.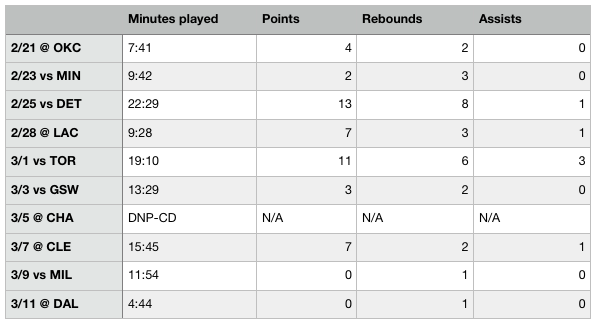 It is hard to say for sure if the pressure is getting to Porter, but it is far from the only reason for his struggles. Somehow, Denver needs to get Porter back on track because until they do, their ceiling in the playoffs will be lower.
What should the Nuggets do about their dire need at shooting guard? – Basketball Moron via Twitter
Well, Basketball Moron, an important distinction to make before answering your question is defining which version of Harris is the real version.
If Harris is the player he has been since the All-Star break has concluded, then the idea of Denver having a "dire" need at shooting guard is simply not true. If Harris's true self is closer to who he was to begin the season, then you would be correct; Denver would direly need to find a way to address their needs at shooting guard.
Here is some more context. Prior to the All-Star break, Harris was one of the least-effective starters in the entire National Basketball Association. He averaged just 10.2 points, 2.9 rebounds, and 2.2 assists per game, but those counting stats were not as worrisome as the fact that he shot just 40% from the field and 29.9% from three-point range. Denver can live with a low statical output from Harris, but he has to be a threat to score; he has to be an efficient shooter from distance. Without those skills, the spacing that the Nuggets offense needs to function takes a massive hit.
You see, Harris' floor spacing is — to steal your word — direly needed. If he is not a threat to make triples, opposing defenses can sag off of both Harris and Millsap which then clogs the painted area. If Harris does make his three-point looks, suddenly the paint becomes much more viable as an area to score. In addition to the team success, Harris' overall game expands when his outside shot falls because it allows him to attack closeouts or cut off-ball past his defender for easy buckets at the rim.
Since the All-Star break concluded, Harris has shot 53.2% from the field and 57.7% from three-point range. His points, rebounds and assists did not jump in any meaningful way, but he was a threat once again which allowed the Nuggets offense to open up.
Still, even when Harris is playing well, there are concerns that Denver's backcourt may just be too small with Murray at point guard and Harris at shooting guard. When you add in the fact that Will Barton III is playing out of position at small forward, the concern surrounding Denver's size in the back court is very real.
So what options could be out there? There are two obvious answers: Jrue Holiday of the New Orleans Pelicans and Bradley Beal of the Washington Wizards.
Instead of getting into the good and bad of both, let me make this point: the Nuggets believe in Gary Harris and have not lost faith in him. They may look for an upgrade at the shooting guard position, but only if the player they pursue is undeniably better than Harris. The only two potentially available players who fit that role and talent level are Holiday and Beal. Unfortunately, both have vocalized their desire to stay with their respective teams which makes the possibility of a trade much less likely.
There will be more conversations about Beal and Holiday down the line, but for now, it is Harris' job to lose.