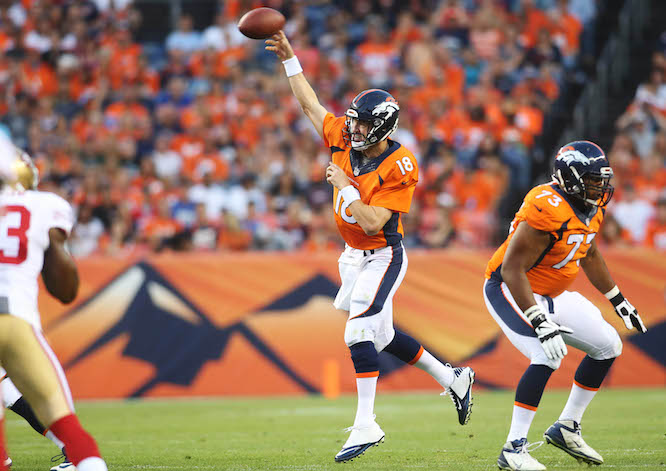 Aside from the first-team defense looking dominant yet again, one of the primary storylines of the first half of preseason game three for the Broncos was the pass protection – or lack thereof – for Peyton Manning in several of the early drives.
In the first half alone, Denver allowed three sacks for -21 yards. It was the first time the team had allowed so many sacks since allowing four against Indianapolis in 2013.
Head coach Gary Kubiak during the halftime interview said that pass protection was an issue and with 40 plays under their belt in the half, he'd be turning over the offense to the second unit.
As usual, the MHS team was all over the game with expert analysis and insight. Here's the best from Twitter on Manning's pass protection…
Hillman has to at least chip Bowman. That was a complete whiff on the block attempt. #Broncos

— Renaud Notaro (@RenKnowItAll) August 30, 2015
Now CJ Anderson whiffs on Bowman. Time to keep a TE in to block. #Broncos RBs have failed on this drive to pass protect.

— Renaud Notaro (@RenKnowItAll) August 30, 2015
Broncos OL getting scolded during the timeout for a couple of missed assignments. #SFvsDEN

— cover32 Broncos (@cover32_DEN) August 30, 2015
The Shadow Sack monster is out tonite

— Gil Whiteley (@Gilfest) August 30, 2015
#broncos follow up long scoring series with a ugly showing including Mannings second turtle sack, third overall

— Adam Kinney (@AdamKinneyRadio) August 30, 2015
If you have a problem with Peyton Manning ducking a sack in the preseason, you need a lesson in perspective. Don't be a hero. #Broncos

— James Merilatt (@jamesmerilatt) August 30, 2015
Athletic offensive lineman make the bubble screen even better #Broncos

— Robin Carlin (@carlinrobin) August 30, 2015