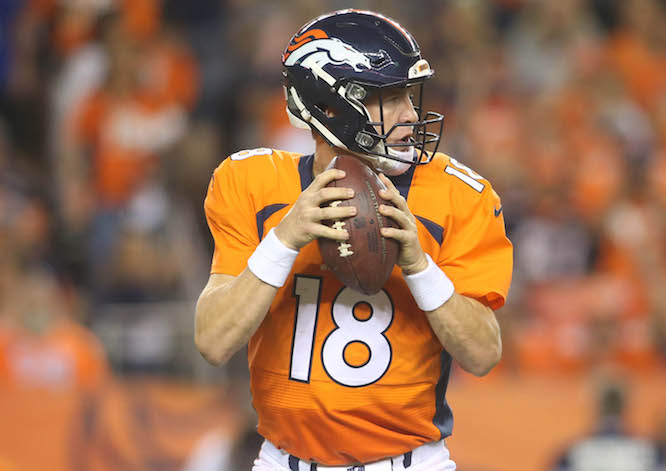 Preseason Week 2 brought far more questions than answers about how Peyton Manning would adapt to new head coach Gary Kubiak's offense. The Denver "O" looked more like what fans had been accustomed to in Manning's first three years in Denver than what they had expected to see in Kubiak's trademark run-first attack.
And while Saturday's preseason Week 3 matchup with San Francisco brought a bit more balance, Manning certainly wasn't firing on all cylinders. The 39-year-old quarterback underthrew his receivers on a few occasions and left the game at halftime with more interceptions (one) than touchdowns (zero).
The final line on Manning was 14-for-21 for 124 yards, no touchdowns, one interception, three sacks (21 yards) and a 62.4 passer rating.
As always, the MHS team was active as Manning tried to shake off the rust, offering insight and analysis as the game unfolded. Here are some of the highlights…
Red Zone, red zone. . . red zone. . . Manning was late nothing on it. . .

— Gil Whiteley (@Gilfest) August 30, 2015
Should've been six. Bad throw. Weak effort by DT. #Broncos

— James Merilatt (@jamesmerilatt) August 30, 2015
Manning has had 6 drives in Pre season. . . 1 FG

— Gil Whiteley (@Gilfest) August 30, 2015
That's two misfires to DT going for the end zone. Troubling.

— Andrew Mason (@MaseDenver) August 30, 2015
Manning doesn't look great. It's just what it is. Is he gonna struggle all season? It's not likely. But right now he is.

— Brandon Spano (@BrandonSpano) August 30, 2015
Manning missed Daniels there. Should've been an easy TD! #Broncos

— James Merilatt (@jamesmerilatt) August 30, 2015
Shot gun three straight from the 5… But this isn't Peyton Manning's offense..

— Dan Fellman (@dfellman) August 30, 2015
The broncos can't afford to pull manning, they need to work this thing out. . . Or play him in game four. . .

— Gil Whiteley (@Gilfest) August 30, 2015
Peyton Manning had a particular set of skills, now Liam Neeson has them. . . #Ouch

— Gil Whiteley (@Gilfest) August 30, 2015
I have zero worries about the Broncos offense. None. If that's the only concern, book your flights to San Francisco.

— James Merilatt (@jamesmerilatt) August 30, 2015