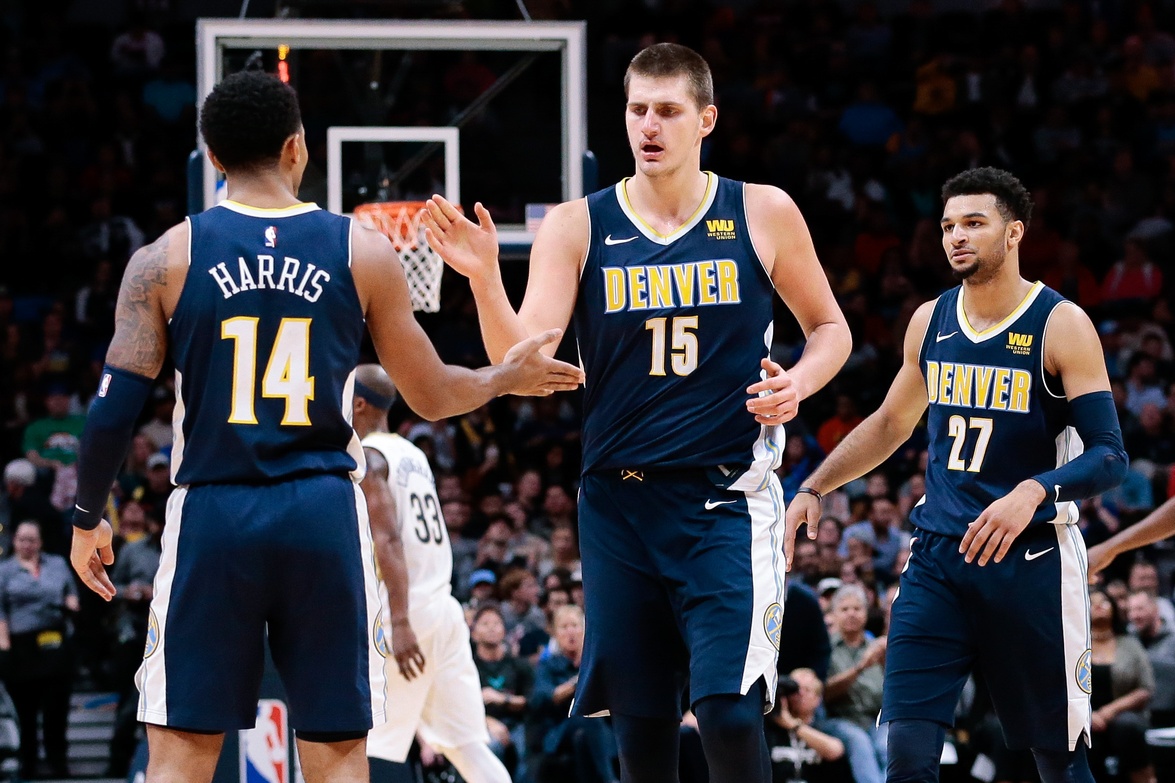 The Denver Nuggets currently sit at 29-25 on the season and are penciled in as the sixth-seed in the ultra-competitive Western Conference playoff race. Denver is 6-4 in their last 10 games and have impressed recently with back-to-back wins against the Oklahoma City Thunder and Golden State Warriors.
Jamal Murray, Nikola Jokic, and Gary Harris have been blossoming together as a unit recently and as a result, it appears as if the Nuggets have a renewed confidence at this point in the season. The Nuggets' scribes here at Mile High Sports took a moment to discuss the newfound success, what Denver should do at the trade deadline and if a big three has emerged in the Mile High City.
With back-to-back wins against the Thunder and Warriors have the Nuggets found their groove?
Aniello Piro: Not yet, but the Nuggets are definitely trending in the right direction. The two wins were gutsy and showed the high-level of production that Denver can play at in spurts when the offense is unlocked. When the Nuggets are playing fast-paced and up-tempo, the team functions better all-around. The big thing for the Nuggets moving forward is consistency. Jamal Murray, Gary Harris, and Nikola Jokic have all stepped up recently and will need to continue to do so until Pual Millsap comes back and the trade deadline passes to keep Denver in a strong position to contend for the playoffs.
Brendan Vogt: That's the million-dollar question with this Nuggets' team. We've seen this before; they play up against the best teams in the world — that three-game win streak over Utah and on the road against Portland and Golden State was debatably just as impressive. The problem with this Nuggets team is their inability to maintain focus and keep their approach to games consistent, regardless of their opponent. It's possible that this is a turning point for this team, but it's also very possible that they will have slip-ups. It's going to be a long season.

Dev Johnson: It seems like it. Even in their losses, it has been games that they've played well and honestly could have won. They've been playing with energy, they've been defending to the best of their ability and it's been consistent. They are without their starting center Mason Plumlee and they're getting closer and closer to having Paul Millsap back. This is a team that's been entertaining and seemed to have turned it around.
Are Murray, Jokic, and Harris the next big thing in Denver? Are they a big three?
AP: I think so. It's hard not to get excited about what Denver has in Murray, Jokic, and Harris because all three bring different skillsets to the table. Murray is poised to be a star for the Nuggets. His range and flash make him the most exciting of the three, but his ability to take over games is what makes him so valuable. Murray has the most potential to be a superstar of the three. Jokic is the glue-man that makes everybody around him better. His absurd passing skills mixed with scoring ability make him one of the most skilled big men to hit the hardwood in the past decade and helps make Denver so multi-versed. Harris is a steady all-around guard that helps fine tune things for the Nuggets. His scoring ability mixed with defensive presence helps Denver on both ends of the court. These three have Denver set up for a future that is evolving into the present day.
BV:  They aren't exactly a big-three yet, but it's certainly time to consider the very real possibility that this is the best young core in basketball. Gary Harris adds another layer to his game seemingly every month. He's developed an ability to pass out of the pick-and-roll, is playing high-level defense and has learned how to create offense for himself off of the dribble. Murray, meanwhile, is emerging as not only the most lethal scorer on this team but also their emotional leader. Despite being just 20, Murray has shown his desire and ability to close out tight games and he's not afraid of anyone or any team in this league. Jokic has struggled offensively this year, but the expectations seem to be astronomically high — and perhaps a bit unfair — for the young phenom. Nothing to trip on here, he's a sure-fire star and the Nuggets are sitting pretty.
DJ:  It's hard to not be excited about the future. Those are players that the Nuggets are building around and the front office has shown that they're going to be loyal to. They're all coming along at the same time and each night are showcasing why Denver is one of the best up and coming teams in this league. Jokic still has those incredible triple-doubles and is one of the most dynamic players in the NBA, Harris is a great two-way player that's only getting better and Murray has been lighting it up and showing how special he could be. This is a group to be excited about. 

Of the players the Nuggets have been linked to, which player makes the most sense to trade for?
AP: Darren Collinson would be a nice fit for the Nuggets. Denver is looking to add some firepower at the backup point guard position which is something Collison can do as he's averaging 12.8 points and 5.3 assists per game for the Indiana Pacers. Denver desperately needs help at the point and Collison could help fill some holes behind Jamal Murray while serving as a plus option off the bench.
BV: Tyreke Evans is a name that really intrigues me. The key word there though is intrigue, as there are plenty of factors that could dissuade the Nuggets from pulling that trigger. Evans is averaging a career-high in assists per game and he's scoring at a very efficient rate relative to his usual production. Those assist numbers could just be the result of Memphis' complete and total lack of other options. They don't have very many good players, let alone solid ball-handlers, so those duties slide into Evans' hands by default. Having a scorer on the wing could be huge for Denver. Wilson Chandler seems to be all but checked out and, assuming Barton doesn't move in the deal, one or the other of those two will be able to provide some scoring pop off the bench. Memphis wants a first-round pick though and that might be too much for a rental that only improves the Nuggets marginally. Plus, if you think fans are frustrated with Will Barton's decision making, just wait until Tyreke Evans comes to town.
DJ: All of them. I would rather it be Barton, Faried, Mudiay, Chandler or Arthur who gets moved and — if there's a trade out there that makes Denver a better team — go for it. It would be tough to see Barton and Chandler go but if it makes the team better and they get a wing that could defend, how could they not listen to suitors?