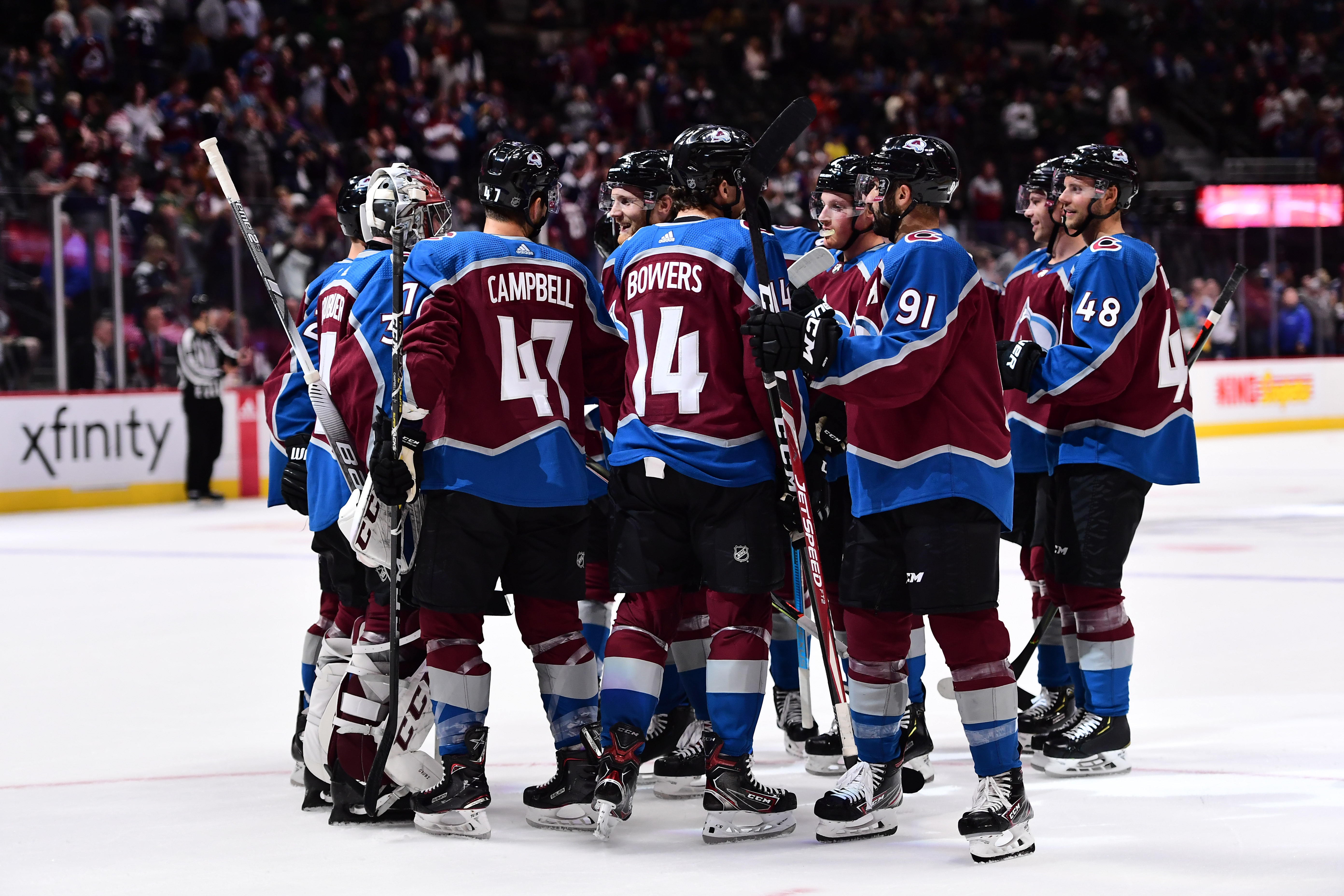 Many of the questions entering the 2019-2020 season have been answered for the Colorado Avalanche. Would Joe Sakic be able to add depth scoring? Yes. Could the organization draft another key component to this team's future success? Yes. Would Mikko Rantanen be rejoining the team before game 1 of the regular season under a new contract? Why yes, yes he is.
With those questions and more being answered, it means its time to shift focus from the offseason and preseason to the regular season. Puck drop on a new campaign starts on Thursday night, and the Mile High Sports Avalanche coverage team breaks down some of the biggest questions regarding Colorado heading into a season that has the potential to be very successful for the Burgandy and Blue
Here is the roundtable featuring DJ Stanec, Aarif Deen, JJ Jerez, and Ronnie Kohrt.
How many points do you expect for the Avalanche to finish with this year? Where do you expect them to finish in the Central Division?
DJ: I think anything under 98 points is going to be considered a failure for this team. They have the capabilities to be one of the best, if not the best team in the Central with all of the depth they have added this offseason. One of the biggest reasons this team had to fight it out for a Wild Card spot, was because of their struggles in overtime. With the additions of Khadri and Donskoi, the Avalanche should be set up well to win those overtime games if it gets there.
Aarif: It's hard to make predictions in a division that is easily the toughest in the NHL. With that being said, I expect the Avalanche to battle for home-ice in the first round of the Stanley Cup Playoffs. Winning the division is certainly a possibility, but I expect Colorado to finish second in the Central Division and flirt with 100 points in the process.
JJ: First and foremost, this year's team has more offensive firepower than last year's and is just overall a better team, that should improve in almost all facets of the game. That being said, last year's team went 6-14-3 from December 4 to January 23 and still finished with a 90-point season. Assuming they can avoid a significant slide like this, one can only expect they would improve in points from there.
Furthermore, the Avalanche led the league in overtime losses by a mile, so assuming they improve in that category as well, I think it's safe to say the Avalanche easily have the potential break 100 points this year. I'll put them at 101.
Ronnie: To steal a soccer reference, the Central Division is the division of death. It houses the defending champions, arguably the biggest up and coming team in the NHL in Colorado and playoff contenders like Nashville, Winnipeg and Dallas. Because of so much improvement internally in the division, it'll be a dog-fight all season long where like last season, the division champ and third-place could be separated by just a single point. I expect Colorado to flirt with the high 90's in points (assuming lack of health doesn't decimate the team) and be in the running for a division title.
What are you most excited to see out of the Avs this season?
DJ: I think I speak for many when I say I am excited to see Cale Makar play in a full season. We saw glimpses of what he is capable of in last season's playoffs, and again in the preseason this year. He should give Jack Hughes a run for his money in the Calder this year. One thing I'm looking forward to seeing is him growing in the defensive zone. Yes, he is a great puck-moving defenseman, but he has the potential to be a Duncan Keith type defender- an all-around solid defender.
Aarif: I mentioned this on the Avalanche Talk podcast on Sunday, but I'm most excited for offseason acquisition Nazem Kadri. I've been in love with his hard-nosed, in-your-face game since he was playing for the London Knights prior to being drafted 10 years ago. He's easily going to be one of the best second-line centermen in the league and he wants to be exactly that. He's not here to step on anyone's toes or fight for a top-line spot. He's wearing the title of second-line center proudly and I think Colorado has been missing that for quite a while.
It's either that or I'm just biased and excited because Kadri is also of Middle Eastern descent.
JJ: Last season, when the Avalanche would win a game, they often relied on one particular piece to carry them through. Often times when the top line was lighting up the scoreboard, the secondary scoring wasn't nearly as productive and vice versa. If the power-play was buzzing, the five-on-five play was lacking.
This year's team has the skillset and offensive potential to be amazing and, throughout the course of a long season, they will have to lean one direction or another to help get the win. However, there are going to be certain nights where they are clicking throughout the lineup and firing on all cylinders. Those nights are going to a brand of hockey that's going to catch the attention of the entire league and it's going to be insanely entertaining to watch.
Ronnie: A solid goaltending presence that I can get behind for a full season that quietly may grow into a top-10 presence in-front of the net this year. Because of Varlamov's injury history and inconsistent play, it was really hard to rally around the idea of Colorado elevating themselves into a strong cup contender with inconsistent goalie play. Grubauer's emergence towards the end of the year and no doubt this year who the man is brings a lot of excitement for me because we know this offense can score. The potential combo of consistent and strong goalie play with this offense could take the Avalanche to incredible heights.
What is your biggest worry for the Avalanche this year?
DJ: Responding to and continuing their accomplishments from last year. This team exceeded expectations two years ago by making the playoffs and then did it again by beating the No. 1 team in the conference in Calgary in the first round of the playoffs last year.
This is the first time in a few years that this team, entering into a new season, has had really high expectations coming from the league, fans, and media. Yes, it is not an optimistic outlook on things, but my worry stems from the fact that high expectations on a young team sometimes lead to let downs.
Aarif: For me it's chemistry. Other than the top line, who are now practicing together with Mikko Rantanen back in the fold, the Avs don't have much familiarity among its combinations. Specifically, the four players vying for a second-line spot in Tyson Jost, Nazem Kadri, Joonas Donskoi and Andre Burakovsky each played on a different team last season. If the Avalanche find the right combinations, they're going to be incredible offensively. But chemistry is important and it might take some time for head coach Jared Bednar to find the right combinations.
JJ: Through his play in last season's final weeks and playoffs Philipp Grubauer sold everyone in Avalanche Land on his abilities to be a starter. Everyone but me, that is. Playing in 32 games in the regular season and another 12 in playoffs, it's still unknown how he will hold up in a full season in his newly found starter role.
There are certain aspects to his game as well that leave me a bit uneasy. One of which, is when he is off, the entire team gets thrown off with him. In his 14 regular-season losses last season, both overtime and regulation, the Avalanche gave up five goals or more ten times. His numbers vastly improved once he started getting the consistent starts, so perhaps a steady stream of games is just what he needs to reach his maximum output. Either way, I'm keeping a close eye on his production because Pavel Francouz is not ready to be in the driver seat of an NHL crease.
Ronnie: Depth. Andre Burakovsky, Joonas Donskoi and Nazem Kadri appear on the surface as nice additions and should provide an excellent boost to the clear weakness for Colorado, but until proven otherwise, I remain a bit suspect. The talent on the Avalanche is very clear but they absolutely cannot afford to have the same Grand Canyon-sized drop-off in production from their first line, to everyone else and still expect to compete for the Stanley Cup.
Which out of the first 10 games for the Avalanche are you most looking forward to?
DJ: I am most definitely looking forward to the second game against Minnesota. This game has turned into a bitter rival over the past few years, especially when both teams are contenders. I think this is the game where the Avalanche can make a statement to the rest of the Central Division in front of a rowdy Pepsi Center crowd. I expect at least a fight, a few goals, and a hard-hitting, fast-paced game.
Aarif: Opening night. The players, the fans, management, everyone is excited to drop the puck and get the 2019-20 season going. And it's undoubtedly the same for me.
JJ: Saturday, October 19 will be a true test of what this team is made of. It will be the second night of a back-to-back on the road against last year's President's Trophy-winning Tampa Bay Lightning. The Lightning will, without a doubt, be a formidable team again this year and last time the Avs went were in Tampa Bay, they left with an ugly 7-1 loss. Not to mention, the Avalanche will be in both Washington and Pittsburgh earlier that week.
Ronnie: The tenth game against Vegas. It'll give fans a good benchmark against a quality team and finish off a six-game road-stand, the longest of the season for Colorado. If there was ever a 'cherry-on-top' game to finish a strong early start, or a benchmark game to see where they stand against one of the better teams in the league, that's the game Avalanche fans will want to watch (assuming they can.)
The Avalanche start their season Thursday night against the Calgary Flames. Puck drop from Pepsi Center is set for 7:00 PM MST.