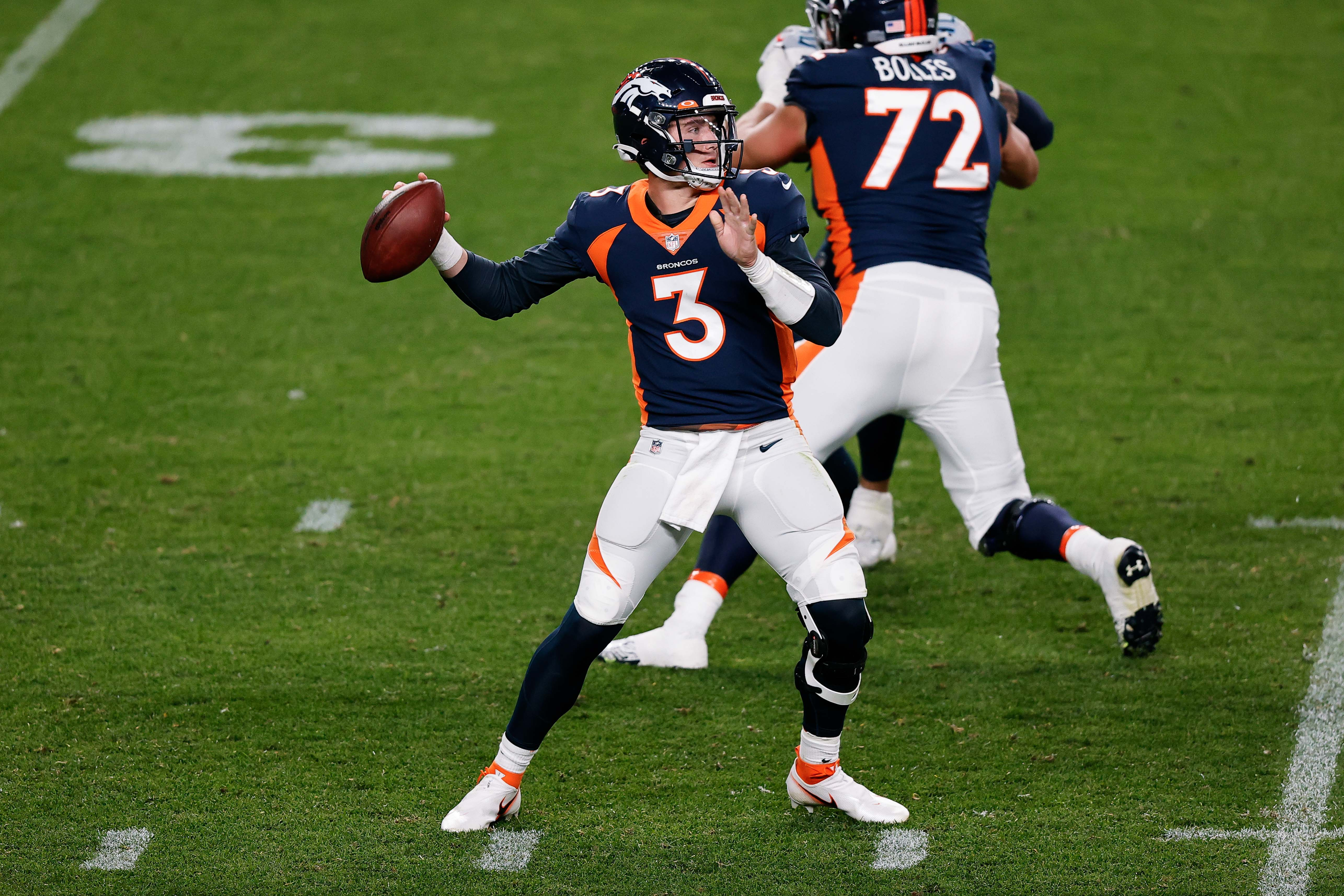 After getting off to a rough 0-1 start against the Tennessee Titans, the Denver Broncos will look to get back to .500 against the Pittsburgh Steelers on Sunday at 11 A.M. MST.
To preview the game, we asked our four Broncos' experts five questions ranging from who they think will win, to how Lock will play against this Steelers defense. Let's take a look at their answers
What are your expectations for Lock against the loaded Steeler defense?
Rich Kurtzman (@RichKurtzman): Drew Lock will likely have a tough time this week. It's all about getting started well and riding that. If he can start hot like last week, he could have another solid performance. Overall, he needs to limit mistakes (turnovers) or Denver will lose big.
Zach Segars(@Zach_Segars): It's going to be hard to avoid turnovers against Pittsburgh's defense, but Lock has to minimize them to keep the Broncos in what figures to be a low-scoring affair. I also expect him to eliminate some of the uncharacteristic misses we saw on Monday night.
Ronnie Kohrt(@RonnieKRadio): Avoid dumb decisions. I don't care how good the opposing defense is. It doesn't excuse poor mistakes and dumb decisions.
Nate Lundy(@NateLundy): I want Lock to continue to show maturity between the ears. I can forgive a bad pass here and there or sailing one over the receiver's head. But dumb decisions, against a very good defense, will cost you any shot at keeping this game close.
What Steeler player scares you the most if you're the Broncos?
Rich Kurtzman: Mike Hilton. Many might not know the cornerback, but he does it all for Pittsburgh. Last week he recorded defended a pass, recorded a sack and had two total QB hits. Keep an eye on No. 28 this week.
Zach Segars: JuJu Smith-Schuster. The Broncos struggled a lot with a big, athletic, physical receiver last week in Corey Davis, and Smith-Schuster is a much better version of that same type of receiver. Justin Simmons has to bounce back from a rough Week 1 to help out the young cornerback group.
Ronnie Kohrt: Ben Roethlisberger. The pass rush was ineffective against Ryan Tannehill and Roethlisberger is even more difficult to bring down. If the Broncos can't make Big Ben's day a bad one, they're going to get roasted.
Nate Lundy: Ben Roethlisberger. A healthy Big Ben should scare any team in the AFC and from all accounts, he is finally 100%. With a Broncos defense that has seen the Injury Bug turn into the Injury Plague, Ben has the ability to pick apart the defense and improvise at the line.
What must the Broncos do to win this game?
Rich Kurtzman: Denver needs to establish a run game. Last week the Steelers allowed only 29 yards on the ground to the Giants, forcing them into relying on the pass game. That led to two picks thrown by second-year QB Daniel Jones. The Broncos could be looking at the same fate if Melvin Gordon can't gain ground (and not fumble). Phillip Lindsay is out this week with turf toe.
Zach Segars: The secondary has to hold up against a scary, young receiving core. I think Benny Snell is sneakily an upgrade on James Conner, but still, the Steelers rushing attack doesn't scare me against the talented Denver front seven. What does scare me are the two rookie cornerbacks Denver might start in this game, going up against Big Ben. If the defense can take away the  Pittsburgh passing game, they can keep it within reach for the offense.
Ronnie Kohrt: Win the trenches on both sides. This allows Denver to establish the run game on offense and keep a well-balanced offense from becoming one-dimensional. On defense, this means getting to Ben Roethlisberger, whether simply getting to him or bringing him down altogether.
Nate Lundy: Zero turnovers. Not one. Zero. Do not give the ball to Roethlisberger on a short field.
Who do you think will be the player of the game for the Broncos?
Rich Kurtzman: Courtland Sutton. After missing Week 1, he'll be hungry to remind everyone he's a star. Plus, Lock will look to hook up with his tall, athletic ball hawk in Sutton.
Zach Segars: Jerry Jeudy. He looked like a star in the making in Week 1 outside of his two drops. He lept off the TV with how open he was able to get on almost every play and knowing Jeudy, you can bet he will be working his butt off all week to make sure he doesn't drop the next one.
Ronnie Kohrt: Noah Fant. A strong TE option in week one's first half and then Denver just simply stopped going to him? It sounds like Fangio and friends may have realized that was a mistake and continue to integrate him all game long.
Nate Lundy: I would love to say Noah Fant, but I think this Steelers defense is too strong to take advantage of them with the tight end so I will go with Courtland Sutton. Not having him as an option in the Monday night opener hurt Drew Lock so having him on the field and able to contribute would be huge.
What's your final score prediction?
Rich Kurtzman: Steelers-16 Broncos-6
Zach Segars: Steelers-20 Broncos-17
Ronnie Kohrt: Broncos-23 Steelers-20
Nate Lundy: Steelers 24 Broncos 17