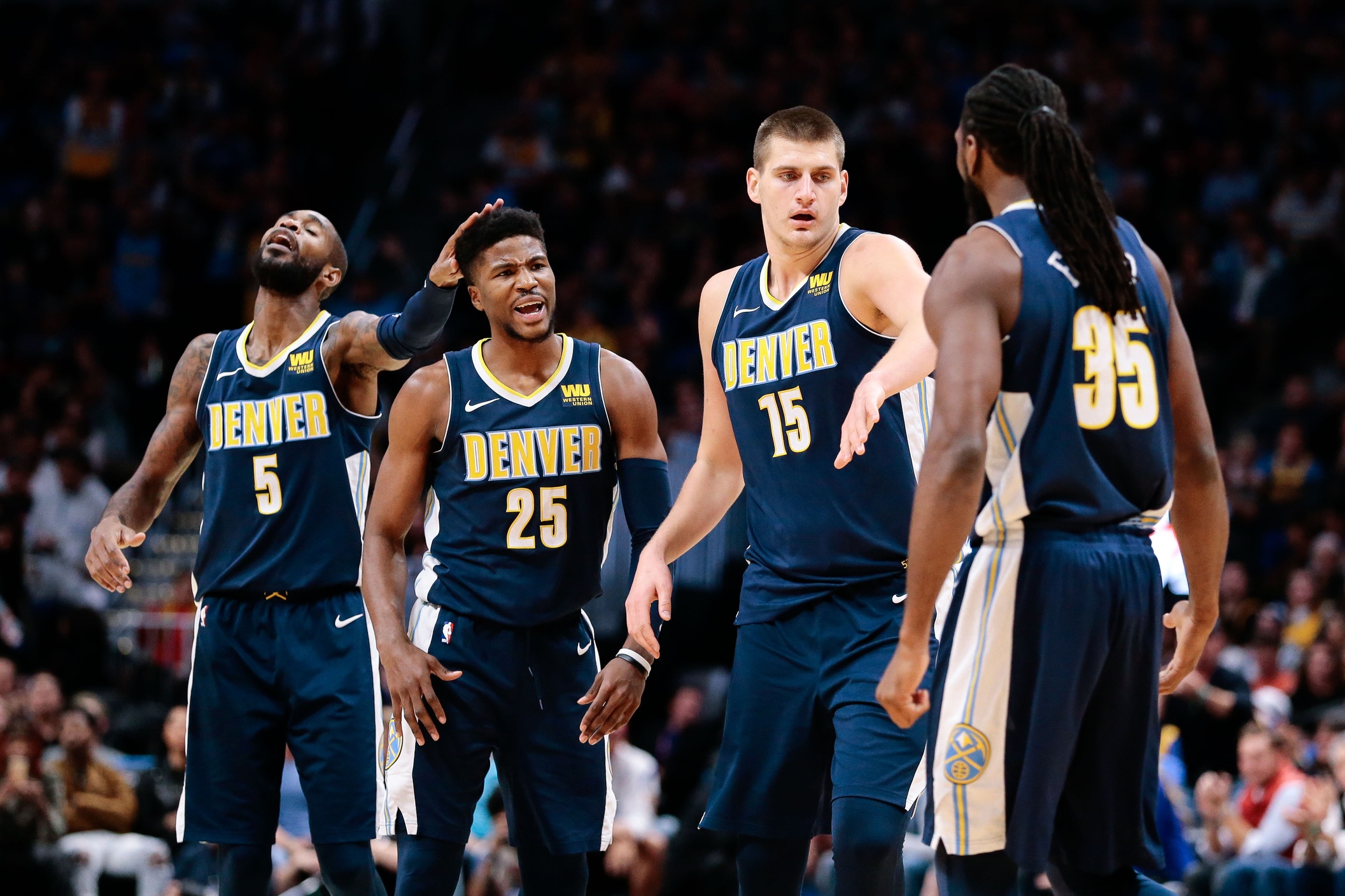 The Denver Nuggets just wrapped up their season-long homestand — consisting of six straight games at the Pepsi Center — with a record of 5-1. It was a huge success for Denver as they continue to work towards their first playoff appearance in four seasons. Their only loss came against the defending NBA Champion Golden State Warriors on the second night of a back-to-back for a game which was their sixth in nine nights.
Beyond that, Denver managed to defeat some of the NBA's better teams — the Toronto Raptors and the Oklahoma City Thunder — while also defending their home turf against lesser opponents like the Miami Heat and the Orlando Magic.
Ahead of the homestand, Denver was just 3-4 and clearly looked out-of-whack. With six total games through 11 days in the Mile High City, Denver managed to kick their offense into gear with season-high — and career-high — performances from Nikola Jokic, Jamal Murray, Will Barton and Emmanuel Mudiay. They also raised their defensive intensity as a team limiting their opponents to an average of just 102 points in their five victories.
Denver now ranks 12th in offensive rating and 15th in defensive rating with the Nuggets showing signs of improvement on both ends of the floor as the year has progressed. With a record of 8-5, Denver is currently penciled in as the third seed in the Western Conference and first place in the Northwest division.
With the recent success, the Nuggets' scribes at Mile High Sports took the time to break down and discuss the outcomes of the Nuggets' impressive homestand.
How big of a success was the homestand?
Aniello Piro: I think the homestand was a big success for Denver. They managed to base themselves after hitting a rough patch to open up the season. Emmanuel Mudiay and Jamal Murray showed, in spurts, that they could hold down the fort at point guard. Gary Harris continues to progress and Will Barton has proved he's an invaluable part of the Nuggets rotation at the moment. With that, Nikola Jokic and Paul Millsap continue to gel as Nuggets' head coach Michael Malone tries to instill a winning culture within the team. All in all, Denver has started to show significant signs of growth from previous season under Malone which is critical.
Ronnie K: The team won five out of six games, with their only loss being against the best competition in the league in the Golden State Warriors. For the bottom-line, it was an extremely successful homestand. It was also successful in finding what appears to be Denver's new closer in Millsap and to ignite a fire under the feet of Murray and Mudiay, who are both playing the best basketball of their careers right now.
Brendan Vogt: It's hard to consider it anything other than encouraging. A record of 5-1 is almost as good as it gets. The six-game stretch featured three wins in which Denver scored 110 or more points, two wins in which they held their opponents to just 94 points, and the lone loss came to the almighty Warriors in the second game of a back-to-back. To add some icing on the cake, both Murray and Jokic set career highs in scoring. Plus, Mudiay played the role of spoiler with 21 crucial points in a 102-94 win over the Oklahoma City Thunder in Carmelo Anthony's return to the Mile High City. Malone and his staff have to be relatively pleased with what they saw from their team.
Dev Johnson: A 5-1 record throughout the homestand, with the only loss being Golden State, is huge for the Nuggets. For it to come this early in the season is a monumental boost for the growth of the team.
Do you get the sense that the culture has changed within the team?
Aniello Piro: Not quite yet. Denver still has a long way to go before the culture is changed; however, I think they are starting to see change take place. The integration of Millsap has helped and just getting general experience as time has passed has assisted the young Nuggets to mature. Adding Richard Jefferson helps too — so it seems things are getting better — but there is still a long way to go before this team has the culture of a championship team.
Ronnie K: No, not yet. If the culture is to change that means they're a different team in a different place than in previous years. Until Denver proves otherwise, they remain a team near .500 with a potential, in the future, of reaching the playoffs.
Brendan Vogt: There is indeed a nascent sense of excitement surrounding this Nuggets team. They're oh so close to rolling out not just a competitive basketball team, but a great basketball team — night in and night out. The players know it; the coaches know it, and now it appears that some of the fans are catching on as well. If the culture is indeed changing, as it appears it is, then that trend started last December when this team stumbled onto its offensive identity after inserting Jokic into the starting lineup. That is a hard situation to replicate when the team has seen major changes to both the roster and the staff over the off-season but, now they need to capitalize on the momentum with a strong road trip.
Dev Johnson: It is too early to tell. There have been undeniable changes to the team and that is encouraging. There are positive trends: like players looking bought in on the defensive end, positive locker room vibes, and also the way the team has closed games, so yes. It does seem that the culture is changing.
How would you evaluate the tandem of Millsap and Jokic at this point? How much better could they get?
Aniello Piro: It is getting better. I think the biggest problem the two are dealing with is that they are both play different styles. Millsap is more accustomed to playing a slow and methodical style of basketball while Jokic is at his best in an up-tempo and west-coast style of offense. The two have continued to mesh throughout the season and will be a work in progress for some time, but Jokic has been hot as ever being that he's averaging a double-double. In the meantime, Millsap has been steady while binding himself with his new teammates.
Ronnie K: It's going to take time for the two to gel; especially considering how unique Jokic's skillset is. It's extremely encouraging to watch Millsap take the role of 'closer' because the Nuggets have waited almost a full season expecting Jokic to take that role, but he hasn't yet — for whatever the reason. The Nuggets were a team badly seeking someone to take that role by the horns.
Brendan Vogt: It is still a work in progress, but that should excite Nuggets' fans. Denver now sits at 8-5 while the other teams in their division struggle to find their own rhythm. Things have obviously changed in Denver in these last six games; Jokic appears more aggressive of late and was able to top his career high with a 41-point performance against the Brooklyn Nets. There is still a massive amount of room for growth as Millsap finds his shooting stroke and this offense continues to revert back to what they did so well last season.
Dev Johnson: They've been great. Every team that makes a big roster change goes through a feeling-out stage. Now that they've gone through that stage and have a bit more time under their belt as a team it seems the chemistry is growing. Denver is starting to look a bit more comfortable together and it'll only improve with time.
What has been the biggest difference in Mudiay from the previous two seasons to this year? Why?
Aniello Piro: It is simple; it is his focus. Mudiay has gone into 'me against the world' mode this season and it has paid dividends early. He's been reluctant to talk to the media and seems to show up, do his work, and go home. In warmups, he's dialed in and working to improve his craft with every shot, dribble, and pass which has led to Malone giving all of the credit to Mudiay and Mudiay alone for his improvements. He's lost weight and seems to be motivated to prove why he was worthy of being drafted with the seventh overall pick in the 2015 NBA Draft.
Ronnie K: Selective shooting and better control over the ball. He's cut down on turnovers and isn't rushing to take shots that he really shouldn't be heaving up. Suddenly, his field-goal percentage is the best it has ever been. The season is still very young — his consistency has yet to be proven — but for a player that many gave up on, the returns are very promising.
Brendan Vogt: Last season, Mudiay hit just 49 percent of his attempts at the rim — putting him in just the 17th percentile among players at his position according to cleaningtheglass.com. This year, that figure is up to 55 percent. 55 percent is not a great number, but it is much improved putting him in the 41st percentile at finishing around the rim. He's also hitting 48.4 percent of his threes on the young season, albeit on just 31 attempts. In the prior two years, he failed to eclipse the 33 percent mark on such shots. So what gives? Better shot selection, to say it plainly. Mudiay's improvement at the rim is the result of him showing a better understanding of when not to attack the rim so aggressively, as he's known to do.
Dev Johnson: Mudiay working on his game during the offseason. The Nuggets are starting to see Mudiay shoot the ball better, it looks like he has worked on his ball-handling, and he is finishing at the rim with better efficiency. In essence, those few things have led to an improved Mudiay as opposed to the previous two seasons. It seems he is beginning to get his confidence back.
Who was the most impactful player over the course of the homestand?
Aniello Piro: Millsap. The four-time All-Star managed to score double-digit points in all but one of the Nuggets' six games while serving as an anchor on defense, but it seems his biggest impact was behind closed doors. The Nuggets carried a swagger that they have not shown in years and it is mostly because of the emergence of Millsap. It seems he has helped the team rise to the occasion and buy into the notion that they can be one of the better teams in the NBA.
Ronnie K: Jokic. He has a double-double in five of the six games on the homestand and nearly went for a triple-double in two of those games. Jokic went off against Brooklyn for a career-high 41 points and helped the Nuggets re-establish traction this season.
Brendan Vogt: Barton is who has been the most impactful player on the Nuggets' roster throughout the homestand. You expect that kind of production from star-level player but Denver was lucky to get the production they got from Barton off the bench. Barton finished the homestand averaging 16.5 points, six rebounds, and 3.7 assists in 31.1 minutes off the bench. Barton is a heavy iso scorer — the type of player who can take frustrating shots — but he can generate offense all on his own. He did just that during these six games and was able to do so efficiently. Barton shot 43.3 percent from beyond the three-point arc and shot 47 percent from the field overall. Toss in some stellar defense — highlighted by forcing Dion Waiters to miss the final shot of the game to lock-down a win against Miami and a crucial possession against OKC's Paul George who he forced to commit a 24-second violation late in the game — and Barton was the clear X-factor in several of these five wins.

Dev Johnson: There are a few players that could be chosen for most impactful, but the one who has stood out most has been Barton. The way that he has been playing off the bench — scoring, defending and bringing energy to that second unit — has to have him in contention of a Sixth Man of the Year award. He's also been tasked with backup point guard duties from time to time to close games as well. Barton has had an overall good start to the season.