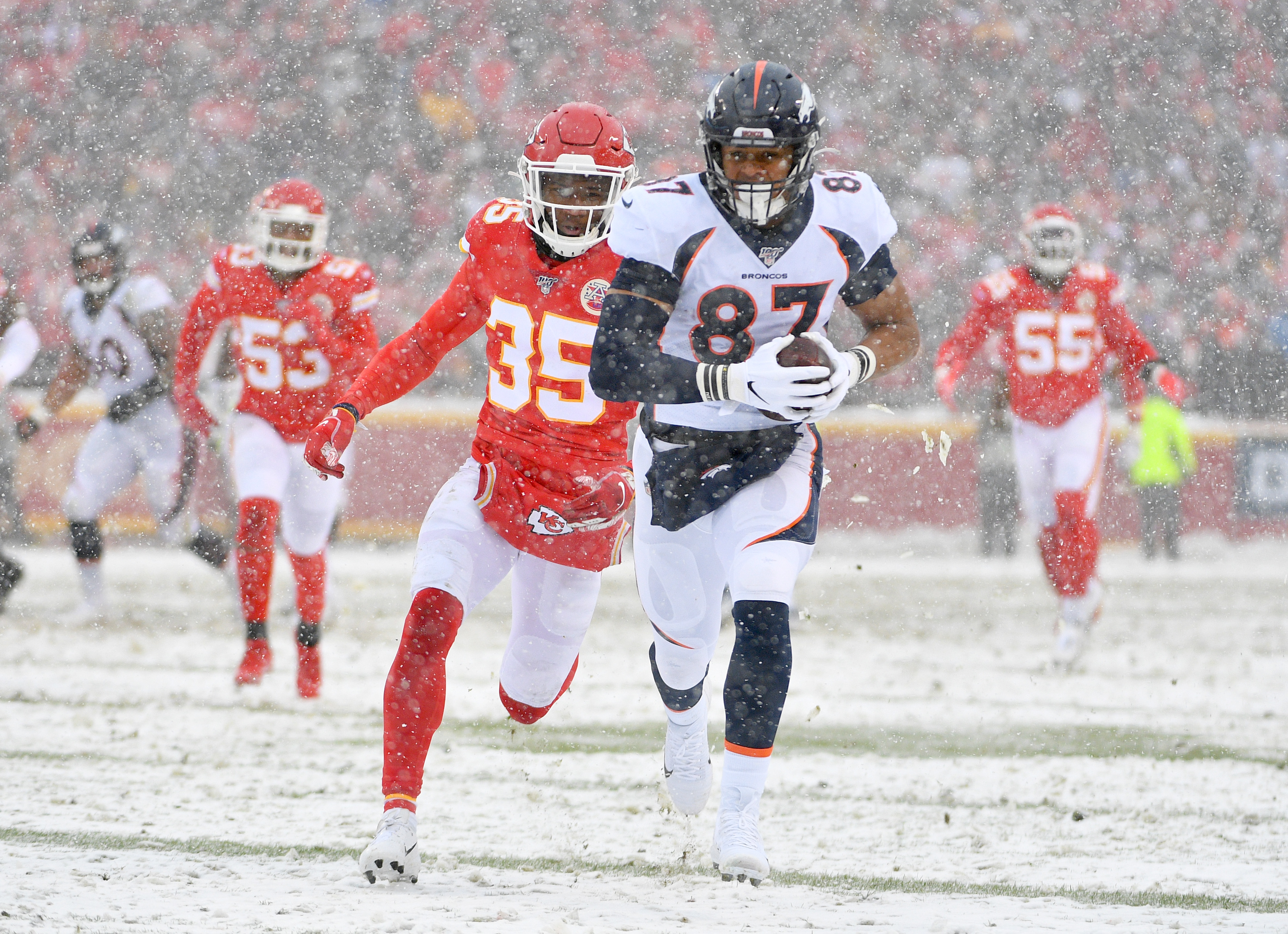 The Broncos now rest at 0-2, and with Tom Brady and the Buccaneers coming to town to square off against an extremely depleted Broncos roster, the road to 1-2 is a tough one.
Here are what our Broncos experts and analysts expect to see on Sunday when these two teams face off.
Can the Broncos win games with Driskel starting?
Rich Kurtzman (@RichKurtzman): Yes, they can, but it's unlikely. Jeff Driskel must get himself comfortable with the offense in a hurry, and we saw him hold the ball too long at times while he was hammered by rushers last week. Expect more of the same this week. (Shaq Barrett is a beast.)
Doug Ottewill (@DOttewill): Yes, but not against elite defenses and not if the Broncos are thin everywhere else. Driskel is the definition of a serviceable NFL backup. He was "okay" against Pittsburgh, and can be good enough to win against others as well. But, he'not going to win games for you on his own. He needs Melvin Gordon to be effective and Elijah Wilkinson to be competent. Sure, Driskel can win games, but, like Lock, he needs some help along the way.
Zach Segars (@Zach_Segars): They can, the road game against the elite Steelers defense with zero practice reps in preparation proved as much, but it won't happen very often, as Driskel's one career win suggests.
Ronnie Kohrt (@RonnieKRadio): Sure they can. Will I be betting on them? Not this week.
Which Bronco has impressed you the most through 2 weeks?
Rich Kurtzman: Noah Fant is emerging as a top-flight tight end through two weeks, even with two different quarterbacks throwing him the ball. Fant should be more heavily involved in the offense, especially with Courtland Sutton and Phillip Lindsay injured
Doug Ottewill: Garret Bolles. We've barely talked about him, which is all you can ask of your left tackle.
Zach Segars: Noah Fant. People were expecting he would take a step towards stardom this season, but he skipped that step entirely and decided to sprint towards superstardom instead.
Ronnie Kohrt: Michael Ojemudia. Once thought as an upcoming cornerback that needs a lot of time is now being relied upon as a top corner and has answered the call for the most part.
What's the key to a Broncos victory vs. the Buccaneers?
Rich Kurtzman: Denver needs to generate scores on offense to put points on the board. Whether it's Fant, Jerry Jeudy, Melvin Gordon or all of them; the Broncos need multiple touchdowns to even hope of winning this week.
Doug Ottewill: Melvin Gordon. The Broncos ponied up to pay him like one of the best running backs in the league, so now it's time to earn that dough. Gordon has shown flashes in the first two games, particularly in the first half against Pittsburgh. Not only does he need to be good, but Pat Shurmur needs to commit to getting him the ball. If he's effective, Driskel can manage the offense to a win.
Zach Segars: Take as much off of Driskel's shoulders as possible. That means limiting how many points the Bucs score offensively, getting a ground game going, and simplifying the offense so that Driskel is leaning on his surrounding skill-position talent, rather than the talent relying on Driskel to make things happen.
Ronnie Kohrt: Get to Brady with pressure up the middle. That's what forces turnovers and with a limited offense, Denver's defense will need to carry the torch of playmaking ability on the team.
Who will be the Broncos' player of the game?
Rich Kurtzman:  Kareem Jackson. He will sack Brady once and also pick him off.
Doug Ottewill: It's got to be Melvin Gordon…or else it will Tom Brady.
Zach Segars: Noah Fant. He finally becomes the focal point of the offense for two consecutive halves and puts up bonkers numbers.
Ronnie Kohrt: Shelby Harris. Bat downs. Pressure up the middle. The difference.
What's your final score prediction?
Rich Kurtzman: Buccaneers-31 Broncos-20
Doug Ottewill: Broncos-24 Buccaneers-22
Zach Segars: Buccaneers-27 Broncos-20
Ronnie Kohrt: Buccaneers-23 Broncos-19