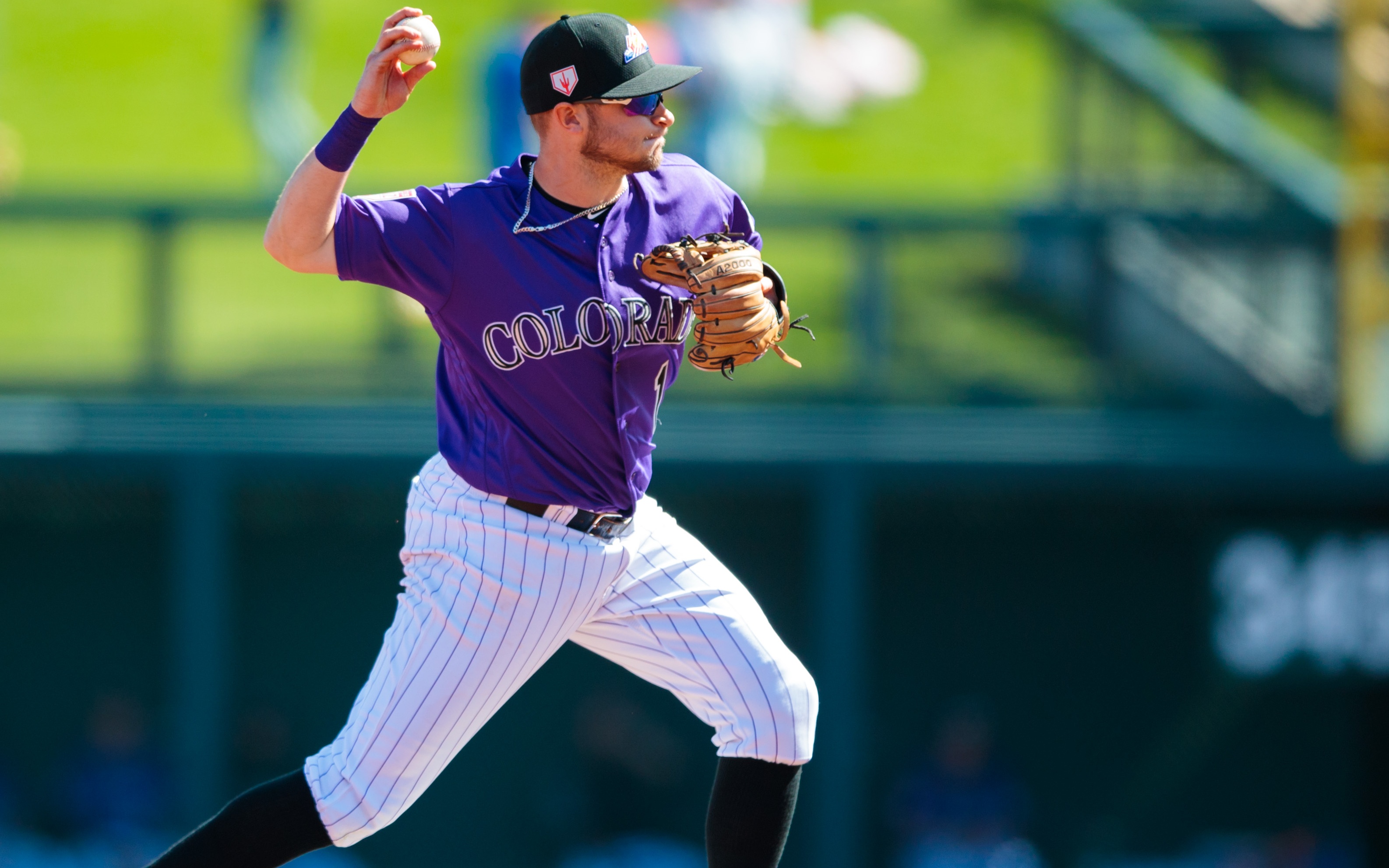 The Colorado Rockies are trudging through Spring Training, readying themselves for the grueling 162-game slate that lies ahead.
With Nolan Arenado signed to a long-term deal, Bud Black locked up for the foreseeable future and battles in Arizona taking place, the Rockies haven't been quiet.
While results in exhibition games often have little bearing on a team's success in the regular season, the Rockies staff took a look at the storylines that have crept up.
Who wins the starting second base battle? 
Aniello Piro: Youngsters like Brendan Rodgers, Garrett Hampson and Ryan MacMahon are all in position to earn the nod as the starting second baseman for the Rockies on Opening Day. The three players all provide manager Bud Black with options which is a good problem for the Rockies to have.
The frontrunner so far in Spring Training is McMahon who is in the midst a five-game hitting streak. The 24-year-old leads the team in hits this spring and has a batting average that is hovering around .500. MacMahon has more experience than both Rodgers and Hampson at the major league level and can play all around the diamond, including first base. The California kid is also the most poised of the bunch at the plate. The Rockies need offensive production from whoever starts at second base and right now, MacMahon appears to be most suited for the opportunity. 
That said, it would not be shocking to see Daniel Murphy play a handful of games at second base throughout the season and Mark Reynolds take over the duties at first base. It is no secret that Black likes to play veterans while young guys continue to season. Shifting Murphy to second, a position he has played most of his career and inserting Reynolds at first is a defensive alignment the Rockies will likely deploy throughout the season. 
Brandon Ewing: The Rockies second base position is something we might not see finalized until a couple of weeks into the regular season. Both Ryan McMahon and Garrett Hampson are having phenomenal Spring Trainings, which could force this battle to extend all the way into the start of the season. Top prospect Brendan Rodgers has had an okay spring and I think we see him closer to the middle or end of the season, which makes this a two-man race between McMahon and Hampson.
At the moment, McMahon is batting a scorching .476 in Spring Training and has paired that with a home run and four doubles. Hampson is hitting strong as well though with an average of .313 to go along with two home runs and five RBIs. Both players offer the Rockies a solid player for the future, which could easily mean that McMahon and Hampson split time at second base this season.
Justin Michael: With D.J. LeMahieu no longer in the picture, Ryan McMahon will likely be the starter on Opening Day. McMahon played in 91 games last season and the utility infielder is the logical choice to step into the lineup as management is likely looking to see him in a more regular role this season.
Regardless of who ends up getting the start March 28th, the Rockies are going to use a committee of individuals at second base in 2019. None will be as talented in the field as the three-time Gold Glove recipient, LeMahieu. But, between McMahon, Garrett Hampson and Daniel Murphy, Bud Black has plenty of options to experiment with.
Luke Zahlmann: Garrett Hampson is doing everything he can to make this a no-brainer situation. Thus far, the speedster has been the star of camp, even sending a pair of longballs far over the wall.
I believe the Rockies will go with a rotation at times. I think that both Hampson and Ryan McMahon, who is also having an excellent spring, will garner their fair share of starts alongside Daniel Murphy in the first half of the year, each providing the club with a different skill set.
For the end of the year, I believe the Rockies would love to have Brendan Rodgers join the lineup, creating a young and bright future in every infield spot outside of first base. If he is not ready, I would be shocked if he weren't the frontrunner for 2020. For Opening Day though, I'll go with Hampson who provides the lineup with a much-needed burst of speed, with enough power to drive in runs as well.
Is Jon Gray really back, if so, how does that impact the rotation? 
Aniello Piro: The Rockies better hope he is. Colorado's 1-2 punch at the top of their rotation with Kyle Freeland and German Marquez is one of the best in baseball, but the rest of the arms in the rotation are questions marks, especially Jon Gray. At one point the 27-year-old was regarded as the future ace of the Rockies rotation. After a rocky 2018 season though, the flamethrower's future is uncertain. Gray has the ability to thrive at the major league level with an arsenal featuring a wipeout slider and a power fastball. Throughout the spring, Gray claims he has grown stronger both mentally and physically, but the results remain to be seen. Gray has looked more self-aware and in control of his pitches on the mound.
Additionally, Gray along with other pitchers within the Rockies organization worked out this offseason at Driveline, a data-driven baseball performance center, to help improve his slider and game overall. If Gray can evolve into the pitcher the organization expected him to be, the Rockies will have the best young starting rotation in all of baseball. 
Brandon Ewing: Gray looked spectacular in his outing yesterday against the Los Angeles Angels and he has put together a solid Spring Training so far. Even though Gray had his struggles last season, a solid spring training could be all he needs to start this year off right.
If the Rockies are able to get the Gray of 2017, in which he had an ERA of 3.67 and a win/loss record of 10-4, then he's definitely going to have a positive impact on Colorado's starting rotation this year. I think Gray definitely makes the Rockies staff better and I would not be surprised one bit if he has a tremendous 2019 season.
Justin Michael: Jon Gray may never be the staff ace that the Rockies hoped he would be when the team took him with the third overall pick of the 2013 MLB Draft. Gray still has the potential to be a quality starter though and after putting on weight this offseason, the 27-year-old appears to have his power back.
If Gray can consistently locate his fastball and mix in a healthy mix of his other four pitches, it would not be surprising to see him bounce back as Colorado's No. 3 pitcher.
Luke Zahlmann: Jon Gray has been an enigma for the Rockies. In flashes, he has shown the ability to carry the club's rotation, performing like a true ace. In other moments, such as his demotion last year, he has been unable to overcome a lack of consistency.
Though Spring Training results should be taken with a grain of salt, when Gray has been able to pitch with confidence, he has been phenomenal. If he can garner enough bravado in the exhibition slate, it may carry over to the season, a transformation that would change the franchise's reliance on Kyle Freeland and German Marquez to also include the former Oklahoma Sooner's fireballer.
He trained obsessively in the offseason. For the Rockies sake, they're hoping it carries over to meaningful matchups, with his talents serving as a great rubber match asset.
Can Raimel Tapia overtake Ian Desmond with a breakout spring training? 
Aniello Piro: I think so, but Ian Desmond will need to get out to another slow start before a definitive decision is made. Personally, I believe Tapia can be an impact player for the Rockies, but he has never been given a consistent opportunity to prove himself at the major league level. He can hit for contact and is a speedster on the basepaths, something the club does not have much of.
Let's be honest, does Ian Desmond have a real fit on this team? His first two seasons have been a disaster, and if he continues to underperform, the Rockies will be pressed to make a switch or at least utilize him more as a platoon player. So far this spring, Tapia has been impressive and appears to have bulked up some. While Desmond has been average, there will be pressure on him to perform when the season starts. If he fails to do so, the Rockies could very well give Tapia a shot in center field. 
Brandon Ewing: There is no way and here is why. Obviously, the contract matters, but even if Tapia has a phenomenal Spring Training, the Rockies have invested too much in Desmond to take him out of the lineup. Even though Desmond has had his struggles at first base, a move to center field could be a match made in heaven for himself and the Rockies.
Tapia is most likely going to slot in as the fourth outfielder and a player that could provide the Rockies a solid start occasionally. What Tapia also provides Colorado is a left-handed bat off the bench, which makes him a solid pinch-hitter in late-game situations.
Justin Michael: While many Rockies fans would love to see Tapia finally get a chance in a regular role, the likelihood of it happening early in the season is slim. With his monster contract, Ian Desmond is going to get every chance in the world. Unless Desmond's play is so poor it forces Bud Black's hand, Tapia seems destined to come off the bench in 2019.
Considering his performance in the minors, it's disappointing that Tapia has not been able to spend more time on a major league roster. In 187 games with AAA-Albuquerque, Tapia has a .330 batting average and is slugging .506.
The Rockies are hoping that Tapia will have similar success at Coors Field, now that "CarGo" and Gerardo Parra will not be blocking the way for the youngster to secure a spot on the 25-man roster.
Luke Zahlmann: Outside of an outlandish performance in the spring, along the lines of Kris Bryant's dominant 2015 showing (nine home runs, 1.175 slugging percentage), it's doubtful.
Raimel Tapia, for whatever reason, has failed to catch on with the big league club through his first three years since his 2016 Rockies debut. He has shown flashes of a great arm, speed and power in small doses, but hasn't been able to claim a long-term spot in the lineup.
The problem originally was the lack of a spot. With Charlie Blackmon, Carlos Gonzalez, Gerardo Parra, David Dahl and a myriad of others ahead of him, Tapia's development was better served in AAA. That is unlikely to change with Bud Black looking to start Ian Desmond in center, shifting Blackmon to right. Though Desmond had a lackluster year last year, it appears the club is not looking to move off of him.
Nolan Arenado has struggled thus far in the spring, does it matter? 
Aniello Piro: Absolutely not. Nolan is among the top-five players in the game and is in the middle of his prime. His numbers may be weak now, but when the season gets going, he will be back to his usual self. 2019 could be his best season to date with his contract situation settled. All he has to do now is focus on baseball.
Expect Arenado to come close to blasting 40 home runs and driving in 120 RBIs.
Brandon Ewing: No, it does not matter, because Arenado should be fine once the season officially begins. Baseball is a game of streaks and for Arenado, he has struggled at the plate during Spring Training so far. Where Arenado has not struggled is with his glove as he has showcased plenty of highlight-reel plays in the limited games he has played this spring.
Arenado has also had a very busy spring having to deal with his contract extension and carrying the weight that comes with it. That definitely can take a toll on a person, which could be why he has struggled so far in Spring Training. Nonetheless, the Rockies superstar should be fine once opening day rolls around March 28th in Miami.
Justin Michael: Nolan Arenado is the best third baseman on the planet. Until the struggles translate to regular season losses, Rockies fans should trust Arenado's career resume over a small sample size in Spring Training.
Arenado has led the National League in home runs in three of the last four seasons and other than his minor struggles at the plate in the 2018 postseason, he has essentially been the definition of consistency.
As Arenado gets more comfortable over the next few weeks, his numbers are very likely going to rise. Even if they don't though, there's plenty of time for No. 28 to find his groove at the dish.
Luke Zahlmann: In short, no. In a bit longer answer, still definitely not. Spring Training hitting numbers are normally meaningless for the league's best players. The at-bats are merely a means of getting ready for the year and getting acclimated to live pitching once again.
Last year, Arenado was 24th among all hitters for the Rockies in Spring Training. In 2017, he was 43rd. After a lackluster spring last year, he went on to slash .297/.374/.561 en route to yet another top-five finish in 07National League Most Valuable Player award voting.
Thus far, Arenado has only one strikeout, showing that his eye is on par, but his contact is trailing. If the results showed Arenado striking out at excessive rates, with his contact also struggling, there may be something to his struggles. With that problem evading his plate appearances to this point, the worry level should be minimal at best.