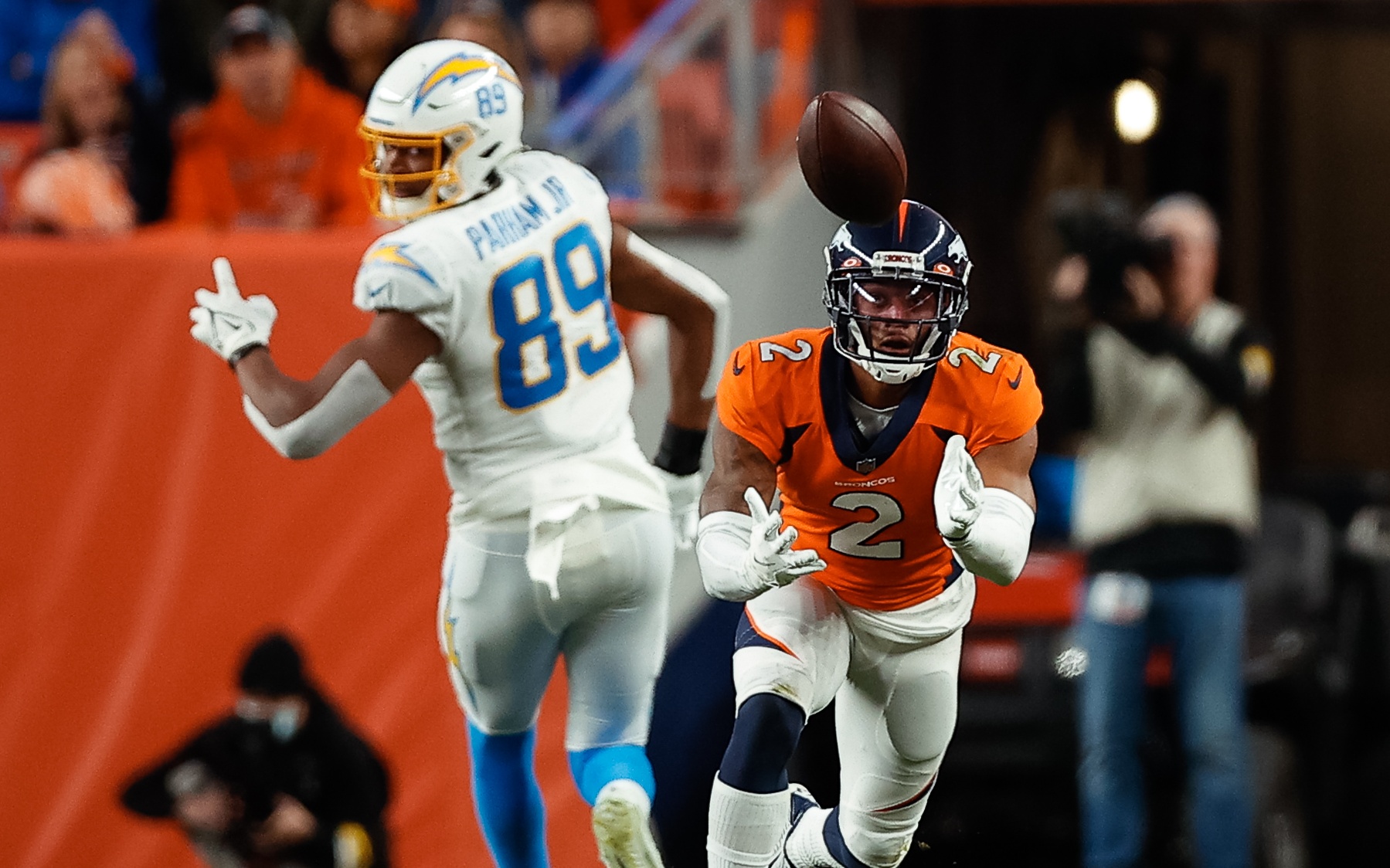 The Denver Broncos are fresh off a thorough beatdown of the Los Angeles Chargers. Winners of three of their last four, Denver has a chance to earn first place in the division with a win over the Kansas City Chiefs on Sunday.
Who has been the team's most impressive rookie Patrick Surtain II or Javonte Williams? Has the coaching staff grown on our staff? Has Teddy Bridgewater earned a new contract? Will the Broncos step up against their rival Kansas City Chiefs? What does our team think the final score be?
After a big win against the Chargers, how do you feel about the Denver coaching staff?
Lindsay Bebout (@lindsaybebout):
Am I supposed to praise those guys, who make their living off of coaching football, for realizing that running the ball more was the obvious way to win games? Congrats on finally doing your job 12 weeks in!
Zach Segars (@Zach_Segars):
Generally speaking, I still feel like it's a pretty lackluster staff, but this team is talented enough to make them look good on occasion. Hopefully, that will happen again on Sunday.
JT Matthews (@JTMatthews01):
I am still not high on Denver's coaching staff overall. The outcomes have been more favorable lately, but nothing is happening that makes me feel like anybody these coaches aren't replaceable.
Joey Richards (@JRDrafts): For me, the Broncos coaching staff is a tough one to put a finger on. Despite the hatred towards both Pat Shurmur and Vic Fangio, Teddy Bridgewater is having a career year and the defense looks awesome as of late. At the end of the day, a lot of my judgment will be based on the Broncos' final record, fair or not.
Rich Kurtzman (@RichKurtzman):
My respect for Vic Fangio is slowly growing over time. However, Tom McMahon (special teams) and his unit have been awful for years. Similarly, my feelings haven't changed much for Pat Shurmur; I wish he'd mix in some more creative play calling.
Nicholas Manning (@Dr_NManning): 
The light always shines after a win. The staff, today, looks like they have figured some things out. However, so far this season, it seems to be only half of the time. They have not been very competitive in their losses and have struggled to remain committed to an identity. With Pat Shurmur showing some more commitment to the running game, there is still hope yet. Not for Tom McMahon though.
Who has been the more impressive rookie for the Broncos, Patrick Surtain II or Javonte Williams?
Nicholas Manning: Patrick Surtain has been truly special. Javonte Williams has been as well. The difference is, Surtain has done so while being placed on an island often. Being a starter for the majority of the season, he has a chance to earn a Pro Bowl nod. Either way you slice it, Surtain and Williams were home runs for George Paton's first draft.
JT Matthews:
 I would have to say Patrick Surtain has been the more impressive rookie. His ability to come in and contribute from day one has been invaluable and the fact that he is specifically being utilized to slow down opposing offenses shows his already professional skill level and intelligence. Javonte is a great rookie but Surtain is a future All-Pro.
Lindsay Bebout: Patrick Surtain, but it's close! I also have to give kudos to the rookie general manager, George Paton, for a job well done choosing both guys!
Zach Segars: Patrick Surtain II by a mile. That's no slight to Williams, but Surtain is the better player and his transition to the NFL has been more impressive, as the running back position has one of the easier transitions to the league, while corner has one of the hardest.
Rich Kurtzman: This is a tough choice to make but I'd say Patrick Surtain. The two are quite close, but Surtain is playing like a veteran and the hope is he will only improve. Part of Williams' deal is people haven't heard of him, so as he gets more recognition, teams may be able to slow him some.
Joey Richards: Patrick Surtain has clearly been the more impressive rookie to me. Not only playing at a more important position but at a position that usually takes more time to see results.
Broncos' Teddy Bridgewater has statistically ranked near the top half of the league in a variety of categories. With that in mind, should Paton consider re-upping him this offseason, and why?
Zach Segars: Paton should be considering it because if the Broncos don't land Aaron Rodgers or Russell Wilson, Bridgewater is the best option out there. Don't get me wrong, he hasn't been great, but the anger he faces is unwarranted. As the best QB the city has seen in a half-decade, you'd think people would have more of a palate for him.
Lindsay Bebout: He is a great backup. Will Teddy ever win the Broncos a Super Bowl? No, so let's find somebody who will! Now if he beats Mahomes this week, maybe we can talk about this more next week. Rooting for him to prove me wrong.
Joey Richards: Looking at this offseason, if the Broncos don't land a big fish via trade, their best option could very likely be Bridgewater. I think that's fine, as long as there is a plan in place to find the quarterback of the future.
Rich Kurtzman: Bridgewater would be a great QB to keep if they don't have another, better option. He could start, or at the very least compete with a rookie if the Broncos chose to draft one. And he would work with the rookie (or young QB) to help him grow, too. The price has to be right, though.
Nicholas Manning: If the Broncos are committed to drafting a young player, Bridgewater would be a perfect fit. However, if the team is committed to utilizing their cap space and draft assets to go big fish hunting, I would recommend they move on.
JT Matthews: In my estimation, Teddy is as good as any other backup quarterback in the league, therefore making him fairly replaceable. Retaining Teddy makes sense if the plan is to draft a young quarterback but many other guys could fill that role.
Who must play well for Denver to beat its rival Sunday in Arrowhead?
Lindsay Bebout: Teddy needs to convert every red zone drive, Javonte Williams needs to be fed like it's a hotdog eating contest, and whoever ends up covering Travis Kelce must shut him down.
Joey Richards: The front four must get after Patrick Mahomes. Vic Fangio deserves a ton of credit for showing the league the blueprint on how to give the Chiefs some issues but in that, they still need pressure. Making Mahomes feel uncomfortable while not having to allocate extra resources to that is vital in this game.
JT Matthews: Everyone. Everyone needs to play well. This is the team that has had your number for too long and wants to keep you down. Nobody can give a half effort if they expect to win.
Rich Kurtzman: Everyone. What I mean by that is the Chiefs are a complete team. When one phase slumps, another buoys the team. The Broncos need all three units playing well Sunday or Denver will be beaten, likely handily.
Nicholas Manning:
Teddy Bridgewater
needs to play well. The formula to beat the Chiefs has been established. The Broncos used it last season with a less talented team while turning the ball over twice. If Bridgewater can be efficient and make a big throw or two, it should loosen up Kansas City who will be focused on stopping the run.
Zach Segars: Javonte Williams and the offensive line. This team is built upon the run game, as it allows Bridgewater to operate as a complimenting piece, and it gets the defense engaged in the game. With Gordon out, that places extra pressure on Williams to jump-start the team.
What is your score prediction for Denver vs. Kansas City, and why?
JT Matthews: I still think Kansas City is the team to beat in the division and will not be convinced Denver can get a win until they prove they can hang with the big boys. My prediction is a 27-23 win for the Chiefs.
Nicholas Manning: Last week, I knew the Broncos would win. This week, I believe the Broncos can win. We all know about the losing streak Denver has to Kansas City, Andy Reid is really good off of a bye week, and the Chiefs' defense has gone from terrible to pretty good over their four-game win streak. But, not so fast my friend. Denver comes in confident and flying around defensively, causing two turnovers. Broncos win 27-24 and move into first place in the division.
Rich Kurtzman: 33-17, Kansas City. The Chiefs have had Denver's number for years. In fact, the Broncos haven't won since early in the 2015 season against KC. And the Chiefs will want to hold onto their division lead while putting the Broncos in their place.
Zach Segars: Broncos win 24-20. The Chiefs' offense is still deeply flawed, and their defense is vulnerable to what the Broncos do best. Plus, home teams have a losing record this year, so winning in Arrowhead doesn't feel as impossible as it normally does.
Joey Richards: The Chiefs have come on strong as of late which is why I'm predicting that they win this game 28-21. At the end of the day, the offense just won't be able to keep up.
Lindsay Bebout: The Broncos are the ex-boyfriend who promises that they have changed, briefly show you that they've changed, but then rip your heart out once you let your guard down again. I was way out on the last week, and they proved me wrong, so I am ready to get hurt again! 24-20, Broncos.