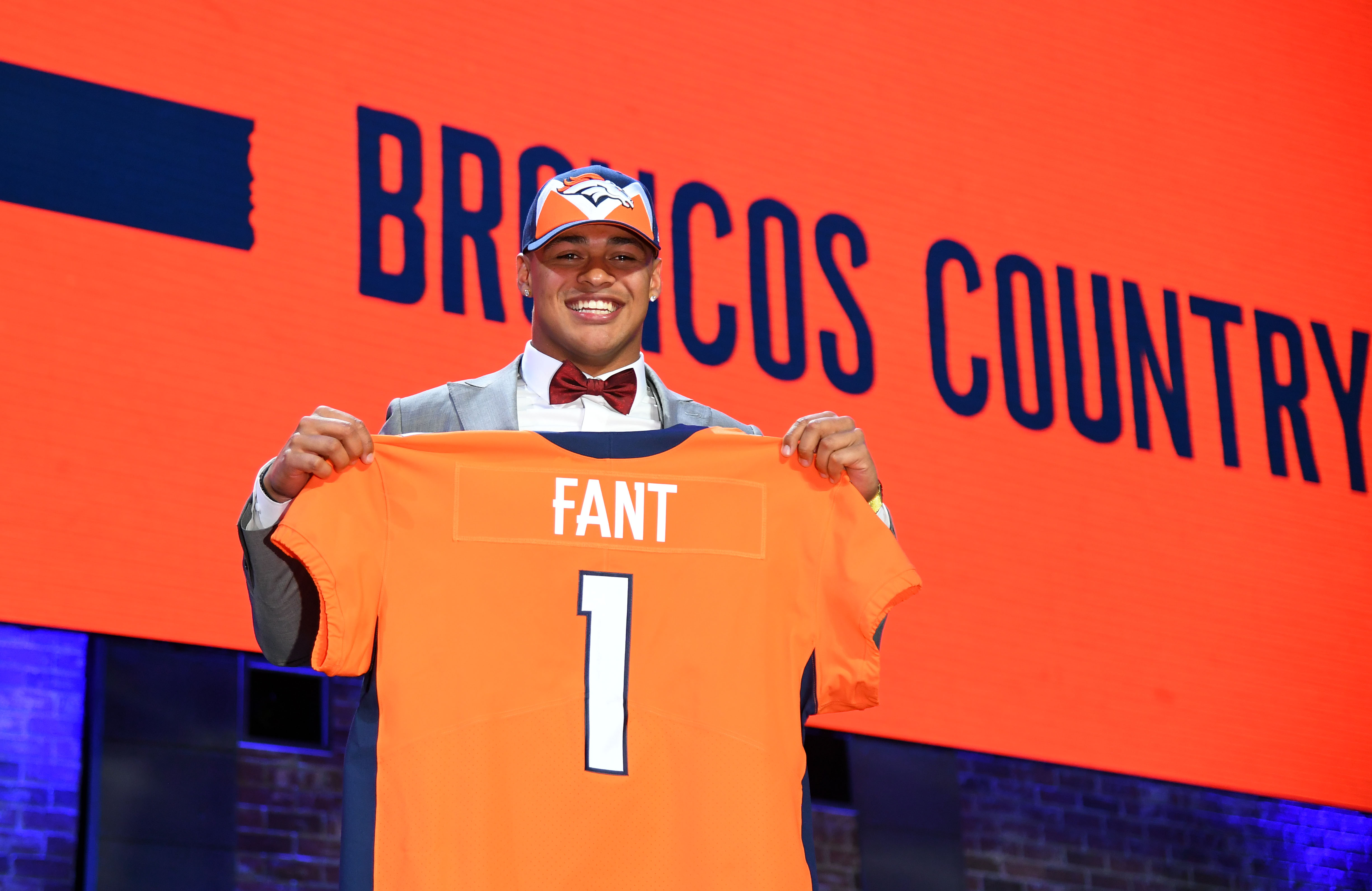 The Denver Broncos kicked off the 2019 NFL Draft in dramatic fashion, trading out of the No. 10 overall pick, sending it to Pittsburgh in exchange for the No. 20 pick, No.52 pick and a third-round selection in 2020.
From there, the Denver selected Iowa tight end Noah Fant with 20th overall selection. Here is the Mile High Sports Instant Reaction:
What do you think of the Broncos trading out of the No. 10 overall pick? 
Ronnie Kohrt (@RonnieKRadio)
Vic Fangio was not lying at the Arizona meetings when he said he didn't believe Devin Bush was not as special as Roquan Smith. The Broncos passed on Bush and give him to Pittsburgh for some solid return, however, passing on strong talent at No. 10 overall is concerning when the team simply needs more players ready to impact the team immediately.
Zach Segars (@Zach_Segars)
I like the Broncos trading back with the Steelers, but I don't love it. It hurts to pass on Devin Bush who could've been the centerpiece of Vic Fangio's defense for years to come, but it put them in the perfect spot to grab Noah Fant. Also the extra second-round pick tomorrow night will be a huge plus in a draft filled with strong second round talent.
Justin Michael (@JustinTMichael)
The Broncos had a chance to take Michigan linebacker Devin Bush or Ohio State quarterback Dwayne Haskins, but elected to go with Iowa tight end Noah Fant. The move wasn't sexy, but acquiring another second round pick sets the Broncos up to add depth to the offensive line and secondary in the later rounds. It's exactly what the New England Patriots would have done if they were in Denver's position.
Rich Kurtzman (@RichKurtzman)
Interesting to say the least. What would they have done if Ed Oliver was still there at 10 instead of going at No. 9? Would Denver have taken him, or was this their plan all along? In the end, the Broncos were the 10th-worst team last season, and that meant picking at No. 10 overall, also meaning they could've possibly landed a perennial Pro Bowler. They have multiple positions which need a starter right away. However, picking up the extra second this year and a third-round pick next year are nice additions.
The Broncos passed on quarterbacks Dwayne Haskins and Drew Lock. Will they regret this?
Ronnie Kohrt
In the end, you have to ask yourself, "Is Haskins or Lock a franchise quarterback?"
If the answer is "Yes," the Broncos made a mistake. I particularly think Drew Lock has franchise quarterback potential, so yes, I believe they will regret it.
Zach Segars
The Broncos won't regret passing on a quarterback in this year's draft. Even the highest-rated quarterback in this year's class would have ranked as the fifth-best quarterback in either last year's or next year's class. Watching Drew Lock's college tape is like watching Jay Cutler all over again. The Broncos have been there and done that and they're wise to have avoided him.
Justin Michael
No, the Broncos will not regret passing on a quarterback in the first round. While both of these prospects showed promise, neither had the upside of Kyler Murray, and that's why it's smart Denver elected to pass. The Broncos can still add another arm later in the Draft – and do so with significantly less risk.
Rich Kurtzman
Passing on Haskins and Lock is something Denver could end up regretting, but it seemed like the right move at the time. However, they should've gone for a different position of need, like a linebacker or on the offensive line, rather than tight end.
What do you think of the Noah Fant pick? 
Ronnie Kohrt
I don't love the pick, not because of the player, but because of the position. If tight end was a thought, why re-sign Jeff Heuerman? And will tight end move the needle enough to justify not only the selection but the trade out as well?
Zach Segars
I think the Broncos selection of Fant was a good one but I would've preferred them taking Greedy Williams. Considering Chris Harris' recent demands it would be surprising if he's on the team moving forward and the Broncos could have taken the best cornerback in the class at 20. That being said, Noah Fant has the potential to be Jimmy Graham 2.0 but with much more talent as a blocker.
Justin Michael
Although not quite as revered as his college teammate T.J. Hockenson, Fant is a phenomenal receiving talent and may actually be the best route runner in this year's class. Considering the Broncos have not had a legitimate passing threat at the tight end position in years, the move makes a lot of sense.
Rich Kurtzman
I don't like the pick of Fant at No. 20. A tight end in the first round? That's only the second time Denver's done so, ever. With so many holes to fill, the Broncos should've addressed a more pressing need like linebacker rather than tight end, which could have been found much later in the draft.