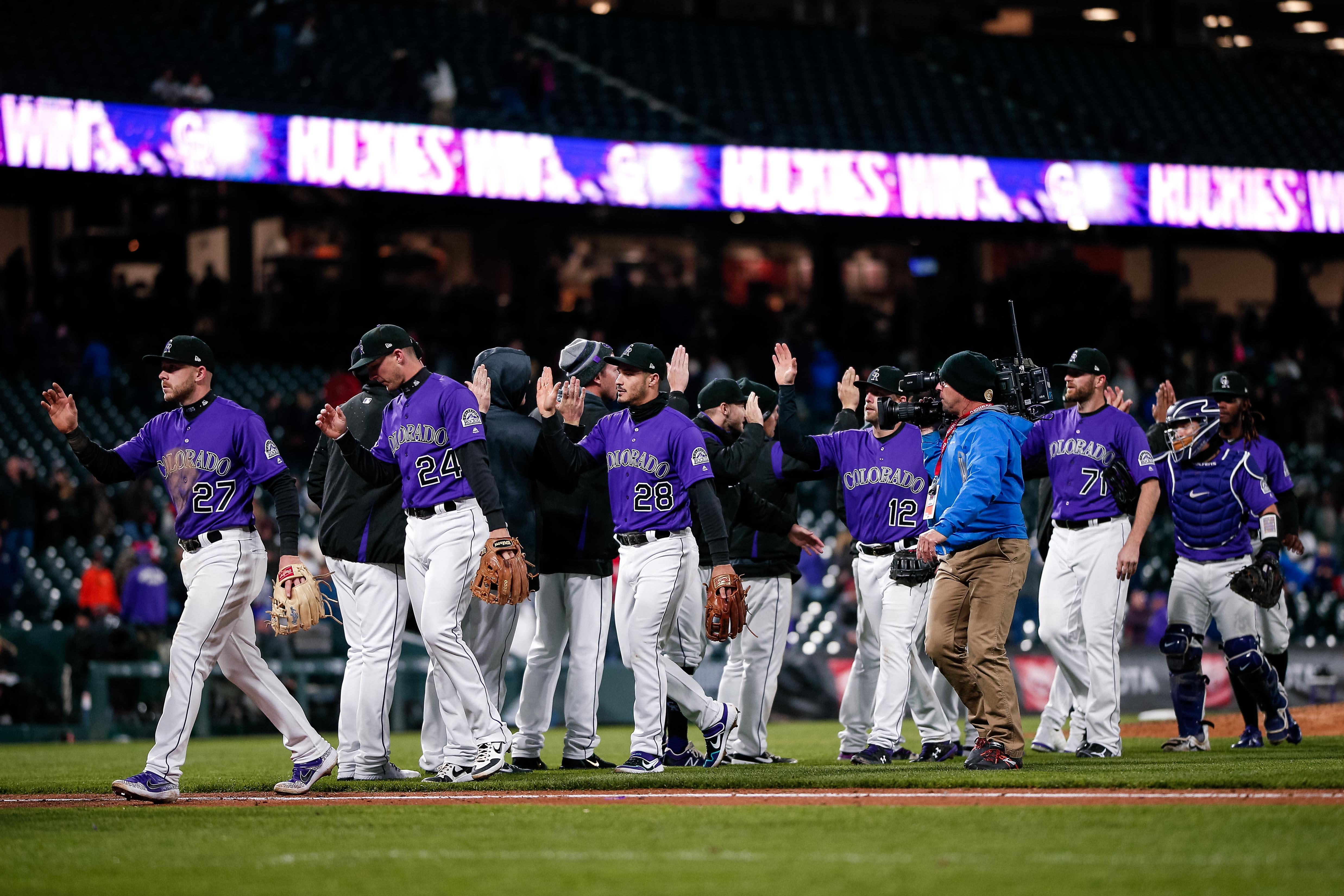 The first handful of games for the Colorado Rockies have been reminiscent of an obstacle course. Each moment of clarity has been met with another barrier, with their recent success coming in the face of those roadblocks.
At 11-14, the Rockies sit at last in the National League West with an identical record to the San Francisco Giants who hold the tiebreaker. Their run differential, buoyed by a lack of early success, sits at -15.
While the Rockies have a day off to travel to Atlanta for a three-game set against the Braves, the Mile High Rockies' desk sought to answer burning questions that the early slate has produced.
Ahead are the thoughts of Aniello Piro, Brandon Ewing and Luke Zahlmann on a variety of topics from Blake Street.
Who's the Rockies best overall player this year? 
Aniello:  I think it's still, far and away, Nolan Arenado. While David Dahl and Trevor Story will continue to blossom into fantastic players in 2019, this is still Arenado's team and will be for the foreseeable future. Arenado is a top-five player in the game and the best player on the team.
Brandon: Nolan Arenado is still the Colorado Rockies best overall player and has been to start the season. Not only does Arenado bring his "A" game every day offensively, but he brings it defensively as well. Arenado has continuously made highlight reel plays all season, while also picking up his play at the plate.
Arenado currently leads the Rockies with 17 RBI's and is second on the team (Trevor Story, 5) in home runs with four. After a rough start to the season, Arenado's bat has started to heat up as of late as his .278 average currently ranks sixth on the team. Another eye-popping stat from Arenado is he has just eight strikeouts all season, which means he is putting the ball in play and at least giving himself a chance almost every time he is up to bat.
Luke: In the hopes of going contrarian to many that believe it is Nolan Arenado, I am going with Trevor Story.
Just looking at this season, Story leads the team in long balls (five), stolen bases (six) and has yet to miss a single game, providing both an excellent bat and Gold Glove defense.
I think Arenado will bypass him once the season is over, but with both his strikeout percentage and swing percentage outside the zone continuing to drop, Story is blossoming into a top-tier shortstop, seemingly under the radar. Neither player is a bad choice.
Who has the brighter future, German Marquez or Kyle Freeland?
Aniello: German Marquez. Not to discredit what Kyle Freeland has done thus far in his career, but Marquez has the biggest ceiling between the two. Featuring a power fastball and mix of breaking pitches, Marquez has the most "ace" potential. Marquez' makeup seems better suited for the long haul.
Brandon: Marquez and Freeland both have tremendous futures ahead of them, which makes it tough to pick just one of them. Both already have two wins on the season, but Marquez' stuff has looked a little better and he currently sits almost two points lower (2.25) with his earned run average when compared to Freeland's (4.23).
After a phenomenal season from Freeland last year, it is almost impossible to expect the same thing from him again in 2019. Marquez, on the other hand, is looking to build on a solid second half and put forth an even better performance this year. All in all, both pitchers will be extremely important in the Rockies success, with both having just as bright a future as the other.
Luke: German Marquez, off a stellar second half last year, is a top nominee for the National League Cy Young if the season ended today. For the foreseeable future, that consideration likely continues.
Both Marquez and Kyle Freeland offer different styles. Freeland is a groundball hunter who tends to limit damage and utilize a bulldog mentality to escape trouble. Marquez, when approached with traffic, goes for the punch out, succeeding often (37 strikeouts this year).
The two will be linchpins to the success of the franchise for several years to come. If I had to place my money on one style winning out, it would be the electric stuff of Marquez. An arsenal that features a high 90s fastball and bevy of breaking balls is hard to beat.
Is the bullpen's early success sustainable? 
Aniello: I think so. The bullpen has been a strength for the Rockies this season. Bryan Shaw has bounced back nicely and Scott Oberg has sheen sharp so far. Additionally, Jake McGee and Chris Rusin have both been sidelined with injury so the bullpen has not been at full strength yet. It's early, but so far the bullpen has been fairly consistent and reliable.
Brandon: For sure, because of guys like Mike Dunn, Seunghwan Oh, and Scott Oberg having solid outings on a consistent basis. At times, Oh and Dunn have struggled this season as both currently have an ERA over five, but the Rockies have already got much better production this year from Bryan Shaw and lefty, Harrison Musgrave.
Is their success sustainable? Only time will tell, but so far, the Rockies bullpen has shown they are a much-improved unit from last season. The addition of Chad Bettis in a long relief role is also huge for this team, as well as the upcoming additions of Jake McGee and Chris Rusin.
Luke: I don't believe so.
The Rockies much-maligned bullpen is finally beginning to look like the force Jeff Bridich and company envisioned. As a group, they've pitched to a 3.59 ERA across 90.1 innings thus far, good for fourth in the NL. The problem is their two leaders thus far, outside of closer Wade Davis, have been extremely lucky.
Both Bryan Shaw (.186) and Scott Oberg (.172) are sporting batting average on balls in play (BABIP) marks far below their career numbers. Once their numbers start to regress back to normal, the bullpen's ERA will likely garner at least a run, if not more.
The return of both Jack McGee and Chris Rusin should help, but a lack of success from both DJ Johnson and Mike Dunn is unlikely to change. It will be a decent unit, but their current pace is unsustainable.
Do the Rockies finish the 2019 season above .500? 
Aniello: Yes. After a dreadful start to the season, the Rockies have rallied to win eight of their last 10 games and have a chance to finish April with a winning record. It seems as if the Rockies' early season woes are behind them as they have returned to playing a high level of baseball.
They are also still getting healthy, so it should only be up from here.
Brandon: Colorado's record sits at 11-14, which is pretty good considering how they began the season. Does their recent trend upward mean a possible finish over .500? I think so.
At the start of the season, things certainly looked bleak, but the Rockies have showcased what type of club they could be over the last few weeks. Whether it has been the timely offense or timely pitching, the Rockies are getting contributions all over now and it is leading to victories. If the Rockies can continue to pitch at a high level and swing the bats the way they are currently swinging it, the sky is the limit for this team.
Do not look now, but the Rockies are only three games out of first place in the NL West.
Luke: When Las Vegas released their initial over/under win totals for the year, I, along with many others scoffed at the Rockies' 84.5-win prediction. Now, to reach the over of 85, the club would have to go 74-63 in their remaining games.
Going 11 games over .500 the rest of the way is a tall task, especially with the up-and-coming San Diego Padres and steadfast Los Angeles Dodgers in the way. They would only need to win nine games more than they lose to finish over .500.
I think the Rockies will finish above .500, but miss the playoffs at their current pace. A majority of both the NL Central and NL East will be competing for only four spots, likely all finishing ahead of the Rockies.
Being above average is attainable. A third consecutive trip to the postseason likely isn't.