After a full month of voting, Mile High Sports Magazine readers have made their voices heard and selected their favorite cover among our now 150 offerings in 13 years in print. Nearly nine years after it first went to print, Lauren Gardner's Snow Angels cover (Dec. 2006) was selected as the top cover in MHSM history.
(Voting process explained below.)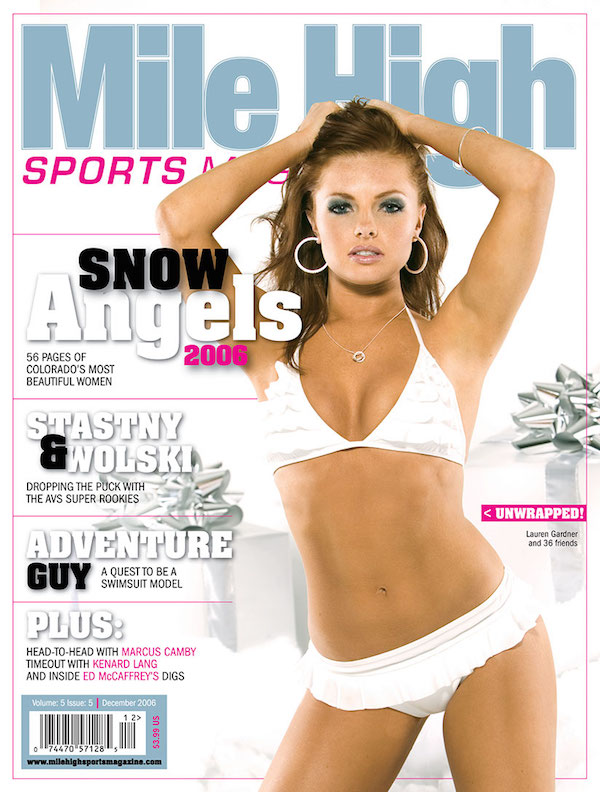 Deciding the winner was no small task. First, voters selected from groupings of five covers, 1-5, 6-10, 11-15 and all the way up to 150.
From that group, 10 covers emerged as the leading vote getters. Among those not advancing to the final five were "Our Plan B" Snow Angels from December 2012, Kenneth Faried's "Manimal" cover from November 2012, Chauncey Billups in his George Washington Patriots uni from February 2010, Troy Tulowitzki blowing a softball sized bubble for our April 2008 baseball preview and John Elway as our Sportsperson of the Year here in 2015.
The five finalists were then pitted in a winner-take-all vote with all five candidates on the ballot. When final voting was tallied, a clear winner had emerged.
CLICK HERE TO VIEW THE FINALISTS
In the finals, Floyd Little as one of the 50 Greatest Broncos (Sept. 2009) brought in 9 percent of the finalist voting. Alfred Williams, sporting his CU Buffs jersey, (Aug. 2013) netted 12 percent of the vote. "Super Joe is Back" (Oct. 2008) was the top-rated finalist that did not feature a Snow Angel with 19 percent.
The two top vote-earning covers were both Snow Angels issues. Jenna Mariah's Dec. 2012 "I Heart T-Bow" earned a sizable 25 percent of the vote. Not to be outdone, Gardner's 2006 Snow Angels garnered 35 percent of the final vote to emerge the winner.
The cover was a launching point for the former Broncos Cheerleader, who is now a sideline reporter for CBS Sports. It was also the first time MHSM had ever produced a "custom" Snow Angels cover – a tradition we continue to this day.
Cover No. 151 featuring Shane Ray will hit newsstands Tuesday, July 7. Will Ray be the next top cover if and when we vote after publishing No. 300? Keep reading to find out.