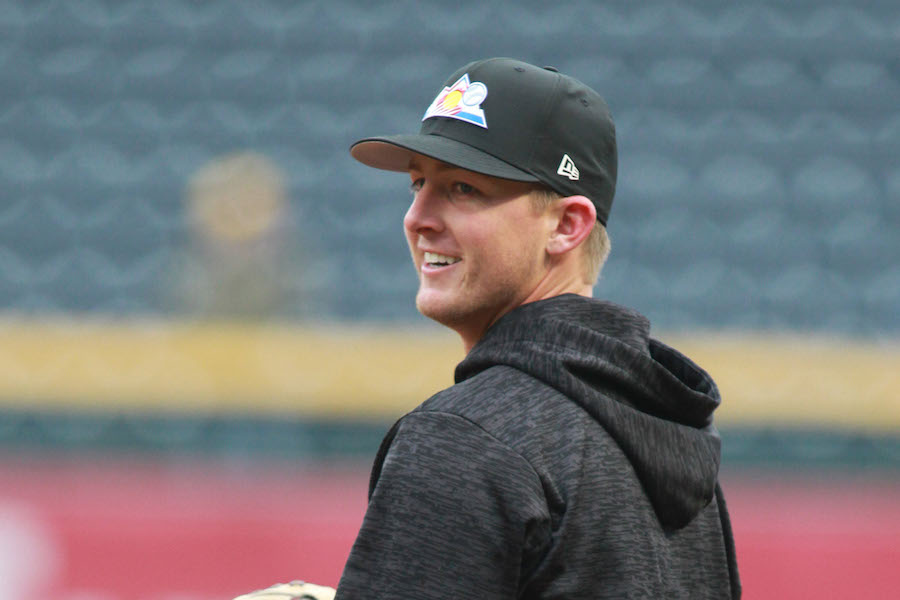 This story originally appeared in Mile High Sports Magazine. Read the full digital edition.
Who's on first? The Colorado Rockies' situation at first base has been a mystery since the season ended last October. Ian Desmond, who signed the largest per-year contract in franchise history last offseason, was expected to take over a majority of the duties at the corner infield spot. However, 23-year-old Ryan McMahon will earn some serious playing time at the position in 2018. The Rockies selected McMahon with the 42nd overall pick in the 2013 MLB Draft and after five years of working through the minor leagues, he's ready to prove he belongs in "The Show."
A converted third baseman (where he will also see time in 2018), McMahon has been working to improve his craft across the diamond and is now in prime position to earn consistent playing time at the major-league level. The club has kept a close eye on McMahon, and as he's progressed through the system, his chances of establishing himself as a big-league player this year have increased greatly. He made his first Opening Day roster as a left-handed utility infielder for Manager Bud Black. McMahon has impressed on his rise through the minors, especially on the offensive side of things where he posted a .374 batting average in Triple-A Albuquerque last season. His offensive power mixed with youth and athleticism make him one of the more dynamic young players the Rockies have at their disposal entering the new season.
About this season, Ryan McMahon says…
"I don't know if I have any specific expectations besides the fact that I want to be a part of it. We have a great squad in here. There's a great buzz around the clubhouse and around the Colorado Rockies organization, so I just want to be a part of it."
"I think first base actually helped me with all the other positions, honestly, because I kind of learned how to slow the game down once I got over to first. So I took what I learned from first over to third, and I think I'm a lot better at third because of playing first base."
"I'm very confident in myself and hopefully I'm doing a good job this spring of getting those guys to trust me over there and feel confident in me. As far as confidence in myself goes at that position, I feel very confident in myself."
"Just seeing how the veteran guys handle themselves and prepare for games day-in and day-out – the grind of the big leagues is definitely a grind, but there are ways that you [can] make it easier, like being prepared. Taking care of your body, just kind of how I saw those guys handle their business."