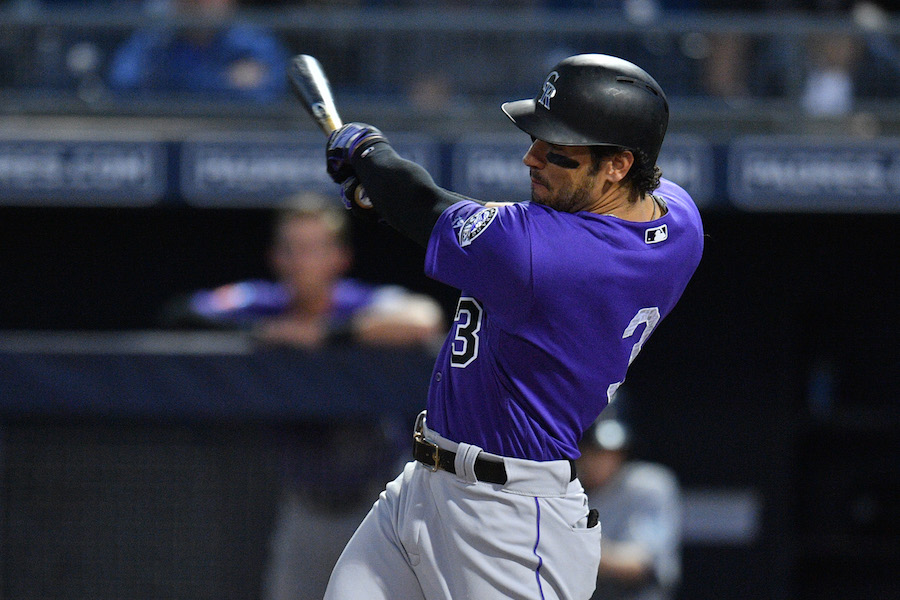 This story originally appeared in Mile High Sports Magazine. Read the full digital edition.
The Colorado Rockies farm system has been one of the deepest in baseball for some time. Now, with the team on the cusp of establishing themselves as perennial postseason contenders, several players who were once considered the future of the franchise are beginning to shed the title of "prospect."
One of these players is outfielder Mike Tauchman. Selected by Colorado in the 10th round of the 2013 MLB Draft, Tauchman is attacking the opportunity to serve as one of the Rockies' backup outfielders in 2018. At 27, Tauchman is looking to finally stick at the big-league level this season with his well-rounded game, which includes multi-dimensional defensive ability, speed on the base paths and a solid, all-around approach at the plate. Tauchman owns a career .301 batting average in the minor leagues and was a force last year in Triple-A Albuquerque where he hit .331. With the Rockies outfield situation hazy after 2018 when Charlie Blackmon and Carlos Gonzalez become free agents, now is the time for Tauchman to take the next step and establish himself as a potential outfielder of the future for the club.
About this season, Mike Tauchman says…
"I'm just excited for the opportunity because I think that we have a really good team. I was very fortunate to be around a lot last year when we kind of took the next step. That was such great experience, and I think more than anything it makes you hungry for more and you want to take the next step. For me, personally, I want to be involved with that. I want to be involved in turning the Rockies into a perennial World Series contender."
"For somebody that is in a competition for a spot on the team, it's important that you show [how] diverse your skill set is. You show everything you do, whether it's stealing a base, running the bases aggressively or show the ability to play anywhere in the outfield and produce consistent quality at-bats. It's important to kind of leave no stone unturned in that way."
"It all starts with taking care of my body. Making sure that what I put into my body in terms of nutrition, hydration and sleep is going to be the foundation. Making sure I'm focusing on the quality of my skill work rather than getting out there and taking a thousand swings or a thousand fly balls. It's really about managing the quantity of that workload – just trying to address the areas I feel I need to improve on and try to get a little better every day."
"I try not to let where I am in the lineup dictate what I do. I try to be the best version of myself every single at-bat and put forth a quality at-bat that is going to help the team."