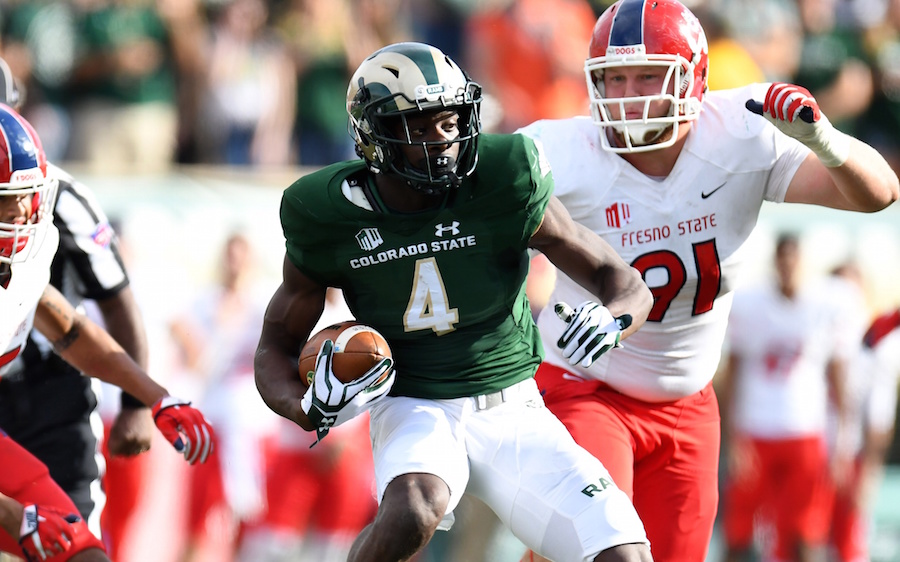 Read this story at CSURams.com
Colorado State senior wide receiver Michael Gallup has been selected as a finalist for the Biletnikoff Award, as announced by The Tallahassee Quarterback Club (TQC) Foundation, Inc., on Monday.
Gallup is joined by James Washington (Oklahoma State) and David Sills V (West Virginia) as finalists for the award. The Biletnikoff Award goes to the nation's outstanding receiver, regardless of position.
Through Week 12 of the 2017 season, Michael Gallup ranks first in the FBS with 1,245 receiving yards, second in receiving yards per game (112.1) and fourth in receptions per game (7.8). Gallup also leads the nation in receptions of 10-plus yards (56).
"I don't know if anybody else in the country has a guy that does as much for his team's offense as Michael Gallup does for us," said Colorado State head coach Mike Bobo. "He makes an impact in every way at the receiver position, whether on screens, blocking, deep routes, intermediate routes or making unbelievable catches. He has the ability to take over ballgames."
Gallup is the only player in the country with two 200-yard receiving games this season. He had a career-high 263 yards on 13 catches against Nevada on Oct. 14 – the fourth-highest single-game total in the FBS this season.
The Monroe, Ga., native still holds the nation's top performance against No. 1 Alabama this season. Lining up against a Crimson Tide secondary that included projected first-round draft pick Minkah Fitzpatrick, Gallup pulled in five catches for 81 yards.
In the first three games of Mountain West play, (Sept. 30 at Hawai'i, Oct. 7 at Utah State, Oct. 14 vs. Nevada), Gallup posted 28 catches for 563 yards – the best three-game receiving stretch in CSU history. For his efforts against Nevada, Gallup was named MW Offensive Player of the Week.
CSU has now had a finalist for the Biletnikoff Award twice in the last four seasons. Rashard Higgins was a finalist (and a consensus All-American) as a sophomore in 2014. As a finalist, Gallup earns an invitational to join the nation's best players and coaches at the Home Deport College Football Awards Show in Atlanta on Dec. 7, where the winner will be revealed live on ESPN. The Rams have had a representative at the awards show in three of the past four seasons (Higgins, Biletnikoff, 2014; Hayden Hunt, Ray Guy Award, 2015).
Fans are encouraged to vote for who their choice for The 2017 Biletnikoff Award. The aggregate fan tally will be counted as one official vote to determine the winner.
The winner of the award will be presented live on December 7, 2017, on The Home Depot College Football Awards Show presented by Gildan to be broadcast 7:00 – 9:00pm (EST) on ESPN. College Football Hall of Famer, Heisman Trophy winner, and Biletnikoff Award voter Desmond Howard will present the 2017 Biletnikoff Award winner on the show.