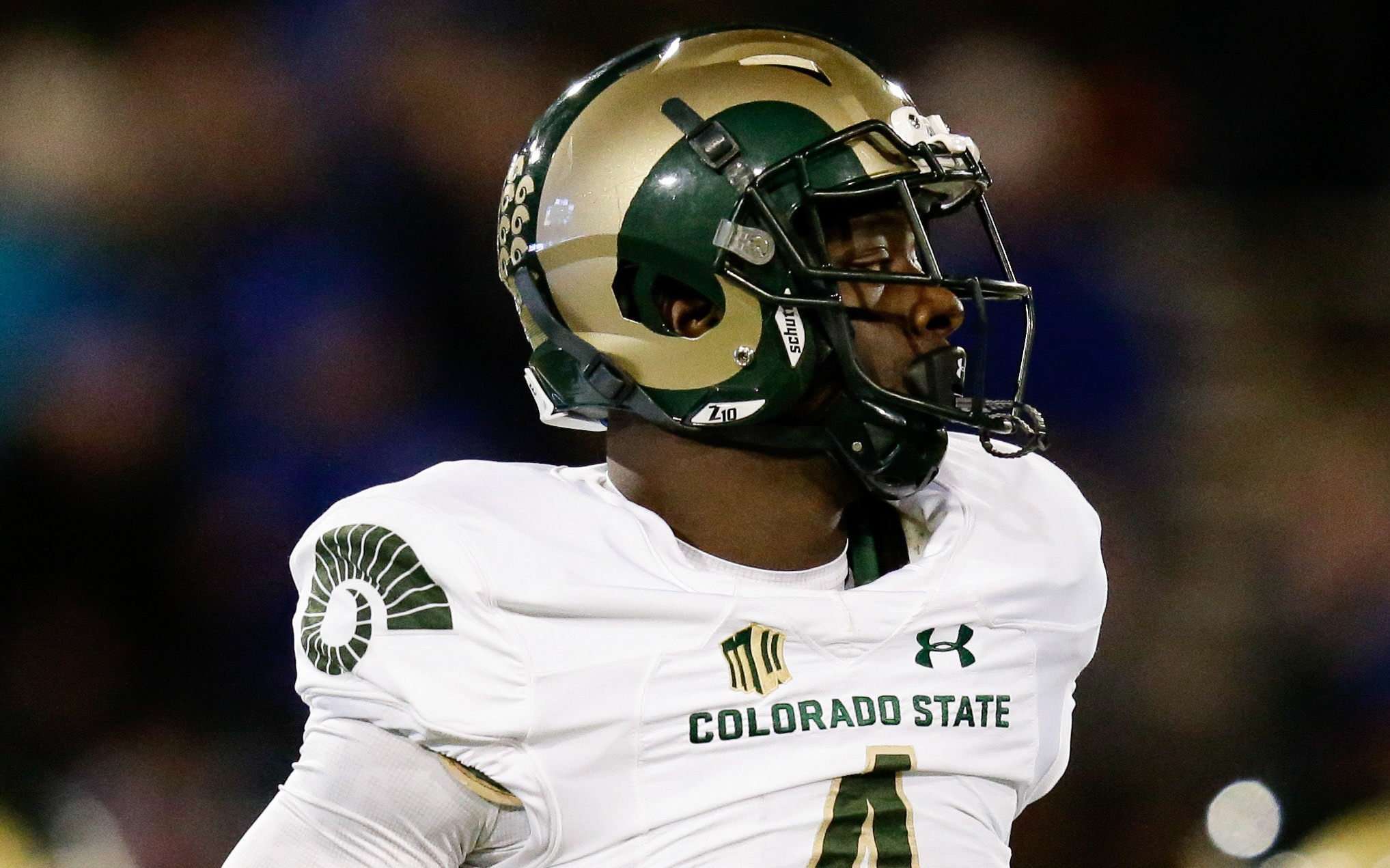 In the week of practices and the Senior Bowl itself, former Colorado State Rams receiving great Michael Gallup took advantage of every opportunity to impress important people in attendance.
Finally, two years after Gallup busted onto the scene in Fort Collins, the national media is catching on to how great a receiver he has been. The Monroe, GA native was not only one of the greatest receivers in CSU football history, he was All-Mountain West both years and enjoyed the special honor of being named a consensus All-American.
At CSU, Gallup actually took a little time to get adjusted to the D-I grind, taking until Week 6 of his 2016 season to enjoy a 100-yard receiving game. But, he finished that year with 100-yard efforts in six of the last eight games, including at least one touchdown per contest. He ended the season as the team's far-and-away leader in receptions (76), yards (1,272) and touchdowns (14). Last year, Gallup again led the Rams in receiving, with 100 receptions for 1,413 yards and seven scores, which was good enough to earn him finalist for the Biletnikoff Award. Oh, and he was named a consensus All-American, too, only the fourth in Colorado State history.
It's not just that Gallup put up monster numbers – his 100 receptions were a single-season school record – but how he did it was equally impressive. The "Galluping GOAT" attacks the ball in flight, beating defensive backs to the pigskin so he can reel it in. And once he has the ball in his hands, watch out, because he'll run through would-be tacklers with ease. His 20 forced missed tackles this year were the fourth-most among draft eligible receivers per Pro Football Focus, giving a statistical proof he's incredibly difficult to bring down.
Going from the junior college level to Colorado State was a giant leap, and even though he balled-out the last two seasons in green and gold, his electric display of skills in Senior Bowl practices were not guaranteed.
Some guys shrink when the lights are on their brightest, and some rise to the occasion.
For Gallup, it was the latter last week in Mobile, AL. While he's not the fastest, most explosive or biggest receiver in the world, he was busy blowing by press coverage time and time again, against the best college defensive backs. Gallup's strength can't be denied after looking at the young man's arms, which he uses to fight through a press, to ward off a tackle and to haul in the football.
Among his highlights last week in practice were his 20-yard reception in the second level from Baker Mayfield, and the throw/catch of the week, a touchdown haul from Josh Allen over his inside shoulder.
QB Baker Mayfield to WR Michael Gallup. Nice touch over the second level. pic.twitter.com/u370bHHAt4

— Trevor Sikkema (@TampaBayTre) January 23, 2018
Josh Allen to Michael Gallup pic.twitter.com/KiwQH13x7O

— Nicki Jhabvala (@NickiJhabvala) January 24, 2018
He was proclaimed a "winner" on both Days 1 and 2 of the Senior Bowl practices by many "draft experts" who were seeing him in earnest for the first time. He talked to the Denver Broncos – whose coaches led the North team – and the Tampa Bay Buccaneers, at least, according to reports. And many more fans who had the chance to see him for the first time were salivating at the thought of Gallup being drafted by their team.
And in the game, Gallup led the North team's receivers in both receptions (3) and yards (60), though he was kept out of the end zone.
Sporting news said of Gallup's Senior Bowl performance, "Gallup made a nice catch on one of Allen's crossing patterns in the third quarter and has good size and hands with somewhat marginal speed. Either way he has some skills that will make him interesting come draft day."
Pro Football Focus said of his game, "Colorado State WR Michael Gallup showed the physicality to come down with contested catches and that he he could take a hit and hold onto the ball. Gallup's combination of physicality and speed were evident all week in Mobile, including the game." They graded him at 77.6, the third-best receiver in the Senior Bowl.
And this, from NFL draft analyst Mike Mayock:
"I think he's got some juice. I think he's under the radar a little bit. I think he's one of those guys that's powerful, explosive, quick and when the ball's in his hands, he runs it like a running back." — @MikeMayock on @mg4dontplay during the @seniorbowl

? #NextLevelRams pic.twitter.com/QX99t0Y1EL

— CSU Rams Football (@CSUFootball) January 27, 2018
All week, all Gallup did was boost his draft stock, as all the important analysts had their eyes open to how special he truly is. Where could he go in the draft? As high as the first round.
But, before now and the NFL Draft April 26-28, there's one more chance for Gallup to impress the scouts: the NFL Combine.
Some believe is draft stock can be heavily impacted by a quick or slow 40-yard dash, but he doesn't seem too worried about it.
All a 40 time does is see how much money you can make off the rip! It don't make or break you big fella!

— michael gallup (@mg4dontplay) January 15, 2018
Maybe he's not worried because he impressed in the speed department, too, in Mobile. On Day 1 of practices, Gallup's 20.69 miles per hour were the fastest of anyone on the North team.
It turns out, Gallup can really gallop and we have a feeling he's going to be some lucky NFL team's thoroughbred for many years to come.