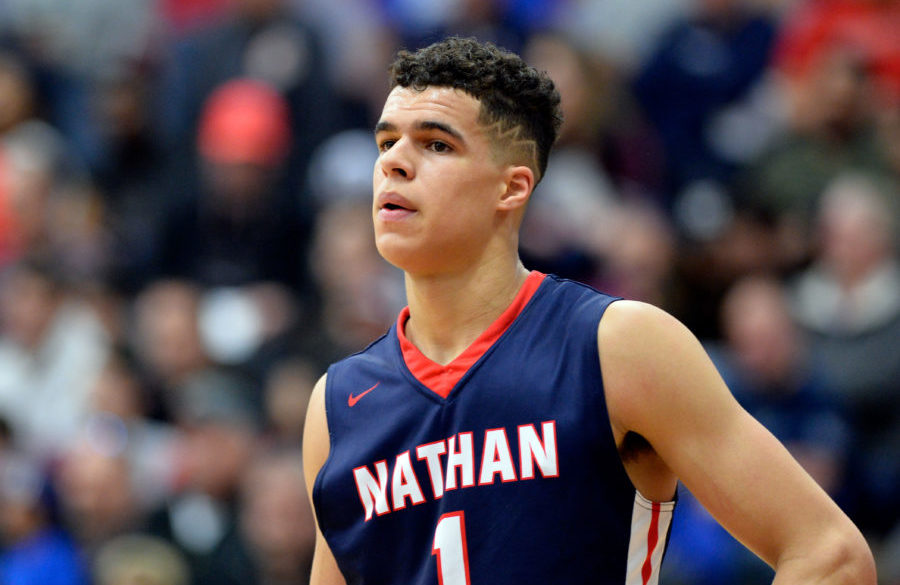 "On June 21st, 2018, with the 14th pick in the NBA draft, the Denver Nuggets selected Michael Porter Jr. out of the University of Missouri," NBA Commissioner surprisingly exclaimed at the 2018 NBA Draft.
Somehow, the former five-star recruit fell in the Nuggets' lap with the final pick in the lottery, but why was one of the best players in the draft still available when Denver selected? The answer is simple — injury concerns.
The questions surrounding Porter had a lot to do with a microdiscectomy back surgery that took place last November. The surgery forced Porter to play just 53 minutes over three games during his freshman season at Missouri, and forced NBA teams to question his health and future as a basketball player. Then his health concerns became even more of an issue a week before the draft as Porter cancelled a workout because of a hip injury. Porter still held the workout at a later date, but it wasnt enough to stop his slide on draft night that led to him falling into the Nuggets lap.
No better outcome could have happened for the Nuggets on draft night. Somehow, they landed a player with the 14th pick that could eventually become the most productive player in the entirety of the 2018 NBA Draft.
"We went into the draft kind of circling certain guys and we were very surprised and happily so that Michael continued to fall down the board," said Nuggets President of Basketball Operations Tim Connelly. "We think he has elite tools, certainly a high pedigree guy as a guy that's succeeded at every level. So, it's a guy that we're unbelievably excited to add to our group."
The Nuggets are taking a chance on Porter knowing that there is little-to-no risk which makes Denver the ideal landing spot for Porter. After undergoing a second back surgery two months ago, its tough too say whether or not Porter will be ready to go when the Nuggets open training camp in San Diego next Tuesday. The question of Porter's health will certainly come up at Nuggets media day on Monday, but there in lies the question. What does Denver do if Porter is healthy going into the start of next season?
A healthy Porter would certainly spell trouble for bench players like Torrey Craig, Malik Beasley, and Juancho Hernangomez. All three could be key role players off the bench, but Porter could potentially replace any of them on the Nuggets bench unit. Porter seems like a prime candidate for a bench role if he is healthy. Lyles, Plumlee, and Thomas all seem to have locked in their second unit roles. If Porter plays small forward for the Nuggets bench unit, the Nuggets could go with either Craig or Beasley at the shooting guard position, with both of those guys giving them solid contributions defensively.
Porter's best skill is that he can score the basketball at will, and an offensive addition like his could take the Nuggets offense to even greater heights. During his lone season at Missouri, Porter averaged just 10 points and 6.7 rebounds in the three games he played, but if you go back and look at his stats high school, it shows how incredible his offensive production was prior to getting hurt.
During his lone season at Nathan Hale High School, under head coach Brandon Roy, Porter averaged 37 points and 14.3 rebounds per game. Porter was an absolute scoring machine and it is one of the reasons he was second in the ESPN's top-100 players prior to him heading off to college at Missouri.
Michael Porter Jr. put on a show in the WA state finals (h/t @TJCotterill)

Full highlights: https://t.co/MoWBL9u6Iu via @NWBallers pic.twitter.com/he4G1ChZHr

— MaxPreps (@MaxPreps) March 6, 2017
Porter followed up his solid high school career with a trip to the McDonalds All-American game where he was named the MVP of the contest. Porter also pulled off the trifecta by winning Gatorade Player of the Year and the Naismith Player of the Year on top of being named MVP of the McDonalds All-American game.
What Porter showcased during his high school career and during limited time in college is that he could be a one-in-a-million talent. His skills — not only as an offensive playmaker, but as a potentially strong defender — could make him a nightmare matchup for NBA teams to try and stop. That is why if he is healthy next season, it is hard seeing the Nuggets elect to not use him in some capacity. Luckily for the Nuggets, there's no need to rush Porter onto the court because Denver already has depth at all five positions. Still, it will be tough to keep the former five-star recruit off the court if he truly is 100 percent healthy.