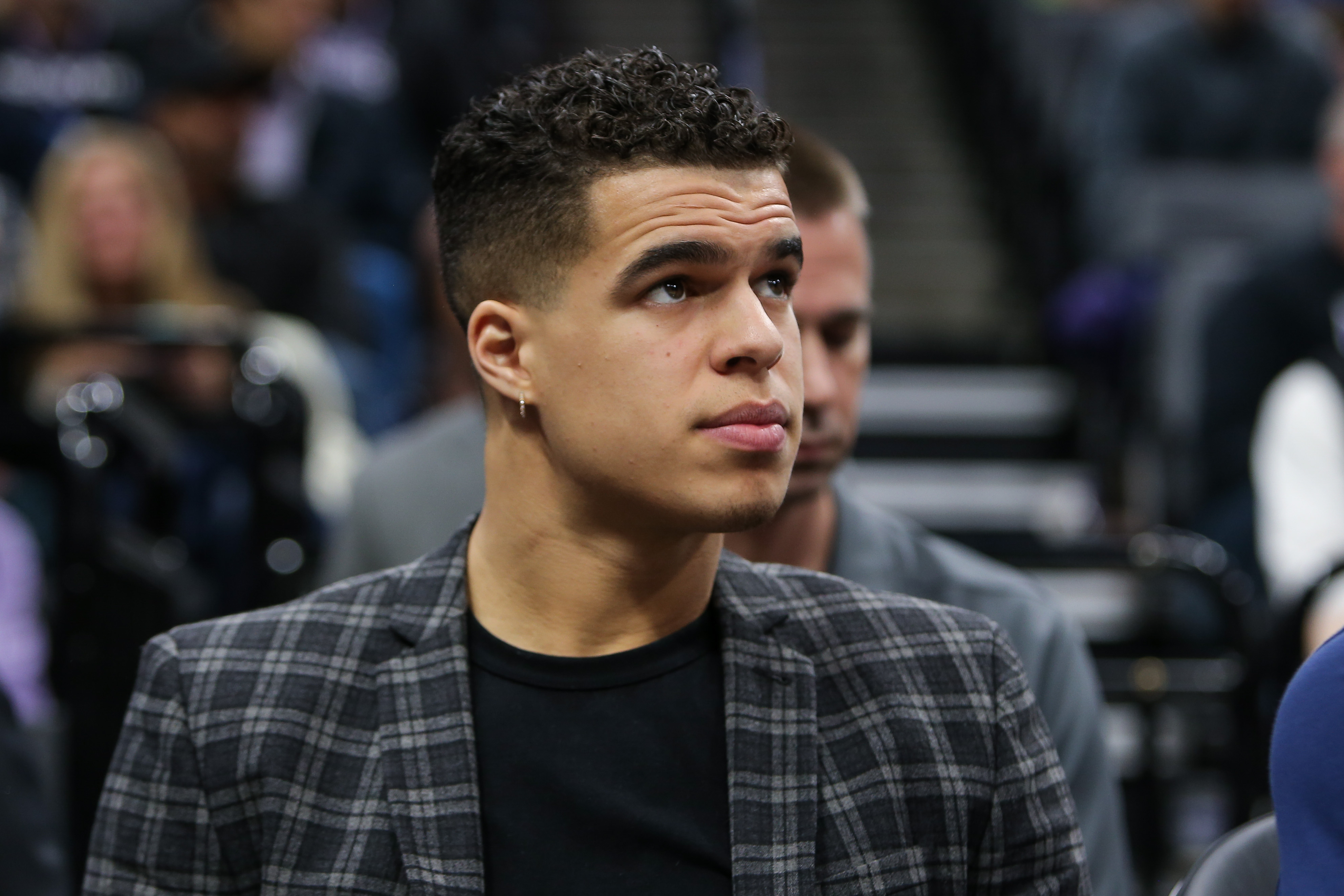 Michael Porter Jr.'s path to the National Basketball Association was not paved in gold like many expected it to be.
After emerging as one of the most impactful high school basketball players of all time, Porter's path shifted once he began playing at the University of Missouri. Instead of cementing himself as a top-five pick — which felt unavoidable at the time — Porter fell victim to a herniated disk in his back during the first two minutes of his college basketball career. That injury led to Porter missing all but three games while he only logged 53 total minutes in his lone collegiate season.
To make matters worse, Porter's draft stock plummeted the day of the 2018 NBA Draft. After being perceived as a potential top-three pick just days before the draft, Porter suddenly found himself sliding; a reality that was completely unexpected until the day of the draft. By the time Porter had been selected by the Denver Nuggets, 13 other players had already heard their name called.
Fast forward two years later and Porter is now healthy, has completed his first NBA training camp, and is preparing for his NBA debut on Tuesday night against the Portland Trail Blazers.
It has been an emotional roller coaster over the past few years for Porter. Going from high school stardom to consistent fixture at the end of the bench has been a sobering reality for the 6-foor-10 forward, but now Porter has told Mile High Sports that this has been a journey that he needed to become the man and player that he is today.
"For me, this whole process has kind of been something that I feel like I needed," Porter told Mile High Sports. "I feel like if I would have never gotten injured and just came into the league — I wouldn't say it wouldn't have gone smoothly — but I think that going through this stuff just [helped me grow] as a man and how to be my own person to handle not only stuff on the court, but stuff off the court."
Now — after two years of battling injuries and recovering from not one, but two back surgeries — Porter has a very different demeanor than he did during his high school and college days.
Instead of just being young, tall, hyper-athletic, and supremely talented, Porter is now much more reflective and self aware on and off the floor.
"[I am] just kind of learning balance," Porter explained to Mile High Sports. "Before this injury, basketball was everything to me. If I had a bad game, I was sad and down until I had another game. Now, it is like I have become a more multi-faceted person. I have more interests and, to me, I feel like I have the right perspective on things. Basketball — I love it and it's my job and I have a passion for it — but there is more to me than just basketball."
This more mature version of Porter has impressed his teammates, the coaching staff, and front office in a massive way. Multiple players and head coach Michael Malone have vocalized just how prepared and bought-in Porter has been all offseason long.
"I see that he is a strong-minded kid who wants to play basketball and wants to play it at a high level and wants to be good. First off, that is terrific," Paul Millsap said when asked about what he has seen from Porter. "To fight through the injuries that he has fought through says a lot about who he is as a person and as a basketball player. He still has a lot to learn from the basketball aspect of it, but anytime you're fighting back like that and you're a young guy and you don't get too down on yourself and you come in every single day working, success is ahead for you."
Obviously, Porter has needed help getting to this point in his progression. It is extremely rare that a young player can enter the league prepared mentally and physically for what the NBA is going to throw at him.
Naturally, Porter found the help he needed in his head coach.
"Coach Malone is such a good dude. He was just there the whole time," Porter said when reflecting on how instrumental Malone has been throughout the past couple years. "I know some coaches where if you are not producing for them on the court, they probably will just not really try to develop a relationship with you or talk to you, but he would pull me to the side and really have conversations. He would reiterate, 'we know that you are going to be a good player and we are with you the whole way'. He would tell me, 'be patient and set your pace'. He never tried to rush me on the court last year.
"He has just been a great guy and someone I can look up to just because he really cares about me as a person."
Having Malone in his corner throughout the trials and tribulations that Porter battled with was the life raft that he needed. No, Porter would not have spontaneously exploded without the help of Malone, but now Porter is more prepared for the NBA than he ever could have been.
Still, a young player needs more guidance than just his head coach considering that Malone has 15 other players to groom. So beyond Malone, who has Porter been able to turn to for assistance?
"Monte (Morris) has been really, really good — even here in training camp — just kind of showing me how they play and the different options," Porter explained. "We run a lot of sets, but it's not the sets that we run; we just start in that and there are so many options off of it. He kind of helps by telling me where to move and when to move. I really appreciate that."
In addition to Morris stepping into a leadership role, a surprising voice has emerged to help Porter become the best version of himself. That voice belongs to none other than first-team All-NBA center Nikola Jokic.
Jokic is not known as a talker. He is not known as a leader. He is not known as a mentor. He is attempting to grow in all of those areas, but he still has a ways to go. Even with that being said, it seems that Jokic has taken a special interest in Porter.
"Jokic has been a lot more verbal towards me than I thought he would be," Porter explained to Mile High Sports. "He has just kind of told me 'great job' but also pointing out things I can get better at.
"Jokic kind of chooses who he likes and doesn't like, but he is such a good player that he is helping me through things. Him being the guy that we run most of our stuff through, it's just really cool for me because I can pick up on stuff easier because when the main player on the team is telling me what he wants to do, then you can figure it out quicker."
When looking back at Porter's last two years, it is remarkable how far he has come not just physically, but mentally as well. Porter needed to find the perfect organization to maximize his abilities and he has found that franchise in the Mile High City.
If you as Porter, he will tell you that the past two years have been nothing more than a blessing in disguise.
"It is and I thought so on draft night," Porter explained to Mile High Sports when asked if the past few years have been a blessing in disguise. "I thought Denver would be — it seemed kind of weird at the time — but I knew it would end up as a blessing and now I cannot think of a better situation I can be in.
"We are playing for a championship, it is my first season, I am going to get a chance to play, and it is going to be cool."