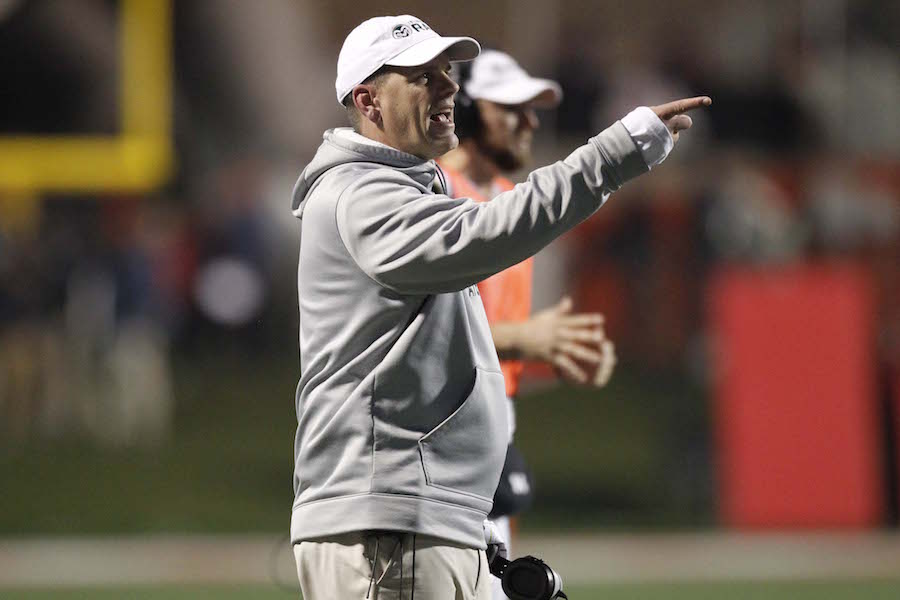 Read this story at CSURams.com
Colorado State head football coach Mike Bobo announced Wednesday promotions for three members of his coaching staff.
Quarterbacks coach Ronnie Letson adds the title of assistant head coach; run-game coordinator and offensive line coach Dave Johnson has been promoted to offensive coordinator while retaining his offensive line duties and running backs coach Bryan Applewhite adds the title of recruiting coordinator
Letson and Applewhite are entering their fourth year at Colorado State in 2018, having joined the Rams' program as members of Bobo's initial staff in 2015. Johnson was hired by Bobo in January 2018 from Ohio University.
In each of Letson's three seasons coaching CSU's quarterbacks, Nick Stevens earned All-Mountain West recognition, including first-team honors as a senior in 2017. Stevens—the Rams' all-time leader in touchdown passes—ranked 13th in the FBS in passing yards (3,799) and passing touchdowns (29) in 2017, and 14th in passing yards per game (292.2). Senior Dalyn Dawkins, under Applewhite's tutelage, earned second-team All-Mountain West honors in 2017 and finished his career third on CSU's all-time rushing list (3,185).
With both Letson and Applewhite on the offensive staff the Rams have posted two of the top five scoring seasons in school history (3rd—35.3 in 2016 and 5th—33.4 in 2017) and two of the top four marks for total offense, including a school-record 492.5 yards per game in 2017 (also 4th, 462.5 in 2016). The 2017 Rams also set school records for first downs per game (25.5) and third-down conversions (50.3%).
Johnson, a veteran of 34 seasons coaching in college football, joins the Rams after four seasons at Ohio where he coached the offensive line and served as run-game coordinator for a Bobcats team that ranked 16th in FBS in rushing (244.5 yards per game) in 2017 and set school records for scoring (39.1) and yards-per-carry (5.7).
2018 Colorado State Football Coaching Staff
Mike Bobo…………………… Head Coach
Ronnie Letson…………….. Assistant Head Coach/Quarterbacks
Dave Johnson……………… Offensive Coordinator/Offensive Line
John Jancek…………………. Defensive Coordinator
Chase Gibson………………. Special Teams Coordinator/Linebackers
Bryan Applewhite……….. Recruiting Coordinator/Running Backs
Joe Cox……………………….. Tight Ends
Keith Gilmore……………… Defensive Line
George Helow…………….. Safeties
Eric Lewis……………………. Cornerbacks
Alvis Whitted………………. Wide Receivers