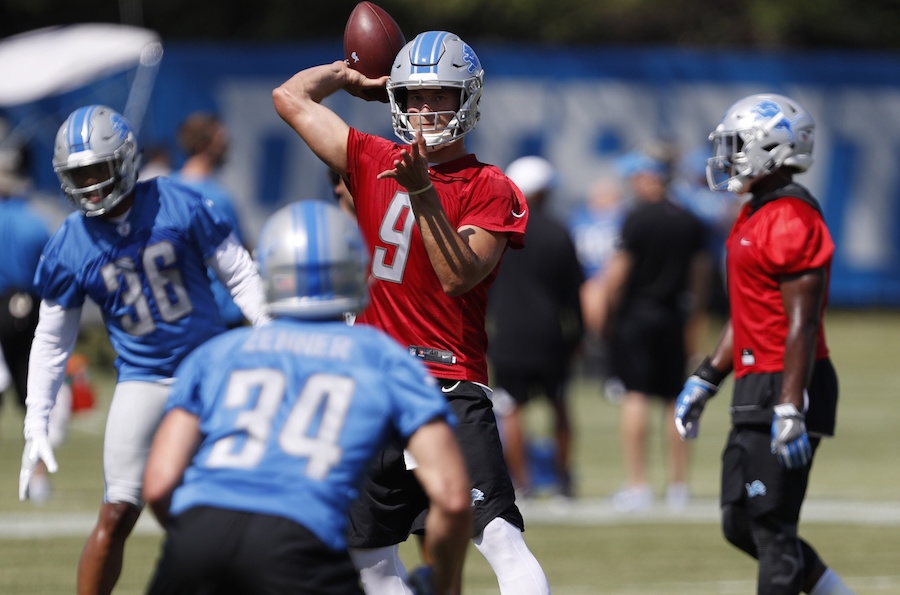 It's been a banner start to the 2017 season for Detroit Lions quarterback Matthew Stafford. The former Georgia Bulldog agreed to an NFL-record $135 million contract ahead of the final preseason game. Through two regular season games, his Lions are undefeated and Stafford is tied with Broncos quarterback Trevor Siemian for the NFL lead with six touchdown passes.
It's good to be Matt Stafford these days, and CSU Rams Head Coach Mike Bobo is hoping it's good to know Matt Stafford.
Stafford's biggest tie to Colorado is of course Bobo, who was his offensive coordinator and quarterbacks coach while at Georgia. During their time together, Stafford would pass Bobo on Georgia's all-time passing list and lead the Bulldogs to 30 wins over three seasons, including three bowl-game wins.
Bobo was instrumental in helping Stafford make it to the pros, where he will earn an average $27 million per year over the next five years. Something he jokingly reminded the 29-year-old of right after Stafford landed his new deal.
"I recruited Matthew. I was the lead recruiter for Matthew, yes. I text him last night," Bobo told The Big Show on AM 1340 | FM 104.7 in late August after Stafford signed his record contract. "I said, 'Congratulations, just heard you signed a new contract.' I said, ' I need me some more boosters at Colorado State. [Head Football Coach] Kirby [Smart] and Georgia have enough money.' That's what I sent him."
Stafford might never have ended up at Georgia and gone on to be the No. 1 overall pick in the 2009 NFL Draft were it not for Bobo finding his game tape, the coach recalls.
"Here's your good story: It was actually, I'm the quarterbacks coach and Will Friend, who's our offensive coordinator right now, was actually a GA with us working with the line," Bobo said, "and it was back before everything came on Hudl, so I had a box of tapes or DVDs that I'm going through and Coach Friend is there with me watching them, and he's grabbing 'em, putting 'em in, and I think I might have grabbed this one. He had – he has a baby face now, but you can imagine his baby face when he was 16 years old. His picture was on the cover and he had this kind-of fraternity look hair-do, and I'm like, 'Look at this guy. Alright, put him in.' And [after] about two clips I was like, I almost fell out of my chair trying to get to the phone fast enough to call Highland Park High School (Texas) and find out about this young man.
Stafford shined while in Dallas, but he bounced around the southeastern U.S. as a kid. He was born in Tampa, then lived in Georgia as his dad attended graduate school at UGA, before moving on to Highland Park. Bobo and Mark Richt were able to snag Stafford, who grew to become one of the top high school quarterback prospects in the country, away from other powerhouse programs
"He had some interest," Bobo said of the competition from traditional SEC and ACC powers. "His dad was actually a swimmer at Florida State, so because of his dad being an athlete at Florida State he kind of followed Florida State growing up and the coordinator at that time was Mark Richt and then Coach Richt was our head coach and just kind of got in there and a lot of people from Highland Park and the people he went to school with were coming to the University of Georgia – a lot of his friends in high school. That worked out."
It worked out well for both sides, as Bobo eventually turned his success with Stafford (and other Georgia QBs) into a head-coaching gig with Colorado State. Stafford, meanwhile, took his god-given talent and has built upon it at every stage to become one of the elite quarterbacks in the NFL.
"He's got, his arm talent is unreal. I'll never forget, he came in midyear and he's throwing, just lasers, and Coach Richt, who played at University of Miami and then he was in the Bronco camp for a little while as a free agent, he said his arm looks like, when I was in camp for a couple weeks, like John Elway's arm. Matthew has some of that – guys with strong arms sometimes can get away with a lot of stuff because of their arm strength. And I thought, he was there with us three years and he got better every year. I love watching him in pro ball because I see him get better every year as a pro player running the system, playing within the system. He can make throws from all angles. I mean, it doesn't matter if it's the classic over the top, he can go sidearm, underarm. He's just that kind of player, and extremely smart, too. Understands the game really well."
Bobo's Rams are off to a 2-2 start, with tough losses to Colorado and Alabama. Stafford, meanwhile, is 2-0 after beating the New York Giants on Monday night.
The game checks are starting to roll in on the NFL's biggest contract. Bobo would certainly be happy to see even a little sliver of that make its way to Fort Collins.