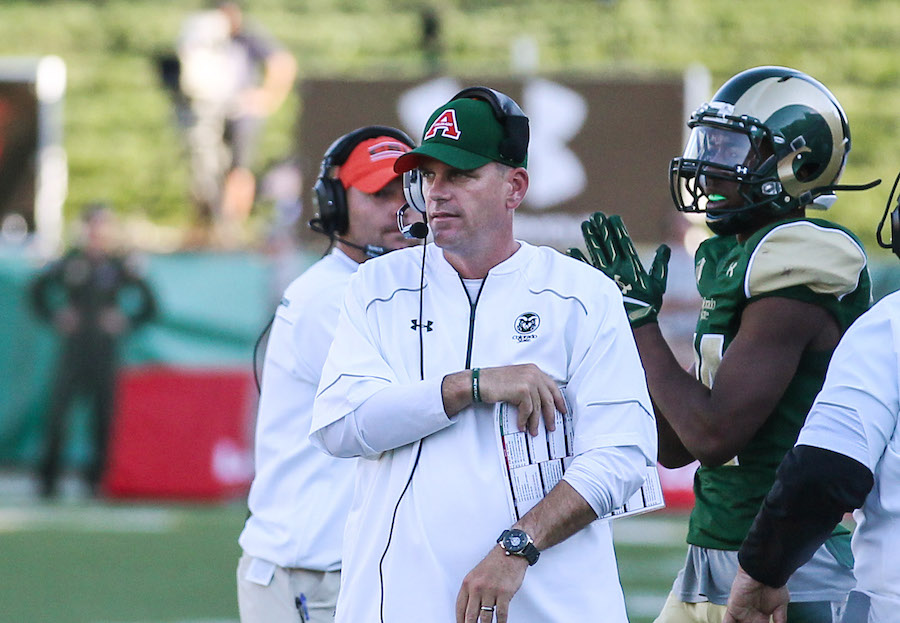 Colorado State head coach Mike Bobo wants to make one thing clear about what to expect from Saturday's Green and Gold Spring Football Game.
"You're going to see sunshine, for starters. There's no snow this weekend – it's supposed to be 80 degrees," he said laughing. Bobo joined The Big Show on Mile High Sports AM 1340 in advance of the annual spring game.
The football, more importantly though, will be more physical than Rams fans might expect from what is essentially a scrimmage. The program, in its second year under Bobo, needs to get more physical than it was last year if it wants to return to the 10-win plateau it reached under Jim McElwain in 2014.
"We're ahead of where we were last year," Bobo said, "obviously in the second year of the program … But I see a more physical football team. I see guys willing to compete and hit on a daily basis. There's no shying away from that in my opinion. It's a contact sport. You have to be safe and within the rules of how many days you can have contact, but you gotta face the issue."
The issue is that the Rams struggled against the more physical teams in the early part of their schedule last year – schools like Utah State and Boise State. Still, there were positive signs, like narrow losses to Power-5 conference opponents CU and Minnesota.
This spring Bobo says, "I think you'll see a team that will fly around and hit each other and compete. At the same time, I think you'll see some mistakes because it's spring ball and you don't have a full roster, but overall I think you'll see guys competing and having fun."
Part of the reason the roster isn't entirely full is that the Rams are graduating 26 seniors, several of whom are looking at the prospect of playing at the next level.
"Everybody knows about Rashard Higgins," Bobo says, "but we've got Trent Matthews, Kevin Pierre-Louis on defense, Cory James has done a nice job with some workouts, Sam Carlson who played offensive tackle for us and played right here in nearby Fort Collins, who I believe is going to play a long, long time in the NFL, Joe Hansley, a local guy I think will get a chance. So hopefully some of them will get drafted, but I think a lot of them will get into camp and have an opportunity to make a team that way."
The loss of so many talented players will have a direct impact on the format for Sunday's game, which will be an offense vs. defense affair, with the defense having the ability to score points.
"Traditionally we've always done a green team against a gold team. Sometimes we've drafted them, sometime's we've gone No. 1 offense against No. 1 defense … but this year we're a little bit banged up and we had 26 seniors graduate, so our numbers are a little bit low. So we're actually going to have a Green team and Gold team, but it's going to be offense and defense. We're going to try one of those modified scoring systems where the defense can get points for turnovers and three-and-outs and tackles for loss and sacks, and then offense the traditional way to get points."
The format may look a little different, but the hits will be real and the physicality will be everything you'd expect from a program looking to climb back on top of the Mountain West.
Listen to the the full conversation with Bobo, plus an inside look at the CSU quarterback competition, in the podcast below.
Catch The Big Show every weekday from 3p-6p on Mile High Sports AM 1340 or stream live any time for the best local coverage of what's new and what's next in Colorado sports from Denver's biggest sports talk lineup.