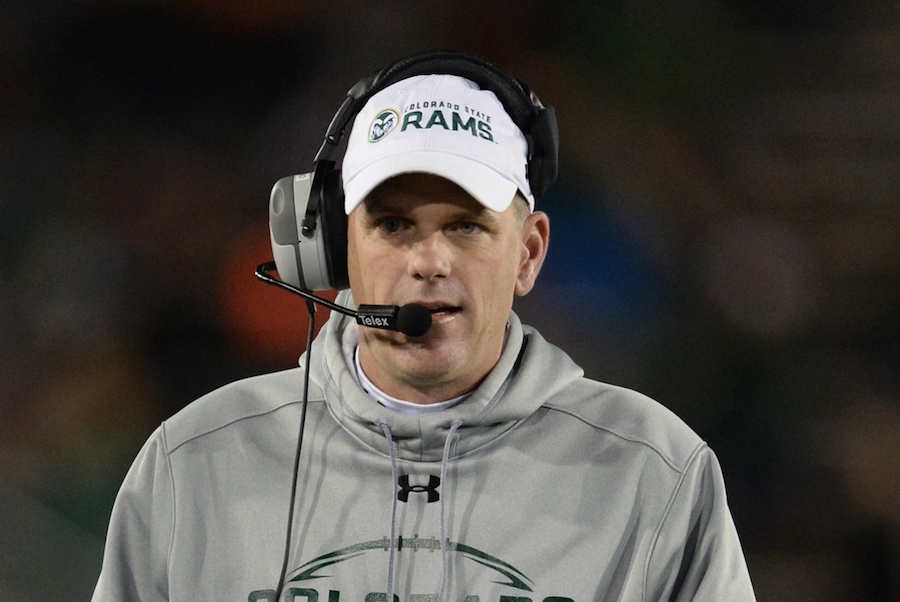 Read this story at CSURams.com
Colorado State head football coach Mike Bobo has been selected to be part of the coaching panel featured in ESPN's "Coaches Film Room" as part of its MegaCast of Monday night's College Football Playoff Championship Game between Alabama and Georgia, it was announced today.
After making its first College Football Playoff Semifinals debut, the popular Coaches Film Room (ESPNEWS) returns to the CFP National Championship MegaCast for the fourth year. Coach Bobo will be joined by Northwestern head coach Pat Fitzgerald and Kevin Sumlin. Additional coaches will be added throughout the weekend.
The Coaches Film Room program features coaches providing in-depth analysis from a film room equipped with multiple camera angles, clicker technology and telestration. Once again, it will be presented with limited commercial breaks. It will begin on ESPN2 with a pregame portion from 3-4:30 p.m. MT, ahead of the 6:17 p.m. MT kickoff. During the game, Coaches Film Room can be watched on ESPNNews and the ESPN app.
Coach Bobo is uniquely equipped to offer insight and analysis of both the Bulldogs' and Crimson Tide's programs and their schemes. Bobo's Rams played Alabama in Tuscaloosa in September, and he is a former Georgia quarterback (1994-97) and assistant coach (1998-99 and 2001-14), serving as offensive coordinator from 2007-14.
The Rams' 247 passing yards, two touchdown passes, 3.6 yards per rush average and 78 total plays in their Sept. 16 matchup were the most by an Alabama opponent in 2017. CSU's 391 yards of total offense were second-most behind the 408 allowed by the Crimson Tide at Auburn Nov. 25, and the 23 points were third-most by an Alabama opponent (26 at Auburn; 24 at Mississippi State Nov. 11), and as many as Florida State (7), LSU (10) and Clemson (6) combined to score against Alabama in 2017.
Bobo recently completed his third season as head coach at Colorado State, and has led the Rams to bowl game appearances in each of his three seasons.
The Rams will open the 2018 season on Sept. 1 in the Rocky Mountain Showdown in Denver against Colorado. Six home games at the on-campus stadium are highlighted by a Sept. 8 visit from SEC opponent Arkansas and four Mountain West opponents. Season ticket renewals are ongoing, and new accounts may be purchased now by visiting CSURams.com/tickets or calling the Rams Sales Team at 800-491-RAMS (7267).
ESPN's fifth national championship MegaCast production will be its most comprehensive to date, offering 20 productions of the championship game. Fans can watch the traditional telecast on ESPN or choose to sample the alternate productions across 10 additional ESPN platforms: ESPN2, ESPNU, ESPNEWS, ESPN Classic, ESPN Goal Line, SEC Network, ESPN Deportes, and multiple options on ESPN3. ESPN Radio and ESPN Deportes Radio will broadcast the game. The record-setting number of MegaCast productions is up from the 14 offered last year and all 20 are available on the ESPN App.