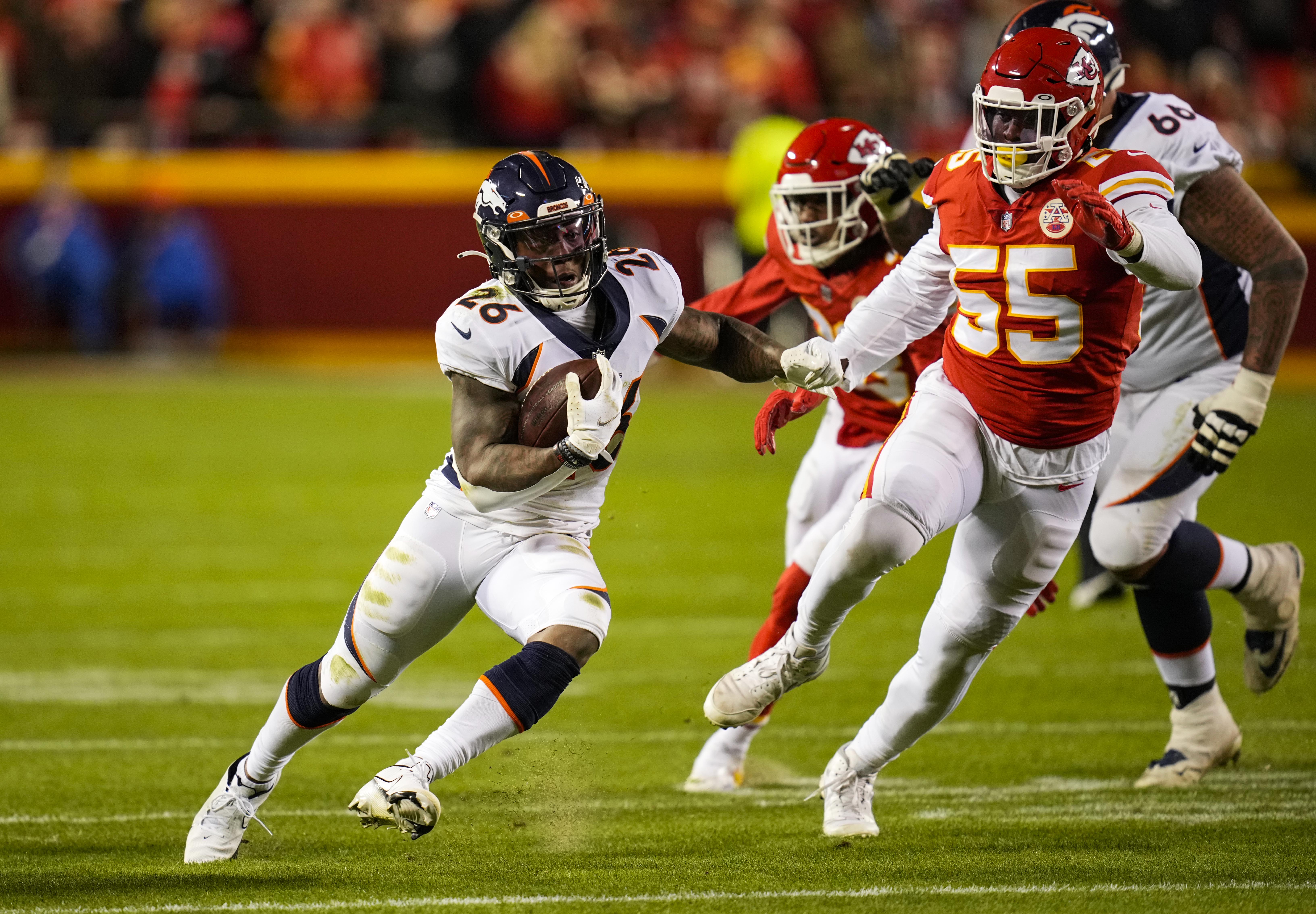 The Denver Broncos have a problem on their hands. There too many quality running backs on their roster.
With Melvin Gordon on the shelf in the Dec. 5 loss to the Kansas City Chiefs, Javonte Williams and Mike Boone showed they too can be a dynamic duo. As the consistent Gordon is set to return this week, Denver has a full stable of horses it must get feed.
Gordon and Williams share a similar skill set. Both are powerful runners capable of picking up tough yards. Additionally, both players are adept in the passing game both as a receiver and blitz pick up.
Boone showed Sunday that he is also capable in all of those areas. His impressive performance suggests Denver may have stumbled onto something special.
The smaller of the three Broncos running backs, Boone displayed tremendous power Sunday when called on to spell Williams. So much so, Boone's run was praised by national media members. Checking in at 5-foot-10 and 205-pounds, Boone (with the help of Quinn Meinerz) took several Chief defenders for a ride.
Mike Boone with a little power running pic.twitter.com/8cM7UB7ooh

— Matt Waldman (@MattWaldman) December 6, 2021
Boone showed quickness and decisiveness when running the ball Sunday. The former Minnesota Viking rushed the ball for 35 yards on only four carries. Additionally, Boone chipped in one reception for 19 yards.
Later in the contest, No. 26 showed his prowess as a blocker picking up several on rushers as the Chiefs sent pressure through the A-gaps. Boone was stout and held his own throughout the contest.
Great blitz pickup by Mike Boone #Broncos pic.twitter.com/1EjnxybYiH

— Matt Waldman (@MattWaldman) December 6, 2021
Sunday's sample size was small considering Boone has yet to produce for the team throughout the 2021 season. However, Boone has a career rushing average of 5.5 yards-per-carry.
So, why should he take touches away from Williams, Gordon, or any of the pass catchers?
Speed.
Boone brings a Relative Athletic Score (RAS) of 9.11. This suggests Boone is a great speed with an elite burst, something neither of his running mates possesses.
Mike Boone 💨

64 yards for the TD!#MINvsNO

— PFF (@PFF) August 10, 2019
Boone's assertion into the lineup may lessen the workload of either Williams or Gordon. However, it does not have to. All three running backs can get touches as a receiver in the passing game. Therefore, giving them touches while not taking away carries from another.
Denver's vanilla offense needs a spark. With a quarterback unable to push the ball downfield, the team must utilize its strength. Adding Boone into the mix does just that.
His showing Sunday provided clear evidence that he provides something this offense lacks, speed.
With their putrid offensive outputs, it is clear the Broncos have a need. That need is for speed and Boone provides it.