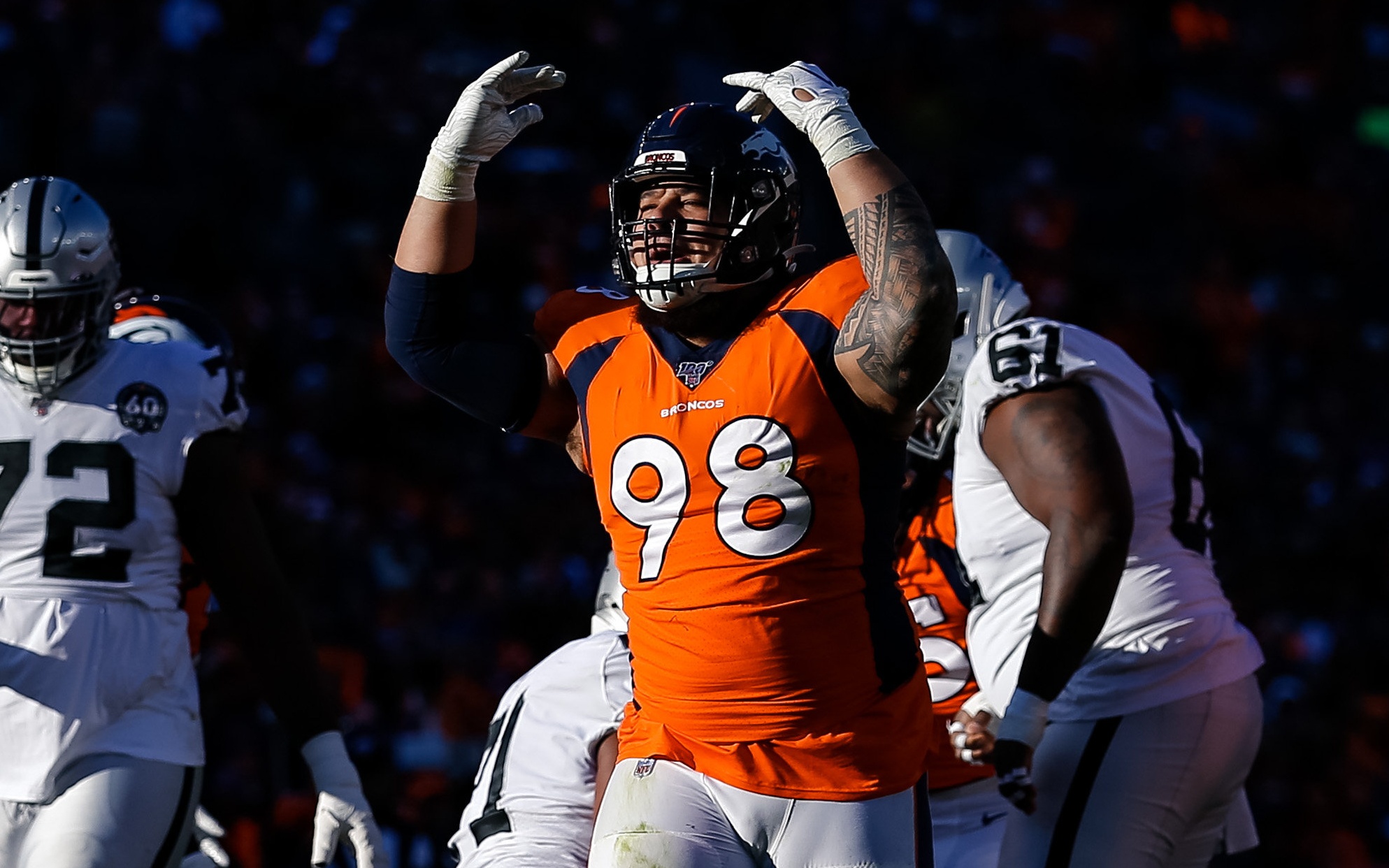 In 2019, the Denver Broncos found a diamond in the rough, as AAF signing Mike Purcell quickly blossomed into a run-stuffing star for the franchise.
Mere months after playing for the quickly defunct Salt Lake City Stallions, Purcell was lacing up his cleats for the Broncos and ended up leading all defensive linemen in nearly every advanced metric that measures a defender's ability to stifle the run game.
Purcell was driven to accomplish those goals by the desire to provide the best life possible for his family — his wife Christina, his seven-year-old son, and his four-year-old daughter.
Mike Purcell of the Denver Broncos joins the show! https://t.co/oDtYZWBMm1

— Let's Talk Broncos Podcast (@TheLTBPodcast) June 27, 2022
"[Having a family] just kinda changes everything," Purcell said in an exclusive interview with Mile High Sports' Let's Talk Broncos Podcast. "It's not just for you [anymore]. Obviously, you're trying to provide for your family. So in the end, you're providing for them and you want to be able to do everything that you can to make sure that they have the life that you want them to have. Even better than what my childhood was — not that mine was bad at all — it's just, I want to give them every opportunity they can [get] to do what they want, to be successful, whatever it may be. So yeah, family is definitely a big motivation for what I do."
Now, after a disappointing 2021 campaign that was marred by injury, Purcell will be leaning on that motivation to return to the high-end standard he established the two seasons prior.
A bounceback year for Purcell will be especially important for the Broncos, as their run defense has to improve in 2022 to compete for a Super Bowl.
"Regardless of what happens, teams are going to try to run the ball, so being able to stop that run, it's huge. It's first and foremost with anything," Purcell said during his exclusive interview. "Regardless if a team is a passing team, in the end, if they can get runs that are five yards a pop, what's the point of risking throwing a turnover, throwing an interception, anything like that? It keeps the clock burning, it's ball-control, it's time management, it's key. So, being able to stop the run and force them to do something–obviously from stopping the run, you get the quarterback in the pocket and then kinda let your pass rushers go from there. To have the pass rushers that we have, obviously that's key to what we want to do, so we want to get them on the field, get them after the quarterback."
The Broncos ranked 21st in run defense DVOA a season ago, so any boost Purcell can help provide will be greatly appreciated.