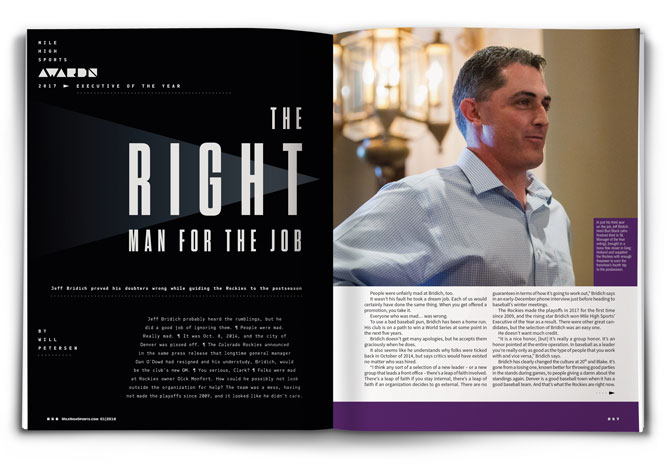 This story originally appeared in Mile High Sports Magazine. Read the full digital edition.
The Right Man for the Job
Jeff Bridich proved his doubters wrong while guiding the Rockies to the postseason
By Will Petersen
Jeff Bridich probably heard the rumblings, but he did a good job of ignoring them.
People were mad. Really mad.
It was Oct. 8, 2014, and the city of Denver was pissed off.
The Colorado Rockies announced in the same press release that longtime general manager Dan O'Dowd had resigned and his understudy, Bridich, would be the club's new GM.
You serious, Clark?
Folks were mad at Rockies owner Dick Monfort. How could he possibly not look outside the organization for help? The team was a mess, having not made the playoffs since 2009, and it looked like he didn't care.
People were unfairly mad at Bridich, too.
It wasn't his fault he took a dream job. Each of us would certainly have done the same thing. When you get offered a promotion, you take it.
Everyone who was mad… was wrong.
To use a bad baseball pun, Bridich has been a home run. His club is on a path to win a World Series at some point in the next five years.
Bridich doesn't get many apologies, but he accepts them graciously when he does.
It also seems like he understands why folks were ticked back in October of 2014, but says critics would have existed no matter who was hired.
"I think any sort of a selection of a new leader – or a new group that leads a front office – there's a leap of faith involved. There's a leap of faith if you stay internal, there's a leap of faith if an organization decides to go external. There are no guarantees in terms of how it's going to work out," Bridich says in an early-December phone interview just before heading to baseball's winter meetings.
The Rockies made the playoffs in 2017 for the first time since 2009, and the rising star Bridich won Mile High Sports' Executive of the Year as a result. There were other great candidates, but the selection of Bridich was an easy one.
He doesn't want much credit.
"It is a nice honor, [but] it's really a group honor. It's an honor pointed at the entire operation. In baseball as a leader you're really only as good as the type of people that you work with and vice versa," Bridich says.
Bridich has clearly changed the culture at 20th and Blake. It's gone from a losing one, known better for throwing good parties in the stands during games, to people giving a damn about the standings again. Denver is a good baseball town when it has a good baseball team. And that's what the Rockies are right now.
When asked how he changed the culture, Bridich takes a long pause. It's clearly something he's thought about a lot, but he wants to make sure he uses the correct words.
"Culture is a kind of a tricky word. How much time do you got?" Bridich asks.
As long as you need, Jeff.
"There's a lot of layers trying to build a culture and really build a sense of group belief – especially in baseball where every single day there is some sort of hardship or failure. So few perfect games, whether it's on the mound or at the plate, have ever been played. It can erode or wear away at confidence or belief, whether that's at the individual level or the group level. I think that it takes people that are willing to be invested in each other and are willing to believe in each other and can ultimately play for yourself, but also play for something bigger than you – play for the group and compete to win games together as a team," Bridich says.
Building a sense group of belief is one thing. Assembling a roster capable of fulfilling that belief is another.
In 2017, Bridich put together one of the most complete rosters ever to take the diamond at Coors Field. The offense and defense were as good as ever. The young starting pitching turned heads. The bullpen, long Colorado's undoing, was a strength. And unlike his predecessors, he continued adding major pieces all the way up to the trade deadline.
Among his notable additions for the 2017 season: Manager Bud Black, who finished third in NL Manager of the Year voting; closer Greg Holland, who tied a franchise record with 41 saves and won NL Comeback Player of the Year; first baseman Mark Reynolds, who returned to the club on a minor-league deal and slugged 30 home runs in 148 games in the majors; catcher Jonathan Lucroy, a two-time All-Star and stabilizing force behind the plate after his midseason acquisition; relief pitcher Pat Neshek, a 2017 All-Star added at the deadline who posted a 24:1 strikeout-to-walk ratio in 28 appearances; and relief pitcher Mike Dunn, who was 5-1 appearing in a team-high 68 games.
Bridich has embraced his role as general manager, and admits he's grown a lot since the day he took the job. That first press conference wasn't exactly inspiring, but Bridich sounds like a new man when you talk to him now.
He knows a lot of people – and their livelihoods – depend on him and his team doing a good job.
"I think just the responsibility that you feel to everybody in the organization," Bridich says. "That's tough to replicate before you have the type of job where to some degree the buck stops with me. It doesn't stop ultimately with me, it stops with Dick Monfort and our owners; but to some degree it does stop with me, so every single decision that you make you know in the back of your mind that it's going to somehow affect everybody that works in the organization."
Translation: People could get fired if he does a bad job.
Reality: That's not happening.
But Bridich knows he can't get fat and happy.
"You've got to keep proving yourself over and over. This industry waits for nobody and stops for nobody. There is that sense internally that the minute you think you have things figured out that's when this game will come up and bite you in the butt," Bridich says.
One of his last answers might be his best. The 40-year-old GM, who will undoubtedly start getting looks for other general manager jobs around the league, wants to bring a World Series to Rockies fans. He doesn't shy away from big time expectations.
He's direct when asked flat out if saying he wants to win a World Series in his tenure as the Rockies' boss puts too much pressure on himself.
"No, that's part of our goal every year is to win the World Series. One of the things I think people felt last year was how much fun it is to win and to play playoff baseball even though it was a short playoff stint. The energy that was felt in August and September and then in the Wild Card game where regular season games effectively turn into playoff games because of what's at stake and the adrenaline … [those] are fun things for a competitive athlete," Bridich says.
Bridich, our choice for 2017 Executive of the Year, should probably keep ignoring the doubters; it seems to be working.
Editor's Note: From the time Bridich was selected by the editorial staff as 'Executive of the Year' until the time of publishing, the GM made two of the largest offseason signings of the 2017-18 hot stove period. Bridich bolstered his bullpen with the addition of former Cleveland setup man Bryan Shaw and former Royals and Cubs closer Wade Davis.
***
The Story Behind the Story…
"I had it in my head that if the interview went well, I wanted to apologize to Jeff Bridich. When he first got the job in 2014, after that somewhat awkward introductory press conference, I was hard on him. Maybe I was echoing what people in Colorado generally thought of the hire at that time. I wasn't sure if he had ever seen what I'd written, but three years later, I genuinely felt guilty about how I had handled it.
"The conversation was great. I told him he was to be honored as our 'Executive of the Year' and he admirably deflected the credit. He didn't boast. He didn't bullshit me. I came away thinking, 'You know, this is a pretty good dude.'
"So, at the end of the interview, I told him I was sorry. He graciously accepted and essentially said 'No hard feelings.' I'm pretty sure he's not paying close attention to what us media types are saying. He's come a long way from that first press conference; he understands the role of the media.
"I'd like to think I've grown a little, too. I was harsh on a guy who'd yet to even get a chance to do the job. That wasn't fair."
– Will Petersen on his conversation with Bridich