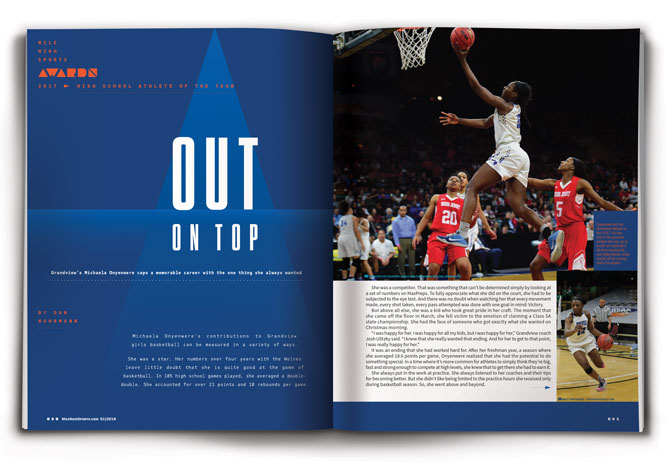 This story originally appeared in Mile High Sports Magazine. Read the full digital edition.
Out on Top
Grandview's Michaela Onyenwere caps a memorable career with the one thing she always wanted
By Dan Mohrmann
Michaela Onyenwere's contributions to Grandview girls basketball can be measured in a variety of ways.
She was a star. Her numbers over four years with the Wolves leave little doubt that she is quite good at the game of basketball. In 105 high school games played, she averaged a double-double. She accounted for over 21 points and 10 rebounds per game.
She was a competitor. That was something that can't be determined simply by looking at a set of numbers on MaxPreps. To fully appreciate what she did on the court, she had to be subjected to the eye test. And there was no doubt when watching her that every movement made, every shot taken, every pass attempted was done with one goal in mind: Victory.
But above all else, she was a kid who took great pride in her craft. The moment that she came off the floor in March, she fell victim to the emotion of claiming a Class 5A state championship. She had the face of someone who got exactly what she wanted on Christmas morning.
"I was happy for her. I was happy for all my kids, but I was happy for her," Grandview coach Josh Ulitzky said. "I knew that she really wanted that ending. And for her to get to that point, I was really happy for her."
It was an ending that she had worked hard for. After her freshman year, a season where she averaged 18.6 points per game, Onyenwere realized that she had the potential to do something special. In a time where it's more common for athletes to simply think they're big, fast and strong enough to compete at high levels, she knew that to get there she had to earn it.
She always put in the work at practice. She always listened to her coaches and their tips for becoming better. But she didn't like being limited to the practice hours she received only during basketball season. So, she went above and beyond.
"I probably started working outside of basketball, on my own, with another person the summer after my freshman year," Onyenwere said. "That's when I really realized my potential and I think other people noticed me as well."
Yes, they noticed. It wasn't long after that college coaches began seeking a closer look at the standout guard.
Not only were her abilities on the floor getting better, but Onyenwere was embracing the role of a competitor on a mission. She upped the ante as a sophomore, scoring 23 points and grabbing 11 rebounds per game.
Skills and stats were one thing, but winning a state title was another. That was the focus, always. Getting her hands on that trophy meant that the Wolves had won. Whenever she stepped onto the court, each game represented an opportunity to get one step closer to the state crown.
"She loved to compete, and she hated to lose," Ulitzky said. "I would say that the ability and the want and the desire to compete were things you could pick up on. She didn't lose very often. She took it personally when that happened."
By that standard, she took the final game of her sophomore year personally. Despite her 43 points, the Wolves lost in the Class 5A Sweet 16.
By the time her junior year rolled around, everyone knew who she was. She was getting big-time college offers and general basketball fans in Colorado were astonished at what she could do on the court.
Statistically, she had her best season as a junior. But that was never the concern. She wanted the team achievement, and she didn't care what it took to get there.
Whether she was on the floor running the offense or watching from the bench, she was focused only on the team outcome.
"The thing that I've always said or told people every time they've asked me is that as exceptional as she is as an athlete, she's a better person," Ulitzky said. "She truly wanted what was best for others. She wanted to be a great teammate. She's the kid when she's on the bench, she's the one I'm running into because she's up cheering for all of her teammates."
The Wolves came so close to achieving their goal. They lost in the 2016 semifinals to eventual state champion ThunderRidge. Onyenwere began to rack up postseason awards, highlighting her outstanding play throughout the year.
She was named CHSAANow.com's 5A girls basketball player of the year and was a first-team all-state selection. All this amidst the hype that surrounded her and what she would possibly do in a year, once her senior season was concluded.
That can be a burden for a teenager. The existence of recruiting services and the never-ending news cycle when it comes to high school athletes has taken on a life of its own. Often, those in charge of the services or those trying to get the scoop on where an athlete will go to college forget that kids are still just that – kids.
Everyone sees the basketball highlights. Not everyone sees the stress of studying for an exam or making time for friends and family. As Onyenwere became more entrenched in the life of a teenage basketball star, normalcy in her life suddenly became more restricted.
"I don't care what anybody says. It's not normal to have coaches calling and to deal with the amount of media attention that she dealt with," Ulitzky said. "I don't think that's normal, and I think she dealt with it with humility and grace."
She dealt with it by powering through all the distractions. Heading into her senior year, she made the decision that she was going to play basketball at UCLA, a high-profile Pac-12 program. Her commitment to the Bruins only turned up the hype as she took one last shot at winning a state title.
"I was that person who tried to not pay attention to all that," she said. "I just wanted to play basketball. It's a little hard, but a thing like basketball that I really love doing, I get to do for a long time now."
The weight and stress of a life-altering decision was something that she knew she wanted done before the start of her senior year. She had goals for her team and couldn't let outside focus on her decision serve as a distraction for what the Wolves were looking to do.
"She told me during the process that she didn't want it to carry over into the season." Ulitzky said. "I think she wanted to enjoy the season with her teammates and to know that part of it was done and she could move on from the recruiting process. That's the thing I really commend her and her mom for. She wanted to be a 17-year-old kid and not get caught up with recruiting."
With her college decision made, the Wolves finally achieved their dream of winning a state basketball title on March 11. While all the attention naturally fell on Onyenwere, she was the first to credit the team as a whole for doing the necessary work to finally hoist that trophy.
"I think it was more something that we did together as team and not just me," she said. "It meant a lot to me because we hadn't done it before and we had gotten so close in the previous three and years and just couldn't get it to happen. I was proud of our teamwork and how hard we fought to get to that point."
It was the culmination of one of the most outstanding careers in Colorado history. Onyenwere repeated as the 5A player of the year and finished off her career averaging a double-double. The three-time Gatorade Colorado Player of the Year finished her prep playing days with 2,290 career points, which places her fourth on the all-time state scoring list; only ThunderRidge's Abby Waner ranked higher among Class 5A players at 2,670.
But Onyenwere never did for herself. She did it on behalf of her school and her teammates.
In Onyenwere's entire time at Grandview, Ulitzky could only think of one thing that she really wanted to do for herself. Of the national basketball honors that a player can receive, being named a McDonald's All-American is probably the one that is the most desired.
"That was something that she really wanted for herself personally," Ulitzky said. "But that's the only time I can remember in four years where an instance was about her. It was always about everybody else."
It was the only thing she could think of where she would actually acknowledge herself for a job well done. McDonald's All-Americans are not common in Colorado. With her selection, Onyenwere was just the fifth girl in state history to be selected to the game.
"That was one thing I was really excited for," Onyenwere said. "I actually didn't watch the [selection] show. My little brother did and he told me. It was a sigh of relief because I know what that meant and what it instilled. That's the one time that I can remember thinking to myself, 'Good job, Michaela.' I wouldn't trade that experience for the world."
With that job well done, she could walk away from her high school career having accomplished everything she aimed for. Now, she takes the floor each night for the Bruins. She hopes to build a new legacy in southern California, but her accomplishments and contributions to Grandview and the state of Colorado will live on for years to come and have earned her honors as Mile High Sports' High School Athlete of the Year.