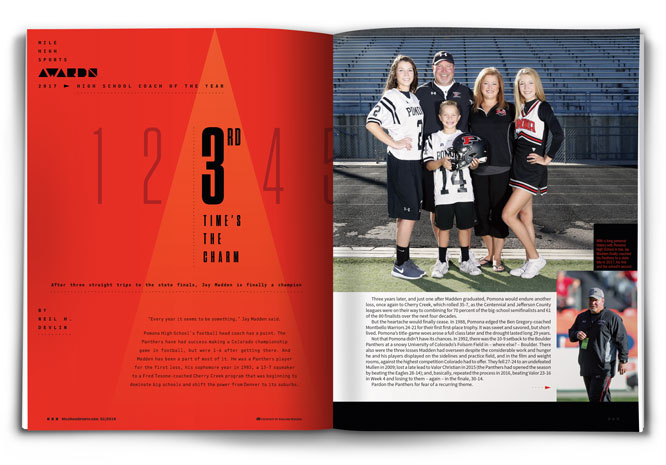 This story originally appeared in Mile High Sports Magazine. Read the full digital edition.
Third Time's the Charm
After three straight trips to the state finals, Jay Madden is finally a champion
By Neil H. Devlin
"Every year it seems to be something," Jay Madden said.
Pomona High School's football head coach has a point. The Panthers have had success making a Colorado championship game in football, but were 1-6 after getting there. And Madden has been a part of most of it. He was a Panthers player for the first loss, his sophomore year in 1983, a 13-7 squeaker to a Fred Tesone-coached Cherry Creek program that was beginning to dominate big schools and shift the power from Denver to its suburbs.
Three years later, and just one after Madden graduated, Pomona would endure another loss, once again to Cherry Creek, which rolled 35-7, as the Centennial and Jefferson County leagues were on their way to combining for 70 percent of the big-school semifinalists and 61 of the 80 finalists over the next four decades.
But the heartache would finally cease. In 1988, Pomona edged the Ben Gregory-coached Montbello Warriors 24-21 for their first first-place trophy. It was sweet and savored, but short-lived. Pomona's title-game woes arose a full class later and the drought lasted long 29 years.
Not that Pomona didn't have its chances. In 1992, there was the 10-9 setback to the Boulder Panthers at a snowy University of Colorado's Folsom Field in – where else? – Boulder. There also were the three losses Madden had overseen despite the considerable work and hunger he and his players displayed on the sidelines and practice field, and in the film and weight rooms, against the highest competition Colorado had to offer. They fell 27-24 to an undefeated Mullen in 2009; lost a late lead to Valor Christian in 2015 (the Panthers had opened the season by beating the Eagles 28-14); and, basically, repeated the process in 2016, beating Valor 23-16 in Week 4 and losing to them – again – in the finale, 30-14.
Pardon the Panthers for fear of a recurring theme.
So, what was one of the smallest schools in 5A to do in 2017? The Panthers felt that the big had been taken out of their Big Black. Besides losing two tackles the year before, including an All-American, Pomona also entered the past season with star running back Max Borghi still mending a bit from knee ligament surgery. They lost three-year starting quarterback Ryan Marquez to a broken left wrist at the outset of league play.
"We kind of thought we had the best team in Colorado [for two years] and then had to start from scratch," Madden said.
He added: "When Ryan went down, I didn't know if it was his right or left arm, I was just thinking to myself, 'You've got to be kidding me.' He'll miss his senior year and we had a chance to be state champs – you've got to be kidding me."
However, Marquez came back for the playoffs and Borghi turned into Super Max by running freely and away from everyone as Pomona turned in a 12-2 mark, opened with playoff victories over Poudre, Fairview and Grandview, then outlasted previously undefeated Eaglecrest in the second-highest scoring title game in history (56-49), which also produced 1,255 yards of offense.
Call it crazy, no defense or a video game, but "we still found a way," Madden said.
It was an exhausting, draining stretch and the 15-year Panthers coach, who's at home coaching in the big city or who would also be great in a small town, doesn't mind admitting it. Color it as part of the transformation over decades for Pomona, which once was known as "Cherry Creek West" before being boxed in an older Arvada neighborhood, and surrounded by other Jefferson County Schools among viable options in what has turned into an ultra-competitive chase for talent. But Pomona remains an out-of-district draw, continues as a power in wrestling and gymnastics, and seems to particularly enjoy its current run under an us-versus-them theme. And a big-school football title in the face of prominent programs such as Valor, Cherry Creek schools, other Jeffco powers, Mullen and Regis Jesuit is about as sweet as it gets.
Said an always outspoken Madden: "Yeah, you know, getting to this many state championships and not winning, you start thinking about it – but that gorilla's off our backs and we're just back to playing football and doing the best we can."
That part of it worked once Borghi hit his stride and Marquez returned from injury.
"[Marquez] getting back for the playoffs was the best thing that could happen to us," Madden said. "He came back so hungry, so focused – he had the best four-game run in the history of Colorado playoffs, it had to be."
Over the four rounds, Marquez, who also started the past three championship games, was 48-of-66 for 1,169 yards, 15 TDs and one interception. Plus, Borghi's rushing numbers totaled 79 carries for 904 yards and 12 TDs.
Big numbers for a big program. By the way, Madden also has nice numbers – he's 196-75 as a head coach, 136-45 heading the Panthers. He's also one of the coaches who worries about the future of the game and can recite a lot of local history.
"I remember going to Jeffco games with my dad and each team had four to five D-I guys, freaking studs," he said. "And they were all playing each other – and if you went 9-1, you didn't make the playoffs."
He feels good about doing his part to keep his area among the elite of the game and keeping football as, well, king of Colorado high school sports.
What his Panthers are doing, he insists, "is nothing short of crazy."
The coach postponed the football season-ending banquet until after Christmas, he said, "to do it right. We played 42 games in three years, and that's a lot of work."
It's the kind of work that wins state titles, the kind of work that makes Jay Madden the choice for Mile High Sports High School Coach of the Year.