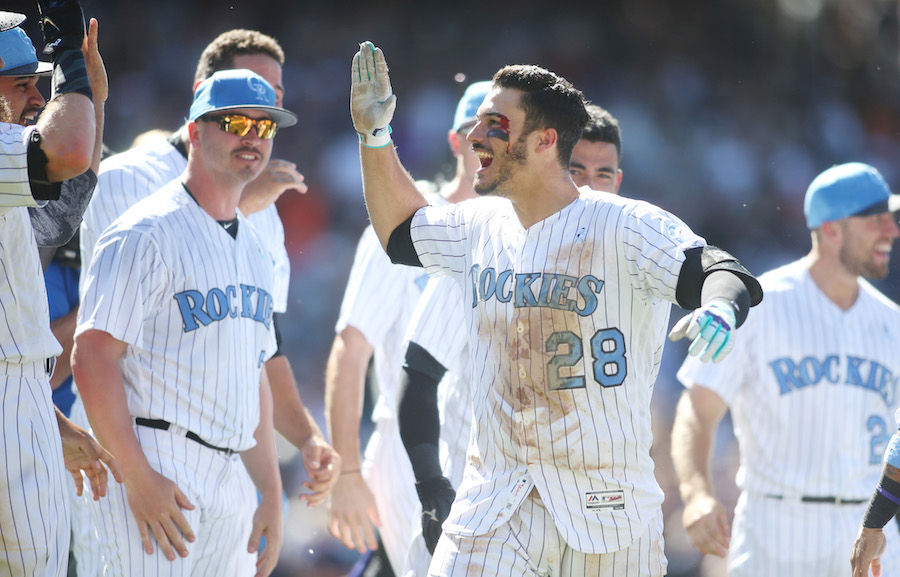 This story originally appeared in Mile High Sports Magazine. Read the full digital edition.
The Bedlam Begetting Blast
Nolan Arenado completes the cycle with a walk-off home run on Father's Day
By Dan Mohrmann
Nolan Arenado had the best Father's Day of his life in 2017, and he doesn't even have kids. He was the catalyst of a thrilling 7-5 win over the San Francisco Giants thanks to the first cycle of his career.
The image of a pumped-up Arenado, with blood trickling from above his eye, will be forever seared into the memory of Colorado sports fans. It ranks right up there with the top moments in the state's sports lore:
Dikembe Mutombo clutching the ball after the eighth-seeded Nuggets upset the Seattle SuperSonics. John Elway's helicopter spin in Super Bowl XXXII. Ray Bourque hoisting the Stanley Cup. Matt Holliday sliding into home to put the Rockies in the 2007 MLB playoffs. Tim Tebow's game-winning touchdown pass to Demaryius Thomas in the 2011 Wild Card playoff win over the Steelers.
Arenado's cycle will forever be tied to history, same as those moments. What made it all the more special was that the Rockies were trailing 5-4 in the bottom of the ninth with Arenado still needing a home run to complete the cycle.
He swung at the first pitch he saw and blasted the ball to left field. Coors Field watched on pins and needles, waiting for the ball to clear the yellow line. Once it did, the stadium erupted in pandemonium.
Arenado emerged from the celebration at home plate with a fresh cut over his eye. The blood made its way onto his already dirt-stained jersey. That jersey is now encased at Coors Field. Every stain remains in place as a tribute to what Mile High Sports has named the Performance of the Year for 2017.