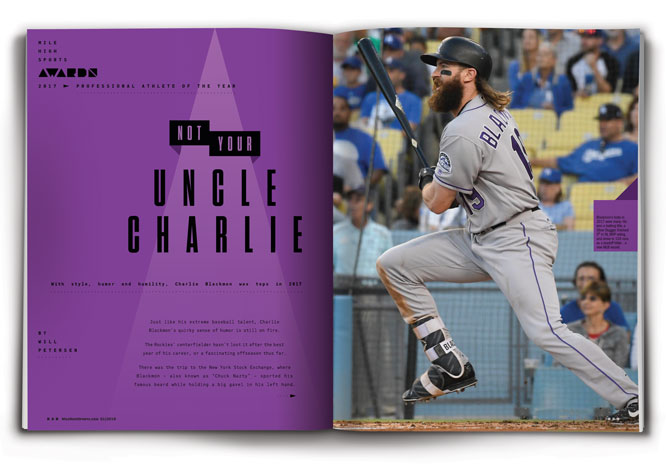 This story originally appeared in Mile High Sports Magazine. Read the full digital edition.
Not Your Uncle Charlie
With style, humor and humility, Charlie Blackmon was tops in 2017
By Will Petersen
Just like his extreme baseball talent, Charlie Blackmon's quirky sense of humor is still on fire.
The Rockies' centerfielder hasn't lost it after the best year of his career, or a fascinating offseason thus far.
There was the trip to the New York Stock Exchange, where Blackmon – also known as "Chuck Nazty" – sported his famous beard while holding a big gavel in his left hand.
Next was an adventure in Bristol, Conn. where he made the rounds on ESPN followed by a killer fishing trip in Costa Rica.
In between, LeBron James "quote tweeted" an @Rockies reply on Twitter – a GIF of Blackmon showing off his luscious locks. The 2017 MVP candidate posted a screen shot of the love from LeBron on Instagram with this caption: "Wanna go do karate in the garage? Did I just become friends with @kingjames(?)"
And he's not the Mile High Sports 2017 Pro Athlete of the Year because he's funny on social media. It's because he's funny in interviews, too.
Just kidding.
"You look around at how good Denver sports is, especially with the Broncos, and then you look at the guys who have won it in the past and it makes me wonder if you don't have the wrong guy?" Blackmon says with a laugh during a phone interview in late December when asked if he was humbled by the honor.
Hey Chuck, here's some news: You're a bigger deal than the Broncos right now.
The Rockies made the playoffs for the first time since 2009, and Blackmon was the biggest reason why. With all due respect to Nolan Arenado, Chuck Nazty just edged out his good friend for this honor.
And a lot of it is because of what he did, from where he did it.
Blackmon, who hit leadoff almost exclusively all season, drove in 104 runs total and 103 from the leadoff spot, the most from the No. 1 slot in MLB history.
Think about that for a second – 103 RBIs – and it was rare to have someone set the table.
Yes, the 37 home runs helped, but Blackmon also added 35 doubles, a MLB-best 14 triples, and, by the way, won the NL batting title at .331, a second consecutive Silver Slugger award, appeared in his second career All-Star Game and finished fifth in NL MVP voting.
Did you get all that?
If Blackmon needed to update his résumé – he doesn't – now would be a good time.
Yet even with his quirky sense of humor, Blackmon is quick to deflect the credit when asked what was the biggest reason for such a successful season.
"I think our group as a team, especially the core – Nolan [Arenado], D.J. [LeMahieu] and CarGo [Carlos Gonzalez] – being around the same group of guys for a number of years, I think led to a strong comfort level for me and the guys around me," Blackmon says.
Blackmon has had some fun this offseason, but he also notes how hard he's been working.
"Right now, the bulk of my time is spent training and getting my body ready to play a 162-game season – plus playoffs."
Ah, yes. The playoffs.
Blackmon had a tough outing in the Rockies' one-game postseason stint in Arizona. Chuck wasn't Chuck, going 0-4 on a night in which his team scored eight runs.
And while we can debate the fairness of the format all day (one and done in baseball, really?) Blackmon has already put the experience in his memory bank as fuel for the future.
"That's really a bit of a blessing to have something to work on for next year," Blackmon says of the 11-8 loss to the Diamondbacks. "It doesn't matter how well you did in the regular season if you made the postseason and then didn't continue to play well. That's kind of the mindset going into next year: Be ready for anything."
Rockies' GM Jeff Bridich, Mile High Sports' Executive of the Year, told the mag he wants to win a World Series in his tenure as Rockies GM. That could be a large window, depending on how long Bridich remains in Denver.
When this scribe tried to ask Blackmon a similar question, it probably came out wrong, because Chuck Nazty thought it was meant solely for the upcoming year.
"I'm not going to come out and say we're going to win the World Series, because I don't know what that takes," Blackmon says. "I do think we have the talent and the ability to do something special, and I think our young starting pitchers have gained a lot of experience. It's going to take a group effort, but I think we have a really good team."
That's fair.
No one expects the Rockies to win it all in 2018, but damn it'd be cool to see Blackmon, Arenado and the Rox throw Denver a parade at some point.
"I think we have the pieces and we have what we need," Blackmon says. "I think it always helps to add one or two pieces, but I don't see why we can't do more than we did last year."
In the meantime, while this award recognizes what he did last season, a lot of folks are curious about Blackmon's future.
The team's everyday centerfielder is eligible for his final year of arbitration, which is valued at $13.4 million for the upcoming season. While that's an amazing salary, what'd be even more amazing for Rockies fans and Blackmon would be a long-term extension before he becomes an unrestricted free agent at the end of the 2018 season.
For what it's worth, Blackmon is super tight with this current squad.
"We've got the group text going [this offseason]. Nolan just texted me a few minutes ago and then D.J. will chime in, and I talked to Trevor [Story] a couple of times this week. It's a good group," Blackmon says.
While you shouldn't take that statement to the bank that Blackmon wants to stay here forever, it's nothing but a good sign if you're a Rockies fan. Blackmon says when they're out on a road trip, he'll go out to eat with the same guys. It's clear he's particularly close with LeMahieu, the Rockies' second baseman who's also entering his last year of arbitration at $8.8 million.
Blackmon is a normal dude, who besides traveling this offseason has been doing plenty of fishing and playing video games in between working his tail off and hanging with family and friends.
He also dealt with a mean snowstorm in Atlanta, posting a picture on Instagram of himself in a heavy jacket, winter pants and what appear to be snow boots while holding a kayak paddle.
Part of the caption reads "Thanks for the snow Atlanta. Good thing we are prepared."
By the way, there's maybe three inches of the fluffy stuff where Blackmon is standing.
That sense of humor hasn't left Blackmon, and neither has his incredible baseball talent.