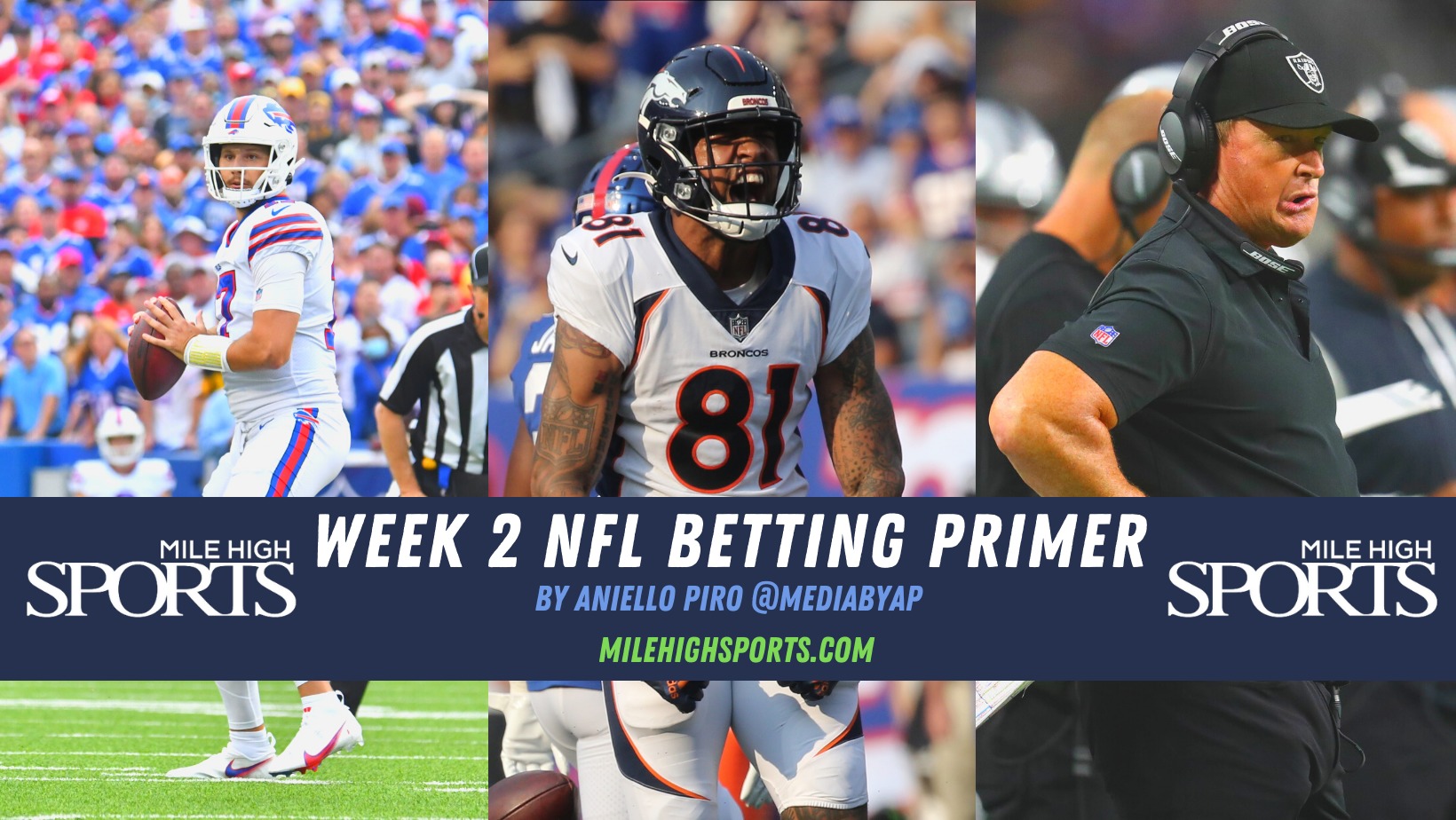 We are back with another NFL betting primer to get you ready to fire off some educated bets come Sunday! It's another loaded slate for us sports bettors this weekend, with plenty of spreads, totals and props to sort through.
We are also introducing a podcast element to the primer this week. My man Assed Ahsan joined me in the booth to go over each and every game on the slate this weekend! Get to the 8:19 mark to get to the slate as we spent the first few minutes spitballing about sports trading cards. Listen below or click here.
The overall goal of this primer is to paint a picture of the weekend slate so you can dive into it with your head on straight. Sports betting is here, and if you are going to bet, you might as well get an edge, right?
Manage your bankroll. Stick to your units. Shop your lines.
The motto for this week is: FADE THE PANIC.
Week 1 was crazy, and the dogs were barking, but it was just one of the 18 slates we get to bet from each and every Sunday through the start of 2022, so not overacting to one game is vital. I've convened with numerous professional bettors that have echoed this to me during the week, and now I'm passing it on to you. So for all you Packers, Bills, Vikings, Colts, Patriots and Ravens backers from last week, relax.
Another thing to keep an eye on this week are road favorites… the public is all over them—that kind of reeks of disaster. The six teams taking in the most action are all road favorites: New England, Kansas City, Buffalo, Denver, San Francisco and the Los Angeles Rams.
Now let's take a look at Week 2.
The motto for Week 2 #NFL betting: Fade.The.Panic. @MediaByAP and @vegasringers talk about not shying away from teams that were putrid in Week 1

Catch the Denver Sports Betting Show Monday-Friday on @MileHighSports pic.twitter.com/V7eOwapcOA

— Denver Sports Betting Show (@DenverBets) September 15, 2021
Week 2
Denver Broncos @ Jacksonville Jaguars: DEN -6, JAX +6, o/u 45.5
A lot of people are down on the Jacksonville Jaguars following the Week 1 loss and the Urban Meyer rumors

Week 2 line opened Denver -2.5 for a brief moment and is now at Denver -6 @MediaByAP and @vegasringers talk about the game and not overreacting to how Week 1 played out pic.twitter.com/P9lAxNBNdE

— Denver Sports Betting Show (@DenverBets) September 15, 2021
The Denver Broncos were awesome last week. It was so refreshing to see good football across four quarters. Denver has another favorable matchup this week against a Jaguars team that looked lost in Houston last week. If the Broncos play like they did last week they should win and cover easily.
The Jaguars were so bad last week. How do they improve? Do you chalk up their performance to Week 1 jitters or just an overall lack of preparation? Many think the ladder. I've been higher on the Jags then most and am really curious to see how they come out and play this week. While Trevor Lawrence threw some picks, his touchdown throws were dynamite. You can see the potential.
A couple things that have me worried are the early start time and the climate in Jacksonville. There are some scattered thunderstorms in the forecast, so hopefully Teddy 2 Gloves is ready to rock. While I think Denver will win, I'm not sure they will light up the scoreboard. Does the early start time play a factor? Again, they should cover and win easily but I lean towards the under for the game.
The Jags are a wild card. Can Urban Meyer silence the critics? Denver's offense was outstanding against the Giants. If they can deploy a similar game plan, it's tough to envision the Jags stopping their offense and scoring enough on the Denver D. But if the Denver offense sputters, Trevor Lawrence could keep the game tight in his home debut. It's Denver's game to lose. Denver has covered the spread in five of their last six Week 2 games.
Houston Texans @ Cleveland Browns: CLE -12.5, HOU +12.5, o/u 48.5
The Texans shocked many with their strong showing against the Jacksonville Jaguars last week, but they will now face a team with a chip on their shoulder in the Browns. Cleveland fumbled away a prime opportunity to hand the Kansas City Chiefs a Week 1 loss, but Mahomes and company proved to be too much in the second half. Baker Mayfield threw an awful interception at the end of the game and the Browns will play their first home game of the season against a Texans team that is expected to be among the worst squads in the league this season.
This is a big number and it opened at 13 before dropping to -12.5 for Cleveland. As a matter of fact, this is the largest spread since Baker Mayfield came to town and Cleveland is 1-2 ATS when favored by double-digits during that span. It's Cleveland's game all the way but 12.5 points is a lot with all the other action on the board.
Houston is 6-0 ATS in their last 6 head-to-head meetings with the Browns. Some of the veteran players looked good for Houston last week, but Cleveland is the more talented team. Bet wisely. I will say the points are tempting.
Buffalo Bills @ Miami Dolphins: BUF -3.5, MIA +3.5, o/u 47.5
This is going to be a stellar game. It's hard to believe the Bills are -110 to win the AFC East following their Week 1 loss to the Steelers. If you want in on that, get it now. That said, if the Dolphins pull off the upset, the odds will shoot up and Miami will have a 2-0 record with two wins against division opponents. This is a big game for the early formation of the East this season and it will be interesting to see how Buffalo comes out against a tough Dolphins team. Brian Flores is a terrific head coach and you know his team will be ready to play come Sunday. Buffalo is beloved and "they need the win" which is why you have them as the road favorite against a divisional opponent. At first glance this line can be deceiving Buffalo is a great football team but the Dolphins have a strong defense.
The X-factor for me is Tua Tagovailoa. If he plays well Miami can not only cover, but win outright. It's a big if though. He looked shaky against New England in Week 1.
Buffalo lost a game they probably shouldn't have and Miami won a game they could have certainly lost. I like taking home dogs. Will they bark in Week 2 like they did in Week 1? Miami was strong at home last year, covering their last six games in a row.
The over has cashed in the last five head-to-head meetings between these two teams.
Los Angeles Rams @ Indianapolis Colts: LAR -4, IND +4, o/u 47.5
The Rams looked good in Week 1. Matt Stafford was as advertised and the Rams showcased their potential to make a deep run in the NFC. That said, I can't put too much stock into an opening game victory over the Andy Dalton-led Bears, no matter how good they looked. With that, they are the better team for this matchup against the Colts.
Indy had a rough go-around against the Seahawks in Week 1 and Carson Wentz was seeing shades of Philly out in Indy. He was sacked four times and was never really able to establish a rhythm in his debut game for the Colts.
This game is the tale of two trends: Colts are 0-6 ATS in their last 6 games as a home underdog and the Rams are 0-4 ATS in their last 4 games following a straight up win of more than 14 points.
I lean the Rams here but the public is backing them heavy after the Week 1 performance, and they've struggled to rally after big games under McVay. Now, that was with Jared Goff at QB. If you think Stafford is the real deal I think you've found a side here.
This is the second home game of the year for Indy and a second loss would be detrimental with three consecutive road games coming up.
San Francisco 49ers @ Philadelphia Eagles: SF -3.5, PHI +3.5, o/u 50.5
The San Francisco Fraudy9ers ladies and gentlemen! My condolences to anyone who had SF ATS last week. The Eagles impressed against Atlanta last week, but what are the Falcons this season?
Here's a little in-depth knowledge for you that you can take to your fellow sports bettors: The 49ers opted to stay on the east coast in preparation for their Week 2 matchup in Philly, so the team should be ready to go despite an injury to running back Raheem Mostert.
Still, I think the 49ers are a little better than -3.5 in this spot, at least considering how people have talked about them with potential in the NFC. Kyle Shanahan is sharp and he should come up with a solid gameplay against a wild Eagles team. That said, Philly has protected their home field, covering in their last five games as a home underdog.
I lean San Fran here and can seem them going down at some point in this game so look at a live ML bet. I hate taking them against the spread but I do think it's a good number for the overall better team.
Cincinnati Bengals @ Chicago Bears: CHI -3, CIN +3, o/u 45.5
The Joe Burrow and Ja'Marr Chase show was on full display last week against the Minnesota Vikings. Chicago laid an egg against Los Angeles.
This is a coin flip game and the line movement has indicated that. Chicago has the more talented roster but the Bengals have upside. Chicago is just so uninspiring, and it's hard to have confidence with Dalton out there. I can only imagine what the locker room feels like.
I'll probably pass this one but if Chicago gets down to -1 I'll take a look just because they are the better team on paper. I do like me some Joe Burrow though.
Las Vegas Raiders @ Pittsburgh Steelers: PIT -5.5, LVR +5.5, o/u 48.4
The Steelers and Raiders are both riding high after their Week 1 dubs 💰

They clash this week and the Steelers are the favorite at home for this one. @RiggsPicks dished out his thoughts on the game and has a play for anytime TD scorer pic.twitter.com/SNxUszYBoJ

— Denver Sports Betting Show (@DenverBets) September 17, 2021
Two teams riding high after strong Week 1 showings, this is another tough game to get a read on. Big Ben didn't look great against Buffalo but the Pittsburgh D was rock solid. The Raiders played in a roller coaster of a game to christen their new stadium with fans. My gut is telling me it's the Raiders and they'll find a way to screw this up and shoot themselves in the foot at some point. The Raiders have covered just three times in their last 10 games in the eastern time zone for the early time slot.
On the other end, were the Steelers a benefactor of some Week 1 magic? I'm higher on them then most and Mike Tomlin is a top-five coach in the game, but the 5.5 feels like a sizable chunk.
The underdog is 4-0 ATS in their last 4 meetings and the Raiders are 4-0 ATS in their last 4 meetings. Gruden has been pretty underwhelming so far with the Raiders, but this season is off to a blazing start. Can they keep it up against an aging Steelers squad?  I lean Raiders because I worry about the Steelers ability to pull away, but it's not a lock in my book by any means. I think we will learn a lot about these teams on Sunday.
New England Patriots @ New York Jets: NE -5.5, NYJ +5.5, o/u 42.5
Over 90 percent of the tickets and money is on the Patriots. That makes me want to fade off of principle and I think I just might. This could win up to be the biggest whiff of the weekend, but I like the Jets as a squad. During the second half of his debut against Carolina, Zach Wilson settled in, and the Jets defense was strong against Christian McCaffrey and company.
Fumbles crippled New England last week and if they don't turnover the football they probably find a way to beat Miami. I feel similar about this game as I do with the Steelers and Raiders. New England should win but can they pull away? New England opened -3.5 and that's surely the best number if you want to back new England but that's long gone at -110.
This was a guaranteed double-digit spread in favor of New England for much of the last decade but times have changed. Is Robert Saleh the real deal or just another brick in the wall for Jets at head coach? A strong showing at home against the evil empire would mean a lot. Jets have covered six of their last eight against New England at home.
Two rookie QBs still trying to find their way. I like the under here. Under is 4-1 in the last 5 meetings in New York.
New Orleans Saints @ Carolina Panthers: NO -3.5, CAR +3.5, o/u 44.5
Here's my come-back-to-earth game of the week. The Saints lit the world on fire against an uninspired Green Bay Packers team. How will they fare against a well-coached Panthers team? At first glance it's easy to overlook Carolina but this is a divisional game against a team who was also at home in Week 1.
The underdog is 11-3 ATS in their last 14 meetings and I think Jameis Winston is bound to come back down to earth. If there was one team that overachieved in Week 1, it's the Saints or Cardinals in my opinion. Green Bay made their life easy last week by rolling over.
The Panthers have something to prove and head coach Matt Rhule has his guys playing hard, with CMC primed for a monster game. Much like the Packers last week, this line looks too good to be true. I'm fading and taking the under. Low-scoring game. Saints should win, the only question is will they cover?
Minnesota Vikings @ Arizona Cardinals: MIN +3.5, AZ -3.5, o/u 51
The Vikings had a massive letdown in Week 1 and the Cardinals had an impressive win in their own right. I mentioned in last weeks primer that the Vikings were very much primed to lay an egg against an up-and-coming Bengals team. However, I do like them to bounce back this week, and I think this is a game they should be able to win outright, with the Cardinals set up for a letdown.
That said, if the Cardinals want to make the playoffs this is a game they have to win with the NFC West loaded to the brim. Still, the Cardinals played out of their minds last week and some regression is in store I feel. Meanwhile, the Vikings faltered to stupid penalties and a critical Dalvin Cook turnover at the end.
Minnesota should come out gunning against the Cardinals and they could very well stun them with a couple of strong drives to open the game. I think this has a shootout written all over it so I'll play the over and take the Vikings on the Moneyline.
Atlanta Falcons @ Tampa Bay Buccaneers: ATL + 11.5, TB -11.5, o/u 51.5
Another massive spread on the Sunday slate. The Bucs will get back business after a Week 1 win over the Dallas Cowboys. Dallas pushed Tampa to the very end but he Bucs have been at home since last Thursday prepping for Falcons.
Atlanta was awful against Philly. Calvin Ridley was a ghost and rookie Kyle Pitts was virtually nonexistent. This is a big spread and I'll pass the game for that reason, but Atlanta can hang around should they be able to find the end zone.
Dallas Cowboys @ Los Angeles Chargers: DAL +3.5, LAC -3.5, o/u 55
Bias alert. My Cowboys looked great against the defending champs in Week 1 and I absolutely think they are going to pull off the upset victory here against the Chargers this weekend. Losing Demarcus Lawrence and Michael Gallup is a big blow, but Dak Prescott can and will keep the boys in the game. He looked sensational in Week 1.
The Chargers looked a bit underwhelming against the WFT, although they managed to get the win. After seeing Danny Dimes light up their defense last night though, I'm wondering just how good that unit is. LA put up 20 points and failed to pull away in a game where Washington lost their starting QB.
It's their first game at home with a rookie head coach. There will be plenty of Cowboys fans at the game. Give me the boys all day and the over on Dak pass attempts.
Tennessee Titans @ Seattle Seahawks: TEN +5.5, SEA -5.5, o/u 53.5
This line opened Seattle -3.5 so the line has already moved in favor of the Titans, and could move more come kickoff time. The Titans played an awfully disappointing game in Week 1 against Arizona, and are primed to bounce back with their offense against a suspect Seahawks defense, at least in the secondary. These two have not played since 2017. Seattle is a tough out at home but the ship has sailed as the line continuers to creep up closer to 7.
This is Titans or pass for me. I'm not laying 6 or 6.5 points at home in Week 2 against a team with an ability to light it up.
53.5 is a big number tho and we have seen the Seahawks offense sputter at times, and that was the case with the Titans last week. Lean under and take the points.
Kansas City Chiefs @ Baltimore Ravens: KC -3.5, BAL +3.5, o/u 55.5
Another heavily bet game from the public. This game opened at pick 'em but quickly shifted due to the injuries and the Ravens gut-wrenching loss on Monday Night Football. Patrick Mahomes has never lost in the month of September, and while I don't expect that to change, Baltimore has a chance to cover this spread at home. The public is hammering the Chiefs here with 83 percent of bets coming in on KC for this one ATS. The Chiefs have covered four of the last five games in Baltimore.
These two last played in September of last year, with the odds nearly identical. Chiefs -3.5 and a total of 55. The Chiefs won 34-20 and the under cashed just barely.
Baltimore looked a little stunned in Week 1 and rightfully so given the injuries they've had to deal with. Lamar Jackson looked good and he will find a way to move the ball up and down the field at home in this game. While the Browns lost to KC last week, they showed that punching the Chiefs in the mouth out of the gate will put them against the ropes.
Taking KC at pick 'em is one thing, laying 3.5 on the road is another. Public heavy on KC so I'm fading and riding with the home dog here at the moment. Kansas City wasn't great at covering spreads last season, and I think Baltimore will have had a chance to adjust to the injuries.
Detroit Lions @ Green Bay Packers: DET +11.5, GB -11.5, o/u 48.5
This is kind of a whack MNF game but I guess if you want to showcase the Lions you need to do it before they get buried. To their credit, they played hard for all four quarters against San Francisco and wound up covering that spread.
The Packers are frustrating. After Aaron Rodgers tortured the fan base all offseason he comes out and plays like a bum against a displaced Saints team which meant Jordan Love saw some time. It was just a disgraceful performance from the entire team, but Rodgers in particular. He needs to bounce back and in a big way. I think everybody expects him to come out firing against the Lions, a team has historically owned in his career.
It's the Packers game to lose and they should absolutely cover this spread at home. Rodgers should be revved up and the team should have woken up after a disgraceful Week 1 performance. This is a get right game for the Packers although the Lions have covered the spread in seven of their last eight with Green Bay.
***
OK! That's it for the Week 2 Betting Guide now get on out there and be a weekend betting warrior! Also, listen to the pod above. If you want to continue the conversation on social media, you can find me on IG and Twitter @MediaByAP.