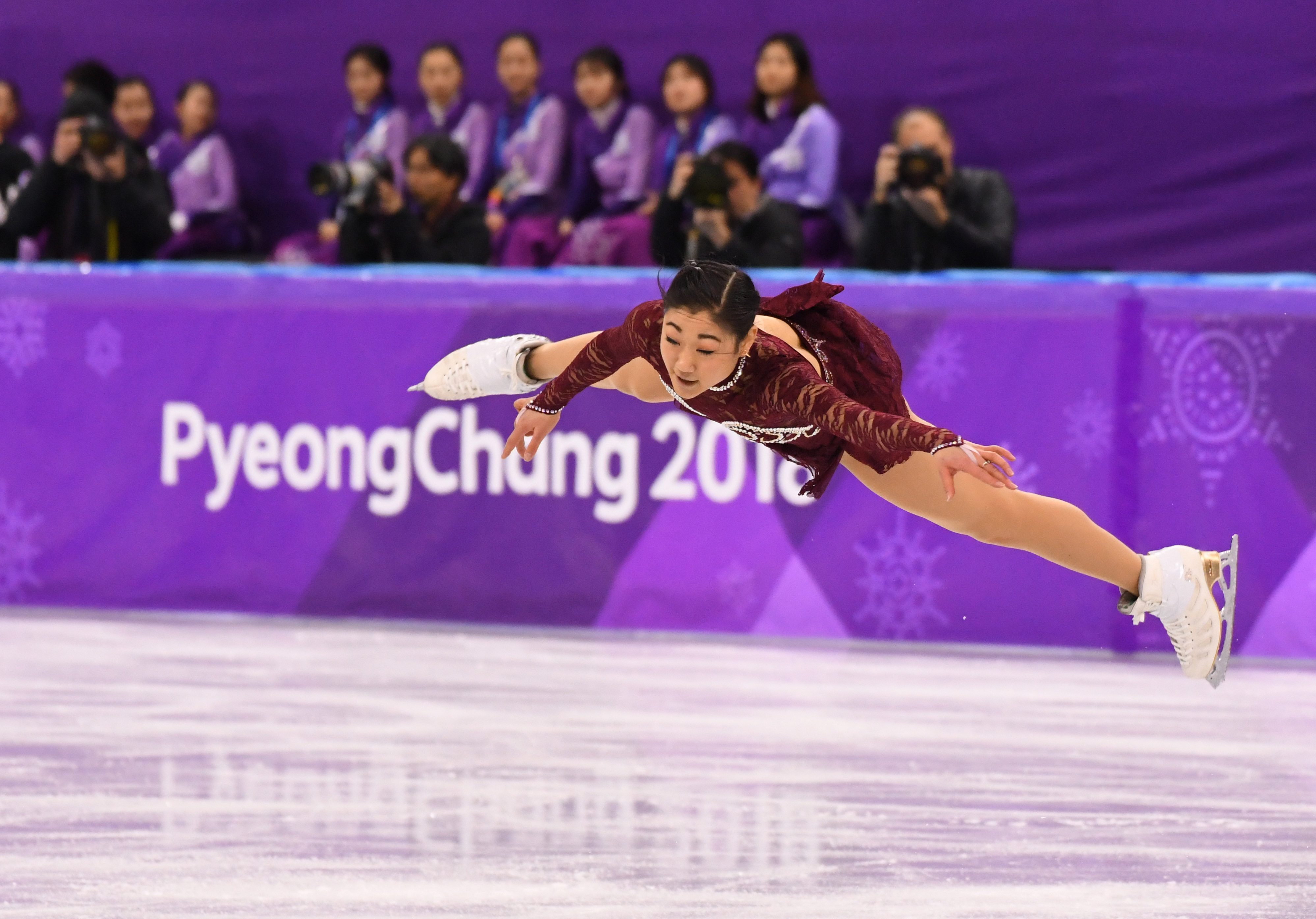 After a failed attempt at a second triple axel, Mirai Nagasu will attempt to land another one in the ladies' single free skating event Friday in PyeongChang.
On Feb. 12, Nagasu became the first American woman to land a triple axel in the Olympic games. She placed second with a a score of 137.53 and was able to push Team USA into third place, earning them a bronze medal. The successful triple axel made her only the third American woman to land the trick in any international competition, following Tonya Harding in 1991 and Kimmie Meissner in 2005.
On Feb. 21, Nagasu attempted the leap again in the women's single skating short program, but failed to land the rare and difficult trick. However, the cheery Nagasu was still pleased that she tried. "There is just something about adrenaline and nerve," Nagasu told USA Today on Wednesday. "Even the best skaters make mistakes. I like to think I am one of the best, but I made a little tiny error. I am the only woman going for it in this competition, so that should put it in perspective."
Nagasu has admitted that the stresses of the games have taken a toll on her, and that she has been struggling with fatigue throughout the grueling Games. She believes this exhaustion is what may have caused her to make the little mistake, along with an entirely understandable case of the nerves.
"You should try going out there and performing in front of thousands of people and putting all your jumps on the line. Sometimes I just over-jump. I wish I could land it perfectly every time."
Nagasu fully intends to attempt — and land — the triple axel once again in the ladies' free skating event. She's the only skater that's daring to take on the challenge. As part of a sport that thrives on youth, Nagasu, while still only 24 years old, faces an uncertain future when it comes to the 2022 Olympics in Beijing, making Friday's routine — and the triple axel –her best, and perhaps only shot at earning another medal.
Nagasu, an international business student at the University of Colorado in Colorado Springs — where the U.S. Olympic Training Center is located — has had to commit unimaginable amounts of effort, time, and even money to her quest, even using her world-class skating talents in the comparatively mundane role of 'Ice Girl'; cleaning the surface of the Pepsi Center ice during Avalanche games to earn money.
Gotta pay for skating somehow! ? https://t.co/bzapKJb5fM

— Mirai Nagasu (@mirai_nagasu) February 12, 2018
"But I'm very fortunate that I'm American, and so I'll be the first U.S. lady to have landed the triple axel. And so today is a day of accomplishment for me," she told People Feb. 20. "However, my Olympic experience is not over and I'm excited to go home and recover for a little bit and still soak in every second of this."
Nagasu, who ranks ninth after the short program, will skate 18th in PyeongChang, following American teammates Karen Chen and Bradie Tennell, who rank 10 and 11, respectively. They'll be in pursuit of Russian skaters Evgenia Medvedeva, who came to South Korea as the favorite, and 15-year-old Alina Zagitova, who stunned the skating world with a dazzling, 82.92 score to lead all skaters headed into the final, free skate portion.
The event will be televised locally on 9News, beginning at 6:00 PM Mountain Time on Thursday.