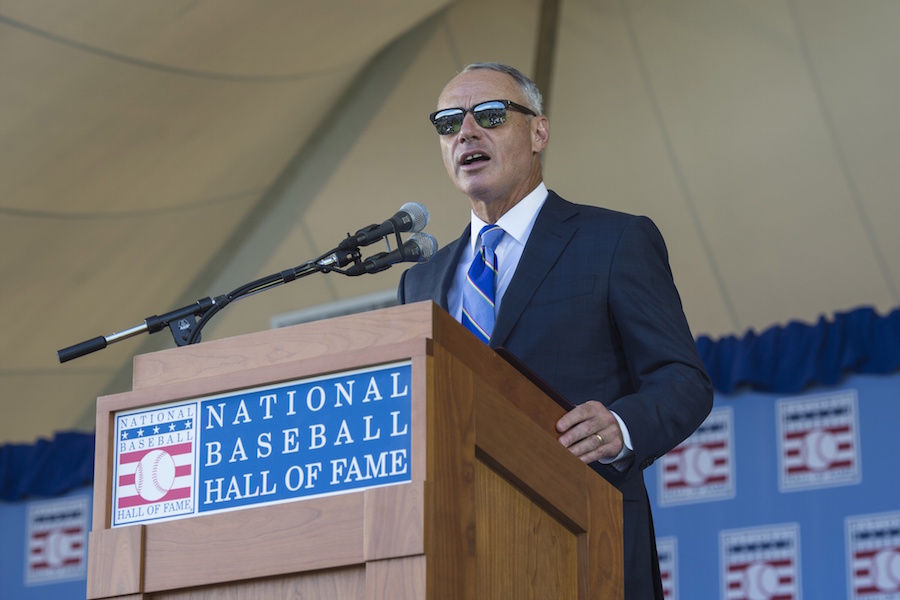 During the final game of the Colorado Rockies' peculiar two-game home stand against the Cleveland Indians, Major League Baseball Commissioner Rob Manfred stopped by to chat with the media and meet with teams prior to the 8-1 beat down Kyle Freeland the Rockies handed the Indians.
While he's been vocal about his intentions to try to pick up the pace of the game with new regulations – such as the new intentional walk rule – he stressed the importance of changing the MLB's approach in expanding the fan base to more, younger sports aficionados.
"While I think that for most fans, particularly our hardcore fans, we provide a great entertainment product day in and day out," Manfred said. "Pace of game may not bother them, but we're also interested in capturing new fans, particularly young fans. We think that a little focus on pace of game while always respecting the history and traditions of the game will help us with that young group."
The pace of play, as it turns out, is just the tipping point.
"I, in all candor, am a little disappointed in where we are on pace of play," he said. "I think that we continue to struggle with dead time in the game – mound visits, pitchers that don't deliver the ball promptly. We're having and will continue to have conversations with the MLBPA about some of the rule changes the we feel would help us improve on the topic of pace of game."
He emphasized the need for a sped-up pace of the game, without touching the nature of the game itself.
"I do want to draw the distinction between time of game and pace of game," he said. "Time of game is often about what happens on the field competitively: How many runs get scored, how many guys are on base, how many times you have to change pitchers. Those are things I'm not looking to control, because that's the competition.
"That's up to the clubs. Pace of game should be the same regardless of whether it's a 2-1 game or an 11-10 game, and that means people in the box, the pitcher delivering the ball, avoiding 22 visits to the mound and things like that."
As far as turning their attention to appealing to younger fans, Manfred and his staff have come up with a fool-proof, three-pronged plan.
First, they want to emphasize the role of the fan perception of the single player within the game.
"We're really directed at the marketing of the game, and more importantly, marketing the young stars in our game," Manfred said. "We do believe that we have a tremendous opportunity because of the number and quality of young players that are in the game. I'm not a talent-evaluator, but you do hear the buzz around the game pretty uniformly that we have a uniquely talented group of young players that have entered the game."
Stars like Charlie Blackmon, Nolan Arenado, Kris Bryant, Anthony Rizzo, Mike Trout and Bryce Harper come to mind. And that's just barely dipping into the vast talent pool that the league has been blessed with of late. Manfred went on to explain his stance further.
"So what are we doing about that? Let me start with our institutional marketing campaign," he added. "This year in baseball is a completely player-focused campaign. If you watch the ads that we run to promote the game, they're all about players. We went back to the Anthony Rizzo, Kris Bryant, memorabilia company because we found that had some traction with our fans. But we're trying to expand beyond that and then focus exclusively on players."
Next, they want to shift into more hands-on marketing with major sports brand companies, particularly one that held baseball close to its metaphorical heart for years.
"Secondly, I mentioned the Under Armour thing. It's a big change for baseball, the first time in 2019, we're going to have the consumer brand visible on our uniforms. It's a very traditional, business, that's a big change," he said. "Why did we do it? We did it because we believe that in order to market our players as best we possibly can, we need a major consumer brand that is behind that effort.
"We're lucky. We had a lot of great consumer brands that were interested in our rights. We really selected Under Armour for three reasons. Number one: Baseball was their first priority. It is their biggest deal ever and we wanted somebody that was focused most importantly on baseball, because we know baseball is the best game in the world.
"Number two: Under Armour has a fantastic reputation for relationships with players. If you know [Under Armour CEO] Kevin Plank, he wasn't a baseball player, but he is generically a player at heart. He has had a great eye in terms of identifying great stars. They have great loyalty to him and we thought that we could build on that expertise."
Finally, he concluded that to get youth invested in the sport, the MLB must capitalize on the ultra-talented youth player pool the MLB already has.
"Then last, Under Armour skews young. It's a brand that skews young, and it's important for us to have that young skew," he said. "Our broadcast partners have been great – ESPN, Turner, Fox – particularly in our national product in trying to expose our players, doing features on players, that give fans the kind of access that they want from players."
With Rob Manfred and his team at the helm of this League, the future is bright for Major League Baseball.