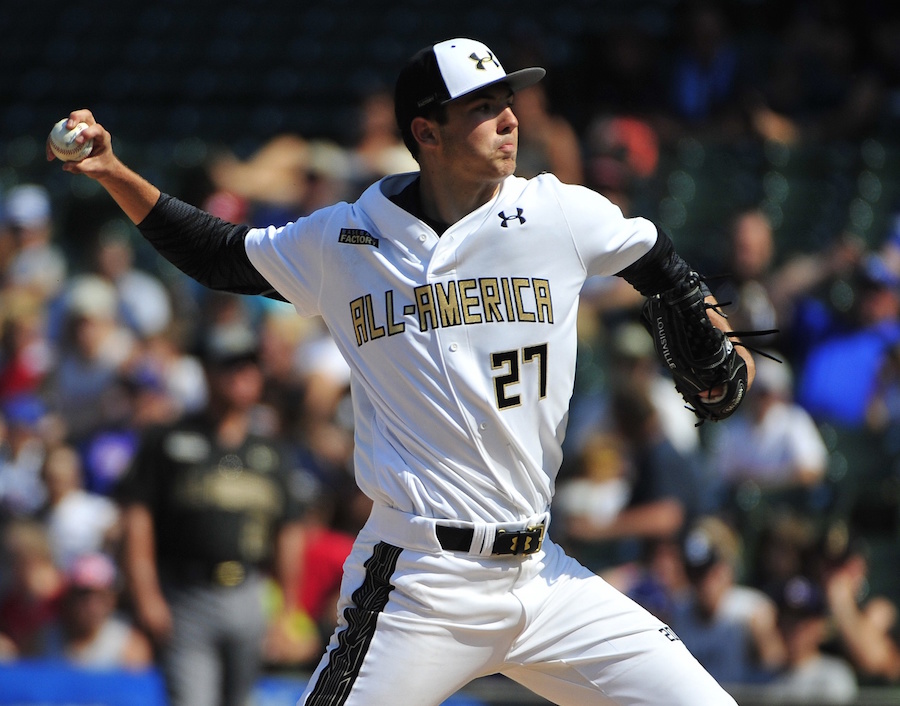 It's draft day in baseball once again, and while the MLB draft does not get nearly as much hype as the NBA or NFL drafts, there is still plenty to look forward to with the massive influx of future talent the game is set to bring in.
The Colorado Rockies owned the 11th overall pick in the draft, which they conceded in order to sign Ian Desmond to a 5-year, $70-million-dollar contract this past offseason. That said, there are still plenty of intriguing options for Colorado in the draft. With three picks in the top-100, there will certainly be a strong amount of talent the Rockies will be able to choose from.
With that, let's take a look back at where the Rockies' last two top draft choices are on their road to the show.
2016 – Riley Pint 
The Rockies selected Pint with the fourth overall pick in last year's draft. Fresh out of Overland Park, Kansas, Pint had high expectations due to his stellar performance at the high school and competitive levels.
His first go around in the pros had some rough patches, however. In 11 starts in the Rookie-level Pioneer League, Pint posted a 1-5 record with an ERA of 5.35. While his first season did not go smoothly, there is still plenty to be excited about with Pint.
At just 19, there is still plenty of time for Pint to develop his repertoire of pitches. As time goes on, his fastball location and velocity will smooth out and become more consistent as will his offspeed pitches.
Pint's plus fastball and deceiving breaking pitches notched him the No. 2 spot on Baseball America's top-500 list in 2016.
Pint is currently playing in Single-A Asheville. This season is not going much better than Rookie ball in Grand Junction. In 10 starts, Pint is 1-7 with a 3.98 ERA. The concerning area for Pint is his strikeout-to-walk ratio. He's set down only 28 batters, while allowing 25 walks and hitting another four.
Still, Pint was the fourth overall pick for a reason. His stuff has front-of-the-line potential written all over it, and with the way the Rockies are developing young arms right now, he would certainly be a welcome addition to the franchise in a few seasons.
2015 – Brendan Rodgers 
The Rockies selected Brendan Rodgers with the third overall pick in the 2015 draft. A product of Lake Mary (Fla.) High School, Rodgers was one of the highest-rated prospects in the draft due to his stellar senior season in which he hit .360 with eight long balls.
His play has transitioned over to the professional level well. In 2015 with Grand Junction he hit .273 with 20 RBIs and three home runs. He improved his average, on-base percentage, slugging percentage and OPS in his second year in the pros, then with Ashville. He's exploded in 2017 with Lancaster.
Rodgers is on a tear with Single-A (Adv) Lancaster right now, hitting a whopping .402 with 41 RBIs, 11 home runs, and owns a slugging percentage of .707.
As Purple Row writer Hayden Ringer joked, Rodgers is a cyborg. He has been on a different level this year, which gives the Rockies all the more encouragement that Rodgers will evolve into a stellar major-league talent.
Rodgers is capable of hitting to all fields at just about any given moment.  A constant threat in the lineup, Rodgers mixture of contact and power.
He won Minor League Player of the Month in May and has not stopped impressing on his journey through the minor leagues.
Outlook
The Rockies have two gems in Pint and Rodgers who have the future outlook of the franchise looking strong. With the plethora of sustainable talent, the Rockies already have at the Major League level the additions of Pint and Rodgers will only help reinforce Colorado's goal of bringing home a World Series title for the first time.
While the Rockies may not have a sexy top-10 pick this season, they will have the ability to add solid pieces that could evolve into major contributors down the line. Cornerstones Nolan Arenado and Charlie Blackmon were selected 59th and 72nd overall respectively, showing that clubs don't need top picks in order to find premium talent.
The Rockies will look to strike gold again come June 12th when the 2017 MLB draft officially begins.