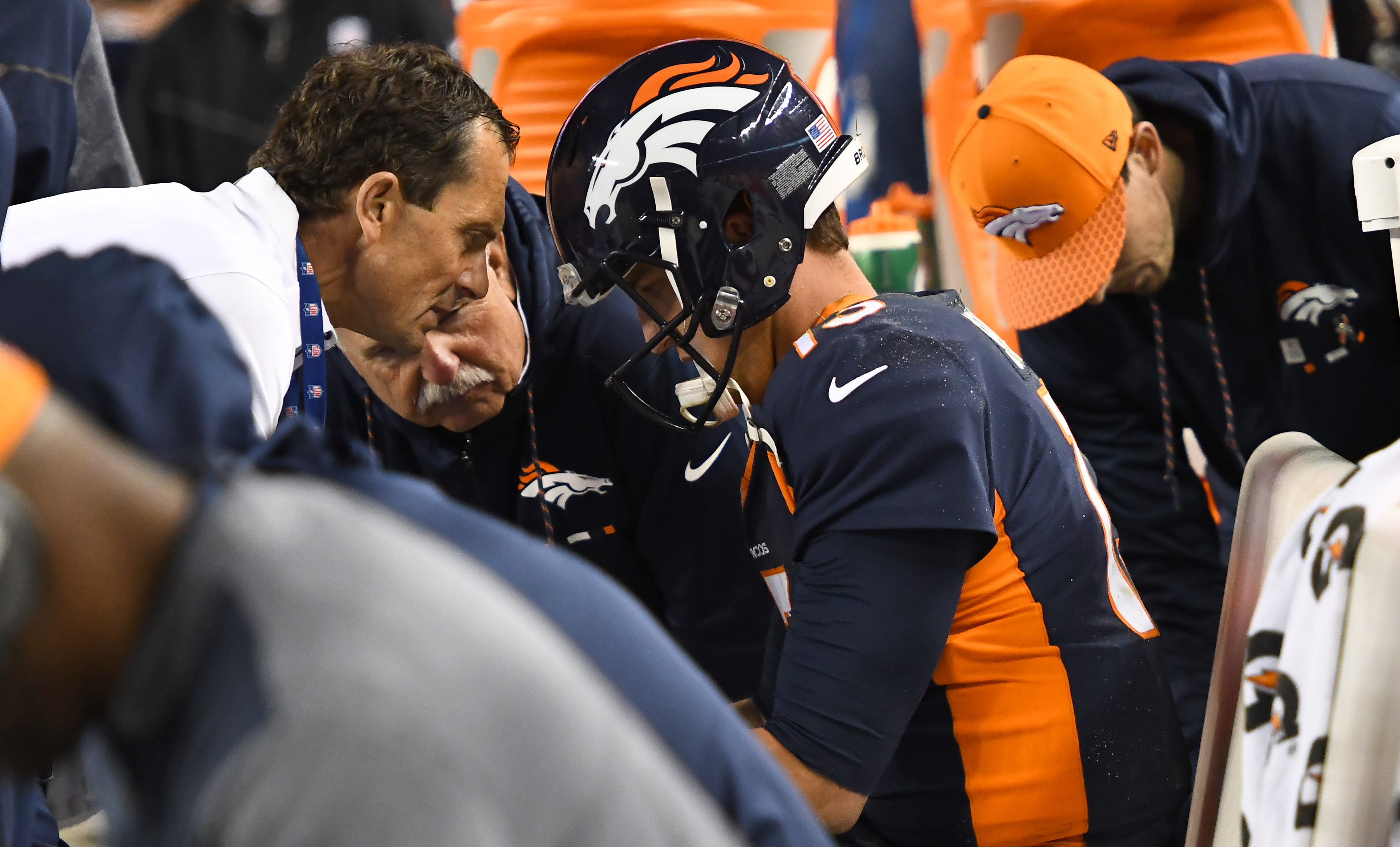 More doesn't always mean better in the NFL, and the Denver Broncos are finding that out with every passing start by Trevor Siemian.
After the Broncos' 23-10 loss to the New York Giants on Sunday night, the Broncos moved to 1-6 when Trevor Siemian attempts 40 passes or more in a game over the course of his brief career.
The Broncos are learning the hard way that resting their game on Siemian's shoulders isn't a recipe for sustained success. All game long, Siemian forced erratic passes and threw into double (and sometimes, even triple) coverage, leading to two interceptions and an ugly QB rating of 71.8. Siemian and the Broncos must now go back to the drawing board this week, and focus on correcting the turnovers — the most pressing issue facing Denver's starting quarterback.
"I tried to anticipate D.T. [Demaryius Thomas] rolling in there," said Siemian, explaining his first interception. "[I] threw it early, and the guy made a play." Siemian, who has thrown four interceptions in his last three starts, said that on "the second one, I tried to 'high-low' a cloud corner. He squatted on it, and obviously took it."
Demanding more from Siemian tends to result in more erratic play and inconsistency for the Broncos' offense; but focusing on getting his playmakers involved is a demand made of every quarterback, and one that Siemian spoke about after the game.
"For us to be really good, 10 (Emmanuel Sanders) and 88 (Demaryius Thomas) have to make explosive plays in the pass game," said Siemian. "I have to give them a chance."
Getting Pro-Bowl wide receivers Demaryius Thomas and Emmanuel Sanders the football was a clear priority against New York. Thomas and Sanders were targeted a combined 22 times, so consider that demand fulfilled. But while getting the best players involved in the game is a good thing, doing it in the wrong way is a problem when the offense's balance is thrown off.
Siemian, as the quarterback, is responsible for ensuring the balance — but there isn't any when he's forced to throw the ball 50 times — and it's resulting in a bad, bland offense.
As the demand from Siemian rises, his success drops and the numbers are proving it, not to mention the eyeball test.
In today's pass-heavy NFL, demanding the most from your quarterback is what's often required to carry a team to victory. It's why quarterbacks are so coveted; why they're paid the big bucks.
Right now, it's the complete opposite for Denver. The more they lean on Siemian, the more problems they seem to create — which is concerning now that they'll hit the road for three games.
There's no immediate fix on this roster right now, outside of game plan tweaks and  tinkering. If the Broncos plan to see sweet success on offense, balance becomes the main priority for offensive coordinator Mike McCoy to follow, a fact that becomes more evident with every start. Less is more for Siemian; the question facing a now-wobbly Broncos team is this: how can they win with less?