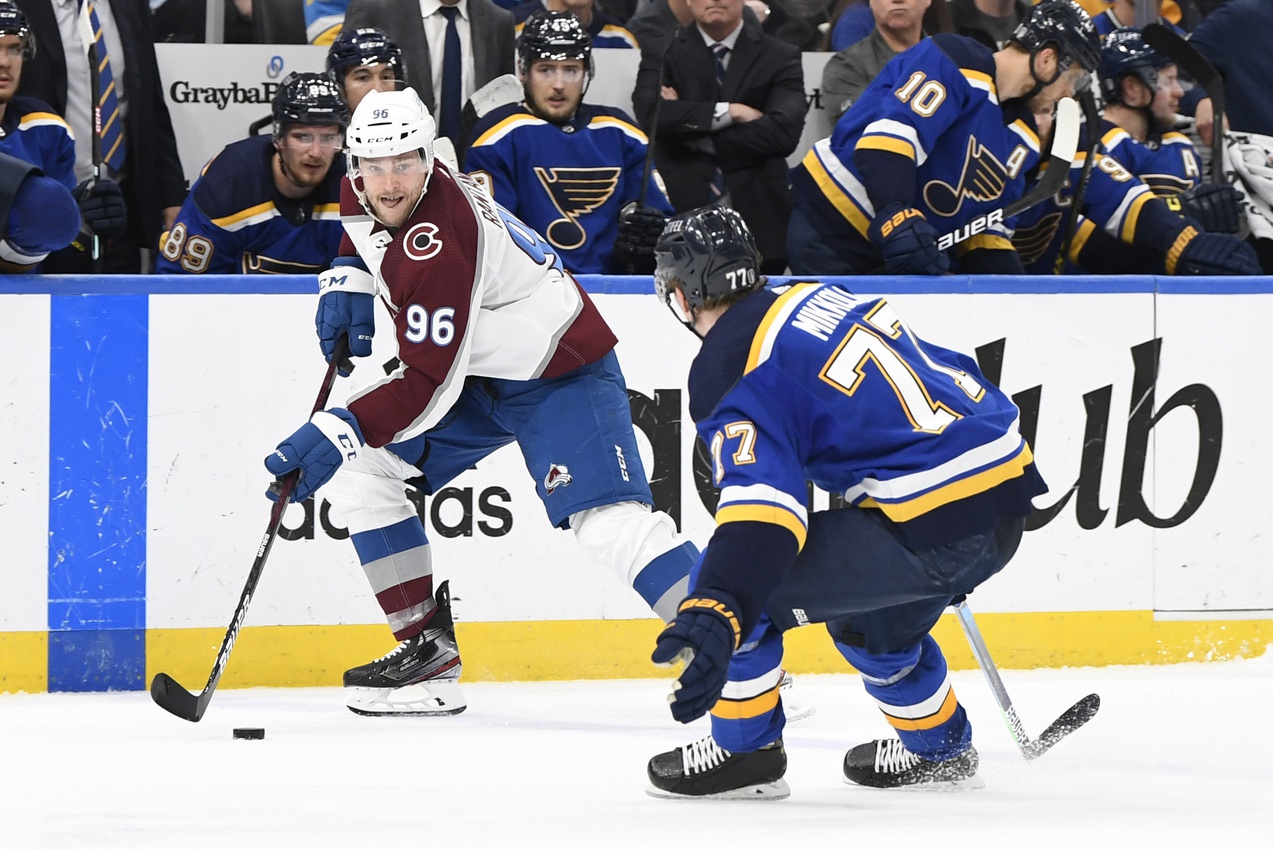 Following two straight victories on the road, the Avalanche are just one away from the Western Conference Final for the first time since 2002 — also the year they last appeared in the third round.
They'll have a chance to close things out at Ball Arena on Wednesday and become the second team in the NHL to advance to the final four.
Nazem Kadri took center stage during both games at Enterprise Center, scoring four goals and adding three assists as the Avs scored 11 times in 5-2 and 6-3 victories.
Catch-up hockey
Despite trailing 1-0 in each of the first four games, the Avalanche are not entirely concerned with not opening the scoring.
"Obviously we want to score first and play with the lead. It's easy to play with the lead," head coach Jared Bednar said. "Catch-up hockey can be difficult. But I'm not overly concerned on it because I liked our start (on Monday), I liked it a lot."
Bowen Byram's increased role
Following the injury to Samuel Girard in Game 3, young defenseman Bowen Byram was tasked with taking the next step in his game. He had just one assist in his first seven games but recorded two helpers in Monday's Game 4 victory — the first game without Girard in the lineup.
"He has to take on a bigger role, more importance on him to get involved in the play offensively," Bednar said. "He's done a really nice job of it, jumping in on that power play, all the above. It's just rounding out his full complete game."
Rantanen breaks the dam
Although it was just an empty-netter, Bednar says having Mikko Rantanen score his first goal of the playoffs was vital and could help lead to increased scoring.
Rantanen's empty netter is the only goal against St. Louis from the top three, which includes Nathan MacKinnon and Cale Makar — both of which have not scored in four games. Colorado has 15 goals in four games despite the offensive slumps from their three of their most dependable offensive weapons.
Listen to "Nazem Kadri Makes St. Louis Pay" on Spreaker.

Listen to "Peter Baugh on Nazem Kadri and Covering Games 3 and 4 in St. Louis" on Spreaker.

__
Aarif Deen is our Colorado Avalanche beat reporter. He covers Avs games live from Ball Arena and attends practices, media availabilities and other events pertaining to the Avs on the daily beat. He is also a co-host of Hockey Mountain High: Your go-to Avalanche Podcast. Deen joined Mile High Sports upon completion of his bachelor's degree in journalism and master's in business administration from the University of Michigan – Dearborn. Before Mile High Sports, Deen worked for the Michigan Wolverines Athletics Department as the assistant sports information director.