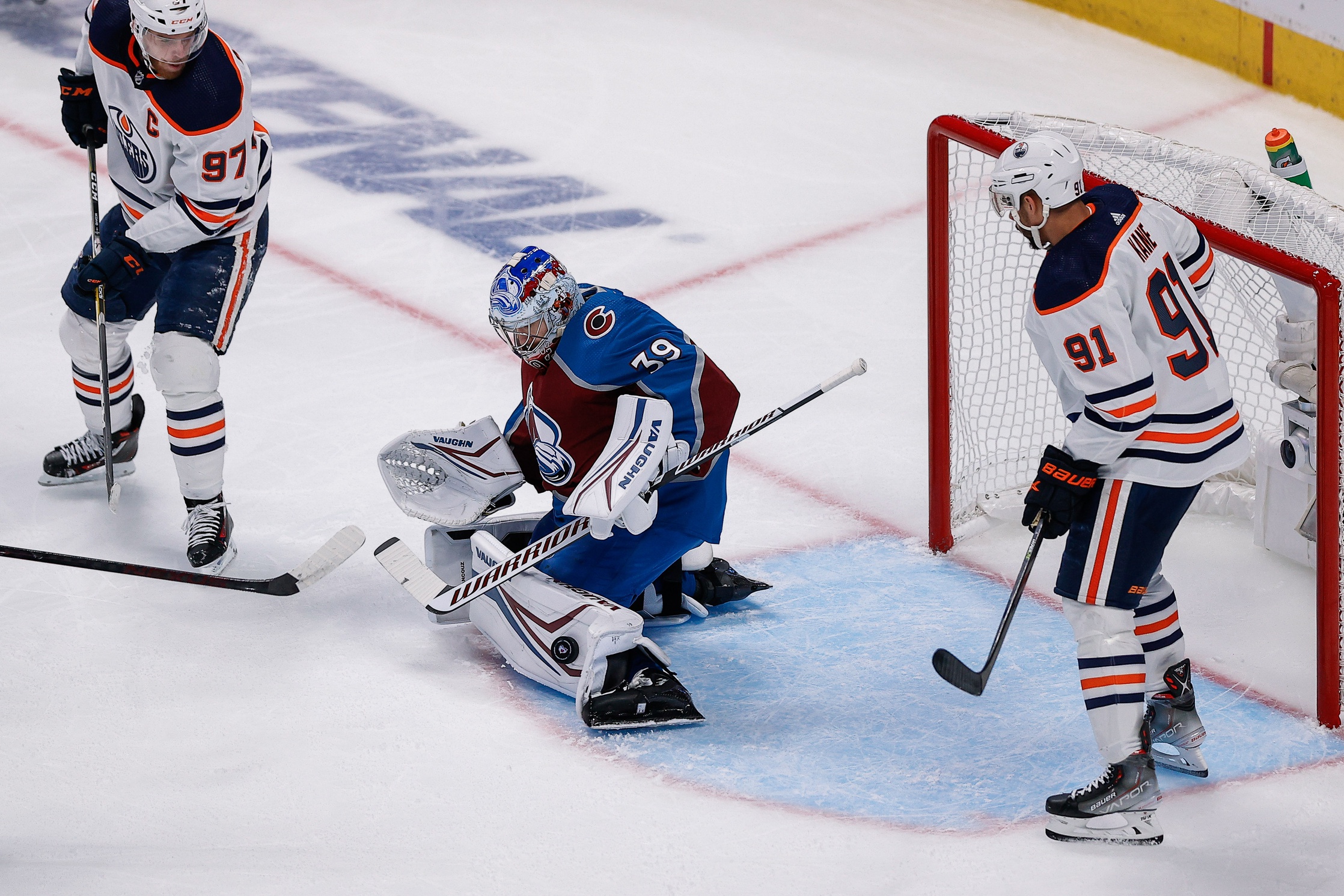 Coming off an exciting 8-6 victory in Game 1, the Avalanche will have a different look on Thursday as they look to pull within two games of the Stanley Cup Final.
Darcy Kuemper out
Starting goaltender Darcy Kuemper left Tuesday's game with an upper-body injury and did not return. Avs coach Jared Bednar announced that Kuemper would miss Game 2, marking the second time during the postseason that the Avs have needed to turn to backup Pavel Francouz.
Francouz is 3-0, winning both times in relief while also closing out the first-round series against the Nashville Predators by winning his only start in Game 4.
Late-game woes
In a pattern that began in Round 2 against St. Louis, the Avs have given up multi-goal leads late in games.
In Game 1, Colorado struggled to hold a 7-3 lead, eventually needing an empty netter to seal the victory after the Oilers scored three consecutive goals.
Avs forward Andrew Cogliano spoke of the woes following morning skate, saying the team could improve to ensure it doesn't continue.
Andre Burakovsky misses morning skate
Third-line winger Andre Burakovsky was not present for morning skate prior to Game 2. The 27-year-old was banged up two nights earlier after blocking a shot around the knee area. Burakovsky returned and finished the game but it is unclear if he will play tonight.
Bednar would not share details of his lineup outside of announcing Kuemper's absence.
__
Aarif Deen is our Colorado Avalanche beat reporter. He covers Avs games live from Ball Arena and attends practices, media availabilities and other events pertaining to the Avs on the daily beat. He is also a co-host of Hockey Mountain High: Your go-to Avalanche Podcast. Deen joined Mile High Sports upon completion of his bachelor's degree in journalism and master's in business administration from the University of Michigan – Dearborn. Before Mile High Sports, Deen worked for the Michigan Wolverines Athletics Department as the assistant sports information director.
Listen to "Avalanche defeat Edmonton in High-flying Game 1" on Spreaker.