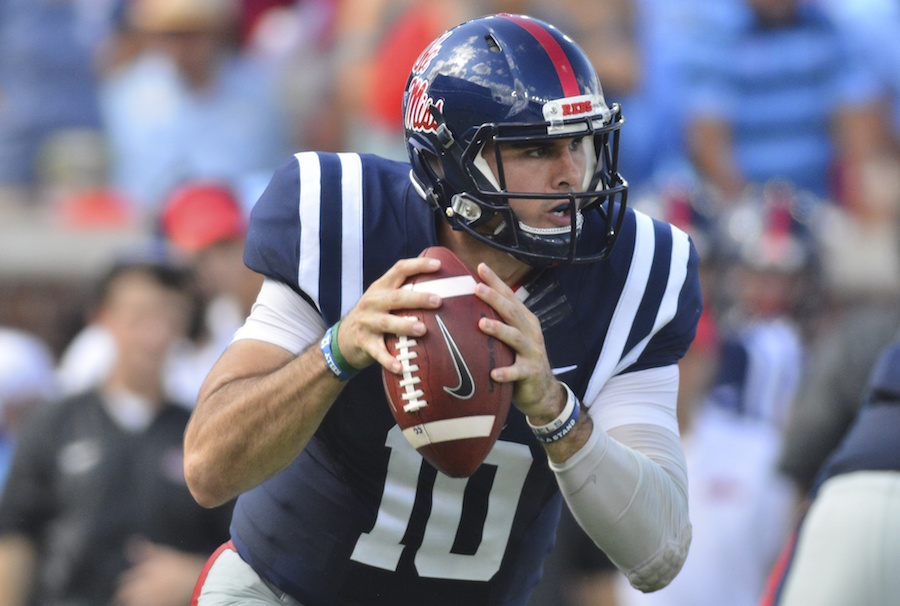 When the Denver Broncos selected Chad Kelly with the last pick of this year's NFL Draft, it wasn't met with the usual niceties that come with being Mr. Irrelevant. Instead, the Broncos continued their trend of being aggressive with late-round selections and continuing the search to find players who can come into the organization and push for a roster spot.
It's the prevailing thought that either Trevor Siemian or Paxton Lynch will be the starting quarterback for the Denver Broncos this upcoming season. In large part, the success or failure of the 2017 campaign will hinge greatly on one or the other being counted on to enhance a position, at quarterback, that was in a state of flux for the past couple seasons.
Still, you can never have too many good quarterbacks on the roster. With injuries or erratic play expected at some point with two young players in Lynch and Siemian, it might have been equal parts luck and genius on the part of John Elway to take Kelly, who has more upside than a typical last pick in the draft. For the upcoming season, does Chad Kelly have any chance to make a contribution on this year's Denver Broncos team?
The Case for Kelly
Although his journey has had its share of twists and turns, Kelly is an eyebrow-raising prospect and, at one point, was considered to be one of the top-rated quarterbacks entering last year's draft. His ability has never been questioned, as Kelly has NFL-quality traits when it comes to throwing the football. Uneven performances, off-field question marks, and knee and wrist injuries are the main culprits that saw his stock take a dramatic tumble all the way to the last pick in the draft.
Kelly making some type of contribution to the Broncos this year, however, isn't as far-fetched as you would think. For all the talk about how much Lynch has progressed since last season, he still only has two and half games of NFL experience under his belt. It's still very much a question if Lynch will be able to take his raw physical talent and translate that into being a starting-caliber quarterback. The same reservations hold true for Siemian, who has his own injury history and hasn't proven that he can stay healthy over a 16-game season.
Kelly, in large part, has been doing and saying the right things since being drafted by the Broncos. With Mike McCoy and Bill Musgrave serving as the Broncos offensive coordinator and quarterbacks coach, respectively, Kelly has two coaches who have a track record of developing quarterbacks. If the young signal-caller is sincere about doing the right things in terms of keeping his nose clean and working hard to master the playbook, he has a reasonable chance to step onto the field if either injury or poor-play claims Siemian and Lynch.
Why He's a Longshot
It happens every season, a college player has a great junior season and comes back for his senior year with sky-high expectations, only to come crashing back down to earth. For Kelly, his promise and potential has never been questioned at any stop in his young career. As of now, he hasn't been able to sustain any of that momentum for any period of time. That's why it's also hard to pin down if he is going to be anything more than training camp fodder in a few weeks.
Everybody loves the narrative of a late-round pick that defies the odds to be a quality NFL player, but those are few and far between. Forget his off-field issues, and there are several to be concerned about, and you have a player that washed out at Clemson, didn't live up to lofty expectations as a senior at Ole Miss and has widely been deemed a "project" going into the pros.
Many things would have to go wrong or the Broncos and right for Kelly to get onto the field in the first place, and that's only if the Broncos are willing to carry three quarterbacks for this season. If you add in that the Broncos also like undrafted rookie free agent Kyle Sloter, who was able to participate in the team activities this summer, and Kelly has an uphill climb ahead of him. Kelly was mostly an observer during OTAs and minicamp as he continues to heal from wrist surgery, which he underwent just before the draft.
Conclusion
It's hard to get a read on Kelly because of how much talent he has in addition to how much baggage he brings with him. Does he show that he has the "arm talent" and intangibles to be a credible NFL quarterback at some point? The answer is yes, and that's never been in question. What gives evaluators pause is his character concerns and inability to master the more cerebral parts of the position, like reading defenses.
At best, Kelly follows the career path of Siemian and takes a redshirt year this season to fully recover from his knee injury and fully immerse himself in the McCoy offense. If McCoy and Musgrave are able to rein in some of the wilder aspects of Kelly's game and get him to play more within his abilities, the Broncos could very well have a steal in the quarterback stable. The odds aren't great on Kelly making a dent this year but the building blocks are in place for Kelly at some point down the road to challenge for playing time.