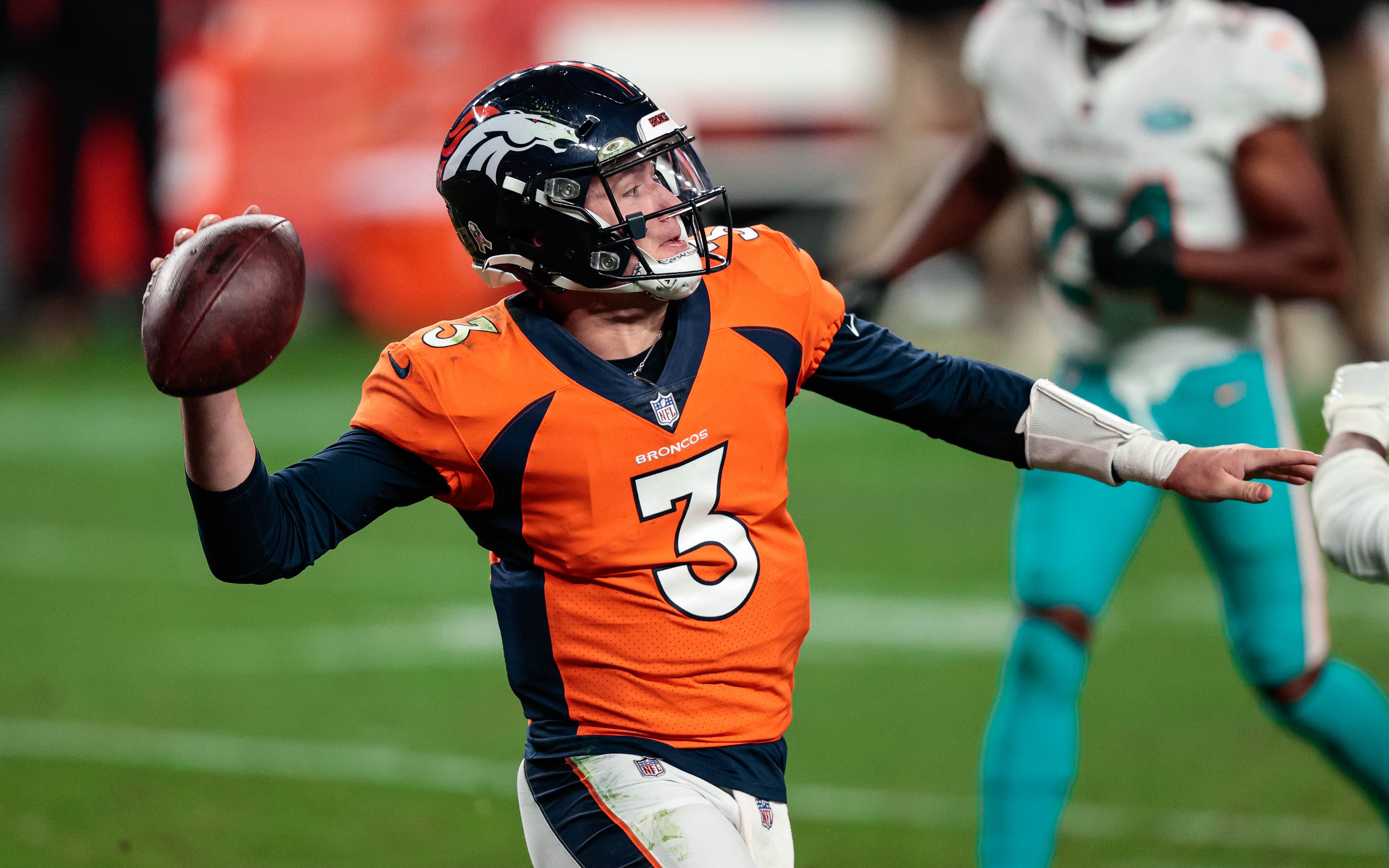 2020 was a rough year for everyone. And in the context of the National Football League, 2020 was quite difficult for Denver Broncos quarterback Drew Lock.
In what should have been his first full season starting at quarterback for the orange and blue, Lock was injured in Week 2 and placed on Injured Reserve for three weeks. His first game back from the shoulder injury was one of his worst of the year, despite a Denver win. Then, after a few solid games, he threw a career-high four interceptions against the Las Vegas Raiders in a blowout loss.
And in Week 12, Lock didn't wear his mask while around teammates, so when backup quarterback Jeff Driskel was deemed a positive case of COVID-19, the Broncos were forced to play Kendall Hinton at the most important position. Head coach Vic Fangio said he was disappointed in the lack of leadership from Lock, and fair or not, starting quarterbacks are simply held to a higher standard.
But, there were a few high points as well, including the near-perfect performance and win against the Panthers in Carolina and solid showings against the Buffalo Bills and Raiders to finish the season.
Rewind to 2019, and a similar tale played out. Lock was injured in preseason and didn't see the field until the Broncos were eliminated from the playoffs. But the team went 4-1 down the stretch — mostly thanks to great defensive play — and Lock enjoyed his second-best game in a win over the playoff-bound Houston Texans.
Last offseason, fans were ecstatic to see what Lock could do in Year 2, even if he was a raw, physical talent needing to refine his craft.
But, those who pointed to the team's positive win-loss numbers with him at QB last year are now seeing he went 4-9 as the starter in 2020 and everyone is realizing QB Wins are not a good way to evaluate a quarterback's performances. Football teams are too complicated to put all the good or bad on one player's shoulders, even if it is the QB.
When we look at simple stats, it's clear Lock was near the bottom of the league. His 57.3 completion percentage was worst (35th) in the NFL, as was his on-target percentage (68.9%) and Lock led the league in interceptions with 15.
But, if we continue looking at the more in-depth stats, the analytics paint much of the same picture.
Pro Football Focus grade
Some have a disdain for Pro Football Focus (and analytics in general) saying their grades aren't as important as the "eye test." Those who take that approach should remember every single play is evaluated by every player, and then graded, which in turn becomes their PFF grades. It's not perfect, but the grades should be used as one part of many to evaluate where a QB stands in the leauge.
In 2020, Lock earned an overall grade of 65.3, which ranked him 33rd in the NFL out of 38 qualified players. His passing grade (63.4) was 32nd and his running grade was 34th.
QBR
Like all of these metrics, it's key to use them each as a puzzle piece to help us get a picture of where a QB sits.
QBR is ESPN's passing grader, which is similar to passer rating but more advanced. They grade each play for a quarterback and also factor in the score of the game, the down and distance as well as the team's position on the field and more.
At the end of the year, Lock's QBR — which is on a scale of 0-100 — was 48.9. That ranked him 29th in the NFL out of 35 qualified players.
Quarterback Efficiency
This one is a bit more complicated, but luckily, it comes with a graph.
On the left is Expected Points per play, and the bottom is completion percentage per play above the expectation. Basically, bottom and left is the worst, while top and right are the best QBs (Rodgers, Allen, Mahomes etc.).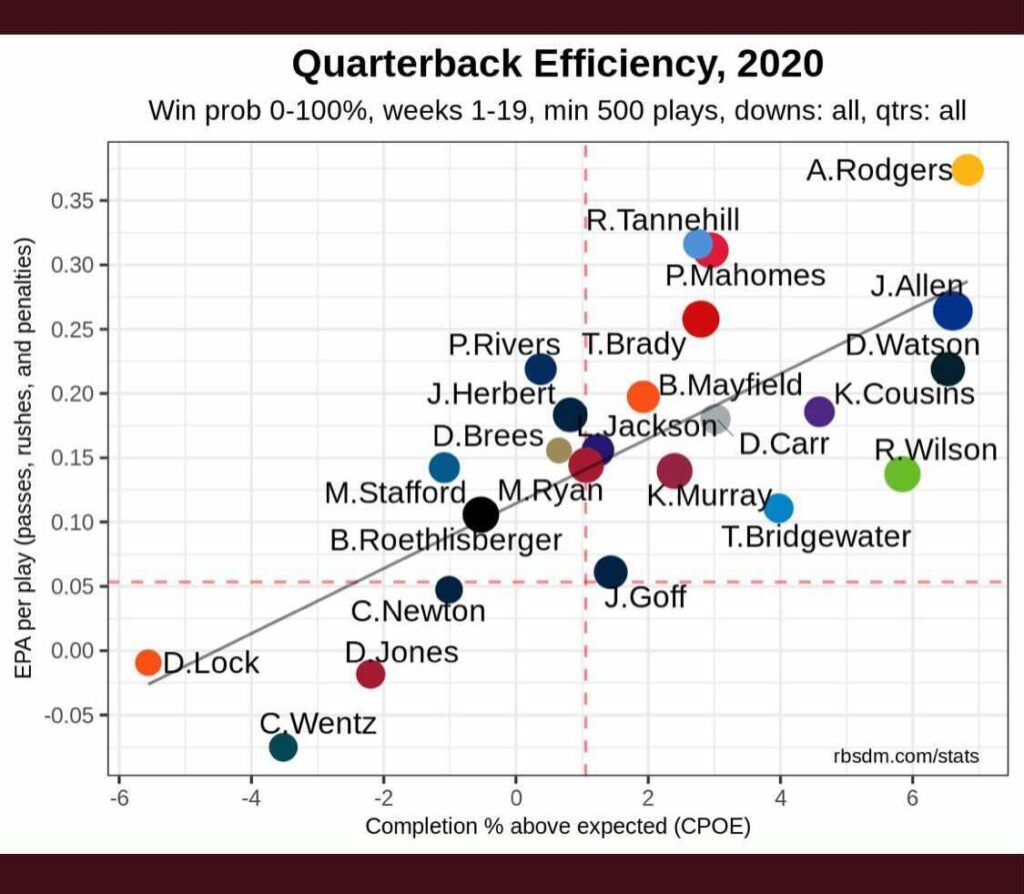 This shows Lock was one of three quarterbacks in the league who played so poorly he actually took points away from his team on a per snap basis. And, his completion percentage (as we discussed earlier) was the worst in the NFL.
But, there's a bit of positivity to hang your hat on, Broncos fan. If we look only at Weeks 11-17 (as Nick Kendall did here), we see an improvement in many categories and a move up as well as to the right for Lock on the chart.
Drew Lock Advanced Stats Weeks 11-17 w/ min 140 snaps (ranking)

EPA+CPOE composite: 0.077 (18/32)
EPA/Play: 0.150 (15/32)
Unadjusted EPA/play: 0.114 (14/32)
Success rate: 47.3% (20/32)
Comp %: 61.8% (30/32)
Expected Comp %: 66.0% (23/32)
CPOE: -4.2 (28/32)
Air Yards: 8.1 (15/32) pic.twitter.com/z6o9l6toGJ

— Nick Kendell (@NickKendellMHH) January 30, 2021
So, yes, Lock improved down the stretch of the season. He started getting his footing and threw 9 TDs compared to 5 INTs during those games, which was an improvement there, too.
However, this has to be only the beginning for Lock's growth. He needs to make another leap in terms of accuracy as well as decision-making if he wants to be considered even a mediocre QB, because as of now, he's one of the five worst in the NFL.
And that leap may be difficult if team's still cannot hold OTAs like usual due to COVID-19. But, one positive is it will be Lock's second year in Pat Shurmur's offense and he started to build chemistry with receivers the last two seasons.